Your little one will most probably get diaper rash no matter how careful you are. Most babies do at some point.
It's always best to plan ahead and be prepared and prevent flare-ups or knowing how to treat diaper rash when it happens.
***Disclosure -The links in this post may contain affiliate links and Kaboutjie may receive a small commission if you make a purchase after clicking on a link.*** 
The main causes of diaper rash
A soiled or wet nappy being left on for too long.
Chafing or rubbing against the diaper itself.
Yeast infection.
Bacterial infection.
Allergic reaction to diaper.
Cradle cap, a harmless rash that often occurs on a baby's scalp can also emerge on their bottoms and is called seborrheic dermatitis. The condition causes scaly, waxy and red patches that eventually disappear without treatment. It may occur on other parts of a baby's body too.
Diaper rash occur more frequently when:
Babies get older – particularly between nine and twelve months old.
Babies sleep in soiled diapers.
Babies have diarrhoea.
Babies are taking antibiotics, or their nursing Mom is on antibiotics.
Babies start eating solids.
Helpful tips for treating diaper rash
Always wash your hands before and after a diaper change.
Check your baby's diaper frequently and change it as soon as it becomes soiled or wet.
Use a mild cleanser on your baby's skin and plain water for removing poop of baby's skin.
Avoid rubbing the area dry, rather pat it gently.
When you're using baby wipes, stick to mild ones and avoid wipes that contain alcohol or fragrance. A better option is using a soft clean washcloth.
Always ensure the diaper area is completely dry and clean before putting on a new diaper.
For particularly bad rashes:
Try using a squirt bottle to wash the area well and avoid rubbing the already sore skin.
Let you baby go without a diaper for as much as possible to allow the area to breath. Airing the diaper zone can assist with healing the skin faster. Try doing this after a bowel movement to avoid being stuck with a mess.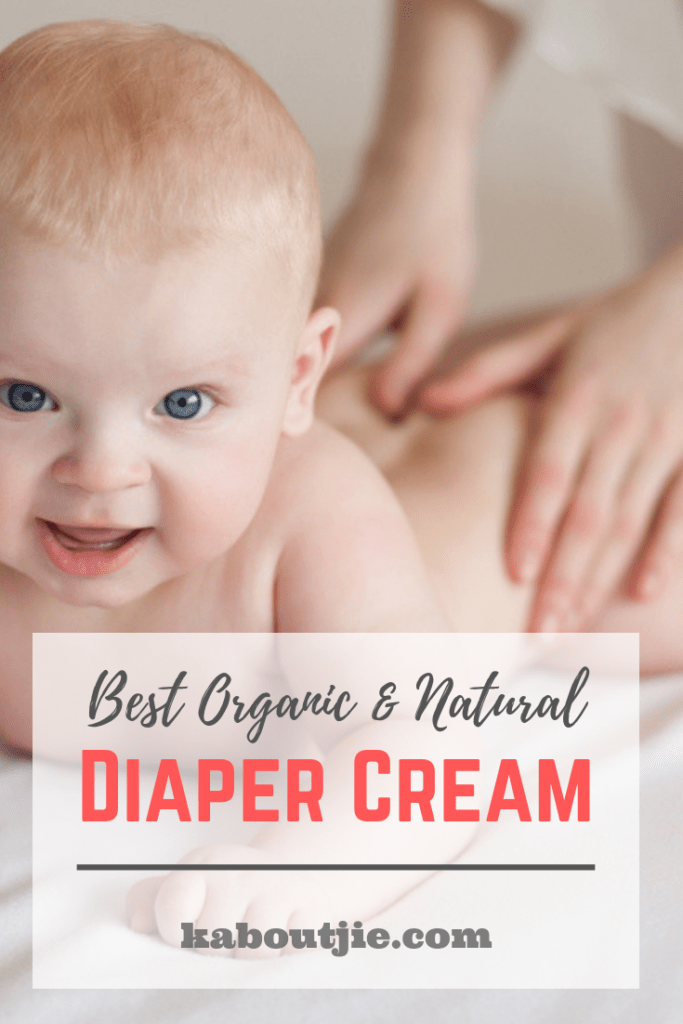 Best Organic and Natural Diaper Cream
Bella B Honey Bum Diaper Rash Butter
The Honey Bum diaper rash butter with its zinc oxide formula forms a gentle skin barrier to help with the prevention of diaper rash and minimizes redness and accompanying irritation.
The product is made with organic ingredients with no added artificial fragrance, petroleum and parabens (artificial preservatives) and is perfect as a rash cream.
Apply the cream gently onto clean, dry skin.
An excellent baby shower gift.
Elizabeth Parker Naturals Baby Eczema cream
This product is made from only organic natural ingredients for the relief of itchiness and painful and irritated skin.
Can be used for providing soothing relief for burns, hives and various skin conditions.
The manufacturer uses effective and exclusive additives that contains nutrients specifically for healing purposes:
Aloe Vera: contains various properties which proves to be effective in treating several skin conditions from dry, flaky skin, hair & scalp problems, cosmetic ailments and more. It is also applied for treating more serious and persistent skin issues i.e. eczema, dandruff, psoriasis, canker sores, ulcers etc.
Cehami Flower extract: this quality botanical flower from the Daisy family contains numerous benefits such as anti-inflammatory properties, cell regeneration, sun protection and antimicrobial. Cehami flower extract is an excellent ingredient for skincare products as it reduces redness, provides pain relief and itchiness and assisting the skin with healing itself.
Cocoa butter: is often used for hydration purposes in various areas of the body due to the high lipid content. Cocoa butter is loaded with antioxidants and vitamins and the antibacterial properties make this ingredient perfect for most sensitive skin types.
Hemp seed oil: this ingredient is perfect for most skin types and provide moisture to the skin without clogging pores. It can even assist with balancing the skin's oil production. Hemp seed oil contains gamma-linolenic acid which is a powerful anti-inflammatory component and it encourages new cell regeneration and skin growth. A great option for calming inflammation and skin irritation, including acne and other skin conditions such as eczema and psoriasis.
Weleda natural Diaper rash cream
This cream is made from Calendula which is extracted from Weleda's biodynamic Gardens in Germany.
Contains no parabens, phthalates, animal testing or synthetic fragrances.
Natural certified by NaTrue
Product is manufactured in cooperation with German mid-wives.
Provides temporary, quick and effective relief from minor skin irritations as a result of diaper rash.
Apply to whole damp area after gentle cleansing and drying.
Aunty B naturals Diaper rash cream
Combination of Organic ingredients which include: Coconut oil, Mango butter, Sunflower oil, beeswax, Zinc oxide, Calendula flowers, chamomile flowers & Vitamin E oil.
This product contains all-natural ingredients which are formulated to repair, soothe and prevent diaper rash, skin irritation and chafing.
The formula is fast-acting, and the special blend of chamomile and calendula protects and heals irritated skin on baby's bottom and prevent moisture from penetrating and causing inflammation and discomfort.
A gentle product and suitable for all skin types and most sensitive skin types.
The zinc oxide content helps with creating a protective barrier between baby's skin and moisture from a wet nappy.
BALM Baby diaper balm and all-purpose skin aid
Organic, Vegan, all-natural and leaping bunny certified as cruelty free product.
Made in the USA with a strong infusion of Hawaii's most healing oils, healing herbs and can be used on everything, ranging from eczema, diaper rash, new-born skin, cradle cap, cuts, burns, dry skin, acne, sunburns, bug bites and many more.
This product is cloth diaper safe.
Stored in a 2-ounce glass jar which is recyclable and 100% health safe.
Ingredients include: Extra virgin olive oil, virgin coconut oil, Shea butter, Candelilla wax, Hawaiian macadamia nut oil, chamomile, comfrey, tocopherol (vitamin e T-50), chickweed, calendula, St. John's wort, pure essential oil blend of lavender, orange & tea tree.
All-in-all a great multi-purpose first aid ointment.
Babyganics Diaper rash ointment
The solution of gentle plant-based ingredients including zinc oxide, calendula, aloe and Jojoba oil is an excellent remedy for both treating and preventing diaper rash.
Exclusive 100% NeoNourish natural seed oil blend for supporting and nurturing baby's delicate skin.
Dermatologist and paediatrician tested.
Contains no parabens, sulphates, phthalates, mineral oils, artificial fragrances or dyes and petrolatum.
Natural and alternative remedies that you can try at home to treat Baby diaper rash
The most predominant cause of diaper rashes are wet and dirty diapers. Diaper rashes that are left unattended can lead to bacterial infections and can cause a lot of discomfort to babies. Here are a few natural remedies to consider for treating diaper rash.
Coconut oil
We all know that coconut oil has numerous health benefits due to its antibacterial and antifungal properties and it come as no surprise that it's a helpful aid for diaper rash as well. Measure half a teaspoon of coconut oil and apply to the distressed area after gently washing baby's bum with warm water and patting dry. Coconut oil is also an effective treatment for yeast diaper rash.
Breast milk
Another great remedy for diaper rash. Simply add a few drops of breast milk onto the affected area and let it dry. For the best results, change diapers after the area is treated.
Honey and Chamomile tea
These two ingredients work as an antiseptic remedy against baby's diaper rash and assist with healing and aiding the skin to heal. Mix one teaspoon of honey with two cups of chamomile tea and spray it over the diaper rash area daily.
Oatmeal
Oatmeal contains a saponin compound which effectively removes moisture and dirt from skin, making it a nutritious option for keeping your baby's skin free from unwanted dirt and oil accumulation as well as eliminating the risk of rashes. Take one tablespoon of dried oatmeal and mix into baby's bath water. For severe diaper rash treatment, repeat this remedy twice daily for best results.
White Vinegar
Urine is an alkaline and usually burns the skin when in contact with it for too long. By mixing vinegar and water the PH balance is restored. Blend one and a half cup of vinegar in half a bucket of water and rinse baby's reusable nappies in this mixture. You can also mix a teaspoon of white vinegar with a cup of water and gently wipe baby's bum when changing his nappies.
Apple cider vinegar
This remedy works best for a yeast diaper rash remedy. Mix a cup of apple cider vinegar into baby's bath water and you can rinse reusable nappies in this solution to get rid of diaper rash efficiently.
Aloe Vera
When your baby is experiencing diaper rash together with severe inflammation, then you can try Aloe Vera gel as a quick home aid and gently apply to the affected area. Aloe Vera has amazing healing properties and is a natural ingredient.
Corn-starch
Corn-starch is recommended for absorbing moisture and keeping baby's bottoms dry. Simply add lukewarm water and gently wash your baby's bum. Allow the bottom area to dry naturally and gently pat the skin with a clean soft cloth. Apply corn-starch powder on the rash area and put on a fresh diaper. This exercise can be repeated daily until the rash has cleared up.
Baby jelly
A thin layer of baby jelly can be applied to baby's skin after a soiled nappy to provide a protective barrier against rash as a result of wet or soiled nappies.
Epsom Salt
Epsom salt is high in magnesium and contains anti-inflammatory properties. Mix half a cup of Epsom salt into baby's bath water and let baby soak in it for about ten minutes, followed by a bathing session. Repeat this exercise two to three times weekly until the diaper rash has disappeared.
Tea tree essential oil
Tea tree essential oil contains valuable antibacterial and antiseptic properties and are an excellent aid for diaper rash. Mix three drops of essential oil with a carrier oil such as coconut oil. Gently apply to baby's skin and repeat daily until you see the rash has cleared up.
Conclusion
There are a lot of homemade remedies, organic and natural products as well as commercial ointments available on the market today and it can be quite intimidating to figure out which one works best for you. Some home remedies may be effective but there is no guarantee that it will be the solution to your problem.
Every baby is different and what may work for the one may not be effective for the next. But one thing is for sure, every Mom wants what is best for her little one.
To have an understanding of just why organic baby products are so essential, it helps to know a bit more about a baby's sensitive skin. Baby's skin is not like adult skin. An infant's skin absorbs and loses moisture at a much faster rate than the skin of an adult which makes it a lot less supple and more fragile. New-born skin has not yet developed skin barriers like your skin has. This means that everything that is applied to a baby's skin is absorbed a lot quicker into their bloodstream. Many over the counter or commercial baby products contain chemicals which may be harmful to your baby whereas organic and natural products only contain plant-based and safe chemicals with no parabens, artificial fragrances or phthalates.
Moms must also keep this in mind when pregnant or breastfeeding. When you are expecting, your unborn baby ingests and absorbs everything that you are doing. When you're using products that contain harmful chemicals on your skin, your baby is also internalizing all those chemicals. And when breastfeeding, the same rule applies. One must be incredibly careful about what products you are putting on your skin or nipples which are absorbed into your skin and body. Just like eating healthy foods, it is essential to be mindful about skincare products that you apply to your skin and to avoid anything undesirable to be transferred to your baby unknowingly through breastfeeding.