Vie and Sante kindly provided me with the opportunity to sample and review two products from their Safari Squad range of children's supplements. I chose the Chill-Out Gummies and Body Booster Gummies for my kids to try out. Read my Vie and Sante Safari Squad review to find out more about this fantastic range.
***Disclosure -The links in this post may contain affiliate links and I may receive a small commission if you make a purchase after clicking on a link.***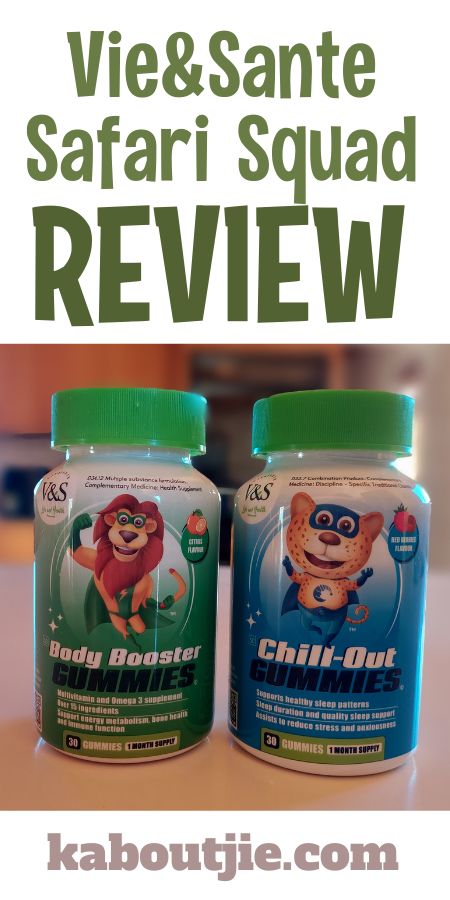 About Vie and Sante
Vie&Sante's Safari Squad offers a  vibrant children's supplement collection, infused with the essence of the Big 5. Drawing inspiration from the wise Elephant, the cool Leopard, majestic Lion, the robust Buffalo, and the sturdy Rhino, these animated characters are ready to embark on an exciting journey to support your children's health. These gummies are naturally delicious and vegetarian-friendly, meticulously crafted without the inclusion of gelatin, gluten, nuts, eggs, milk, soy, preservatives, or artificial additives. With minimal sugar content and no sugary coating, the Safari Squad gummies offer a delightful and nutritious option for your little ones.
About Vie&Sante Chill-out Gummies
When it comes to ensuring a good night's sleep and relieving stress in children, parents often find themselves in a constant quest for the perfect solution. Vie&Sante Chill-Out Gummies promises to ease the stressors of modern childhood and support a restful night's sleep.
Quantity: 30 Gummies per bottle
Duration: 1 Month's Supply
Flavour: Red Berries
Recommended Age Group: Suitable for ages 2 to 12 years
Product Features
Supporting Healthy Sleep Patterns: Vie and Sante Chill-Out Gummies are equipped with a powerful blend of Valerian, Chamomile, and Lemon Balm. These superstar ingredients work in harmony to help establish healthy sleep patterns in children. In today's fast-paced world, where children face academic pressures and the constant allure of social media, having a product that promotes quality sleep is invaluable.
Reducing Stress and Anxiousness: Childhood stress and anxiety are on the rise, but Vie and Sante Chill-Out Gummies are here to help. These gummies offer effective stress management, making them an essential tool in your child's well-being arsenal.
Boosting Immunity and Cognitive Function: Quality sleep and stress management are pivotal for a child's growth and development. These gummies not only aid in a peaceful night's sleep but also support the immune system and cognitive function, ensuring your child's overall health is prioritised.
Ingredients
Valerian: Known for its calming properties, Valerian root helps induce relaxation and is a gentle sleep aid for children.
Chamomile: Chamomile is a soothing herbal remedy that reduces anxiety and promotes relaxation, making it a perfect inclusion in these gummies.
Lemon Balm: Lemon Balm is nature's stress buster. It helps alleviate tension and anxiousness, allowing your child to unwind after a long day.
How To Take Vie&Sante Chill-Out Gummies
Consume one gummy prior to bedtime. In cases of severe sleeplessness or heightened anxiousness, children aged 10 to 12 years may opt to chew two gummies before bedtime. These gummies can be taken without consideration for meals. It is recommended to use Chill-Out Gummies as needed for short-term relief.
About Vie&Sante Body Booster Gummies
In today's fast-paced world, ensuring that children receive the essential nutrients for their development can be a daunting task. Vie&Sante Body Booster Gummies come to the rescue, offering a delicious solution that packs a punch with over 15 essential ingredients.
Quantity: 30 Gummies per bottle
Duration: 1 Month's Supply
Flavour: Orange
Recommended Age Group: Suitable for ages 2 to 12 years
Product Features
Essential Nutrients in a Gummy: Vie and Sante Body Booster Gummies are a treasure trove of vital nutrients. Packed with Omega-3, Zinc, Folic Acid, B-Vitamins, Vitamin K1 & K2, B-carotene, and Choline, these gummies provide a holistic approach to your child's well-being. In today's hectic lifestyle, where achieving a perfectly balanced diet can be challenging, these gummies help bridge the nutritional gap.
Supporting Energy Metabolism: These gummies are formulated to support energy metabolism, ensuring that your child has the vigour to take on their daily activities with enthusiasm.
Enhancing Bone Health: Bone development is crucial in growing children, and Vie and Sante Body Booster Gummies contribute to this aspect with essential nutrients that promote healthy bones.
Boosting Immune Function: A strong immune system is paramount for a child's health. These gummies are designed to bolster immune function, helping your child stay resilient against common illnesses.
Omega-3 for Brain Development: The addition of Omega-3 fatty acids is a standout feature. They play a pivotal role in brain development and function, potentially enhancing cognitive performance and behaviour in children.
Ingredients
Omega-3: Essential for brain development and function, Omega-3 fatty acids are a vital component for children's cognitive growth.
Zinc: Supports immune health and overall growth in children.
Folic Acid: Crucial for the production of red blood cells and promoting healthy growth.
B-Vitamins: Essential for energy metabolism, helping children stay active throughout the day.
Vitamin K1 & K2: Contribute to bone health and proper blood clotting.
B-carotene: Acts as a precursor to Vitamin A, important for vision and overall health.
Choline: Supports brain and nerve function.
How To Take Vie&Sante Body Booster Gummies
Consume one gummy daily, either with or without food. Please adhere to the recommended maximum daily dosage of one gummy and do not exceed it.
My Vie and Sante Safari Squad Review
Vie&Sante offered us two the choice of two products from their Safari Squad range of kids health supplements to try out. I decided on the Body Booster Gummies because this year has not been kind to my kids when it comes to getting sick, and the Chill-Out Gummies specifically for my daughter. She struggles with falling asleep at night, and she also gets very stressed and anxious around exam time which was looming at the time of delivery.
The packaging is bright, colourful, and fun. My kids love that these gummies come in a heart shape and said that they taste divine. They asked if they are allowed more than one per day, but I limited them to one per day. I know how good they taste since I tried one of each when they arrived. They are sweet, tasty, and soft, making them easy to chew.
Both my kids had the Body Booster Gummies every morning with their breakfast and my daughter had a Chill-Out Gummy before bed. Bedtime is usually a difficult time for my daughter. She worries about not being able to fall asleep and this anxiety prevents her from falling asleep. Bedtime has been much easier for her and she has fallen asleep most nights with no issues at all.
Exam time is also a time of stress for my Grade 6 daughter. She has such high expectations of herself and works herself up into a state when it is time to study, worrying about her exams. This exam period has gone more smoothly than any other.
Another big stressor for my tween daughter is the ongoing girl drama at school. There have been a number of upsetting events recently and my daughter handled them like a champ. I believe it is in part due to the hard work we have been putting in lately with talking about putting up boundaries, and choosing healthy friendships, but I believe these Chill-Out Gummies have helped smooth the way for her.
Both my kids have been feeling under the weather constantly the last few months with flu, stomach bugs, coughs, and sniffles. Since taking the Body Booster Gummies for the last two weeks it looks like they are stronger and healthier. I've spent the last week struggling with a nasty bout of flu, but both my kids have stayed healthy. Usually when someone in our family gets sick everyone else follows very soon after. I take this as a very good sign.
I love that this range is free from preservatives and artificial additives, with minimal sugar. It is important to keep an eye on the things that our kids consume.
If you are looking for a health supplement for your kids, make sure to have a look at Vie&Sante's Safari Squad range.