Can you use essential oils for weight loss? For centuries people have been using essential oils for medicinal purposes. They are often used as natural remedies because they are pressed and distilled directly from plants and left into their rawest and purest form. From treating high blood pressure, reducing anxiety and used when performing aromatherapy or massages, to treating minor aches and pains.
When you're trying to lose weight and would like to enhance your diet plan and exercise routine, then you might want to consider making use of essential oils.
When using essential oils for promoting weight loss, your best option is topical application. However, you shouldn't apply it directly to the skin as this may cause inflammation or irritation. Dilute twelve drops of essential oils with one ounce of carrier oils such as coconut oil or almond oil.
It is important to do a skin patch test on the forearm first before doing a full application.
***Disclosure -The links in this post contain affiliate links and I may receive a small commission if you make a purchase after clicking on my link.***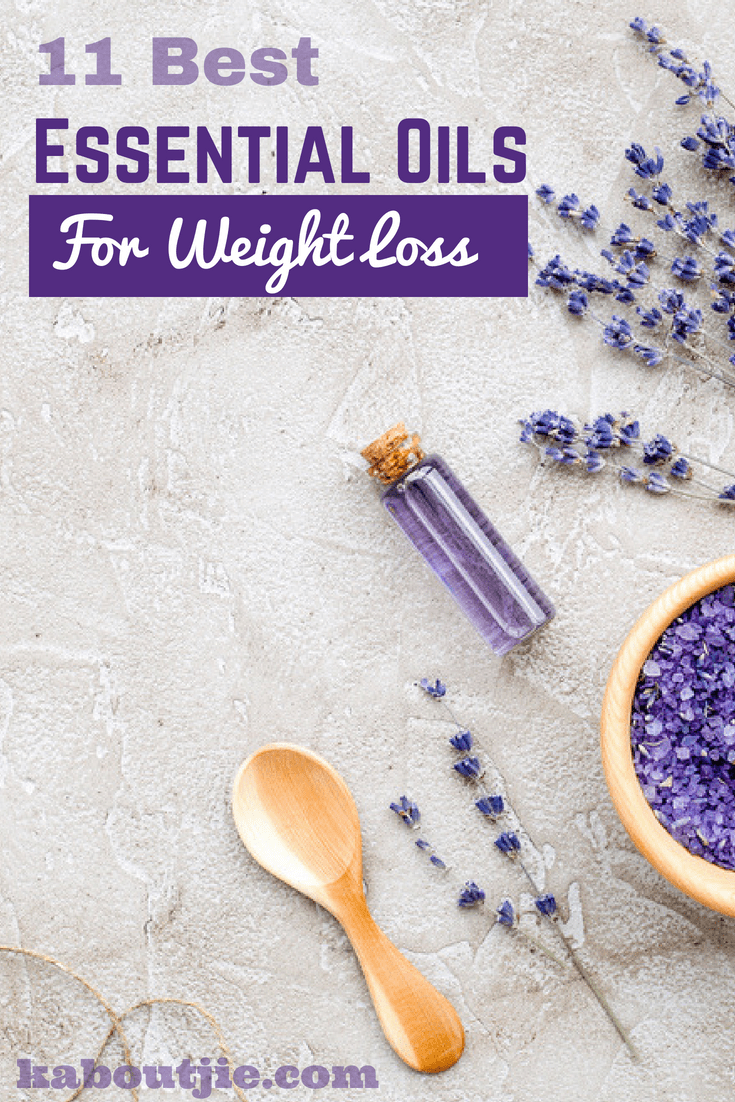 Here are the best essential oils for weight loss:
Lavender oil can relieve insomnia and promote sleep. One of the top tips for weight loss is getting enough sleep. This will assist you in having a productive day and prevent you from snacking on unhealthy foods and sugary treats that provide an instant sugar rush. Lavender oils are one of the most well known essential oils and are great for reducing anxiety.
Juniper may be a very helpful weight loss tool, as the chemical compounds found in this oil is known for it's anti-obesity and antioxidant properties.
Topical application might be your best option, as it reduces water retention in the body.
Preventing oxidative stress in the body, this prevents conditions like diabetes, a weakened immune system and obesity. This oil has been used in Asia for medicinal purposes for many years.
Also read: 6 Healthy Recipes for Weight Loss
Researchers found that garlic essential oils help prevent body weight gain and it contains many protective properties.
Nootkatone, a compound found in grapefruit essential oil, assists in increasing metabolism as helping your body get rid of fat.
For best results, combine this oil with a healthy diet.
If you have a sweet tooth and like to indulge in eating chocolate, cookies and other treats, then this oil might be your best option, as it curbs sugar cravings and aids in controlling insulin levels as well as keeping blood sugar levels in check.
When you add cinnamon oil to your daily routine, you are less likely to overeat.
Curbing food cravings, helping absorb vitamins and minerals from the food you eat and help reducing inflammation in the intestines, makes this oil the optimum choice for digestive health.
This all-in-one essential oil ensure good physical and mental health.
Increasing levels of norepinephrine in your brain, therefore boosting your mood, dissolving fat in your body and assists in making you think positive thoughts with it's zesty flavour, this essential oil might  be your best option if you have a limited essential oil budget.
By reducing bloating and indigestion, suppressing appetite and clearing your mind for early morning work-outs, this oil is perfect for digestive health and promoting weight loss.
Preventing you from emotional overeating or skipping daily workouts, this essential oil boosts your mood and increases your energy levels.
Promoting a good night's rest therefore reducing stress levels, this oil is very beneficial, as high stress levels can lead to problems such as weight gain and other health problems.
This magical oil also promotes digestive health, curbs appetite and prevents weight gain.
Massage therapy with essential oils:
Rub the oils to the bottoms of your feet, your temples, legs, forehead, arms, neck and chest.
Avoid sensitive areas like the ears, areas around the eyes, mouth or where you have damaged or broken skin.
Change up your routine by adding a few drops of essential oil to your favourite body lotion or a warm bath.
To treat a specific area, add a few drops to a wet towel and use as a hot or cold compress.
Create a luxurious or romantic evening with your partner by making turns giving each other a massage.
Diffusers and essential oils:
Not only will your home smell divine, but adding essential oils to a reed diffuser or ultrasonic diffusers that release a mist into the room, can create a world of benefits that you were not even aware of.
For instance, if you would like to promote good psychological health, using Bergamot or lemon essential oils in a reed diffuser is your best choice.
Simply apply a few drops of the oil with a light carrier oil into a vase and add a few reeds.
To promote a good night's rest, chamomile or lavender oil can be used.
Important notice
Some essential oils are best taken orally, while others can only be used topically. Some oils are not safe to take internally and making use of most essential oils, it is important to remember that they should be diluted when used directly on your skin. It is crucial to do proper research and consult a doctor if you are suffering from certain health conditions to make sure that it is safe for use.
Conclusion:
The best essential oils for weight loss should be used in conjunction with a good health routine such as a healthy diet and exercise. The general idea is to promote weight loss by supplementing your existing routine with the use of essential oils.
By experimenting and trying a few of these oils, you can establish which oils work the best for you. By using the above mentioned essential oils and using different methods, they can assist in eliminating the mental and physical barriers that people experience when the are trying to lose weight. By knowing which essential oils assist with the different problems, you can start using them to your benefit.