Having a braai is always cause for celebration in South Africa, there is a reason why Heritage Day is also known as Braai Day. Let's face it there is nothing better than having a braai with family and friends over the weekends no matter the season. We braai every single weekend at home. While a huge emphasis may be placed on the meat and what goes on the braai the salads and sides are equally as important and can make a braai extra special. Here are some fantastic braai salad recipes and sides for your next braai.
Braai Salad Recipes
Let's face it a braai is just not complete without a salad or two. Here are some standard braai salads along with some more interesting salads to add to your braai.
Best Braai Potato Salad
Potato salad is one of the best braai salads, it will always go down a treat with any crowd.
While you can simply boil potatoes and throw mayonnaise on them you can also put some extra effort in and make the best potato salad ever. There are some simple things you can do to make your potato salad incredibly good.
Tips for making the best potato salad:
Avoid using baking potatoes, rather opt for small, thin skinned potatoes.
Cook your potatoes whole with the skin and add plenty of salt to the water (remove the skins after cooked and cooled).
Bring your potatoes to the boil then turn down the heat to simmer them until done rather than keep it boiling until done.
Your potatoes are cooked when you can push a fork through the middle – don't overcook your potatoes.
When your potatoes are cooked remove them from the hot water and add them to an ice bath to stop them from cooking further and to cool them down.
Once your potatoes are cooked, cooled and chopped you can add a tablespoon of vinegar to the potatoes to bring out the taste before adding the other ingredients.
Ingredients:
8 small potatoes – boiled, skinned and chopped
¼ red onion finely chopped (let the chopped onion soak in a bowl of cold water before using)
3 hard boiled eggs chopped
fresh herbs finely chopped (to taste)
¼ cup mayonnaise
½ cup sour cream or plain full cream yoghurt
1 teaspoon mustard
½ teaspoon salt
½ teaspoon pepper
Method:
In a jug mix the mayonnaise, sour cream, mustard, red onion, salt, pepper and herbs
Add the sauce to the potatoes and stir in.
Add the eggs to the potato salad and stir in.
The beauty of making potato salad for a braai is that it can be made well ahead of time and kept in the fridge until you are ready to serve. This potato salad can be kept in the fridge for up to three days.
You can also change up this recipe each time by adding other ingredients such as chopped celery or pickles.
Creamy Pasta Salad
Pasta salad is another firm favourite when it comes to braai salads.
Tips for making the best pasta salad:
Choose the right pasta – pasta shells or elbows make the best pasta salads.
Cook your pasta until just done – you don't want to make the mistake of overcooking it and coming out with sticky, soggy pasta.
Cook your pasta with plenty of salt and a tablespoon of oil.
Once your pasta is just cooked remove it from the pot and rinse it with cold water, this will prevent it from continuing to cook as well as stop it from getting sticky.
Ingredients:
3 cups pasta – I prefer the big shells
¼ red onion finely chopped (let the chopped onion soak in a bowl of cold water before using)
1 red pepper chopped
1 cup peas
1 cup corn
¼ cup mayonnaise
½ cup sour cream or plain full cream yoghurt
1 teaspoon mustard
½ teaspoon salt
½ teaspoon pepper
Method:
In a jug mix the mayonnaise, sour cream, mustard, red onion, salt and pepper
Add the pasta and the rest of the ingredients into a bowl with the sauce and mix
This pasta salad is divine and will keep in the fridge for up to three days which means you can make it the day before or early in the day before the braai. You can mix this salad up each time by chopping and changing some of the ingredients – great ingredients to add are cheese blocks, radish or celery.
Cucumber and Avo Salad
This salad has such a fresh taste to it and so easy to make. This salad should be made just before serving.
Ingredients:
1 cucumber
2 avocadoes
½ red onion finely chopped
½ cup olive oil
¼ cup balsamic vinegar
1 teaspoon honey
1 teaspoon mustard
1 clove garlic minced
½ teaspoon salt
½ teaspoon pepper
Method:
Add the red onion, olive oil, balsamic vinegar, honey, mustard, minced garlic, salt and pepper to a shaker and shake until completely combined
Slice the cucumber in half length ways then slice it thinly and chop the avos
Mix the cucumber and avos together in a bowl and pour over about half of the dressing and mix. You can keep the rest of the dressing for another salad.
Broccoli and Almond Salad
This salad is not only tasty, it is a healthy braai salad for those that want to have a great braai but know that they are getting in some healthy choices. This salad can be made ahead of time and but make sure to only add the nuts just before serving to ensure that they stay crunchy.
This salad is crunchy and super delish.
Ingredients:
one broccoli head cut up small – leave out the stalks and only keep the florets
3 tablespoons of olive oil
1 tablespoon of balsamic vinegar
3 tablespoons of mayonnaise
2 tablespoons of mustard
1 teaspoon of honey
1 clove of garlic minced
½ teaspoon of salt
¼ cup red onions finely chopped
½ cup dried cranberries
For the almonds:
½ cup almonds
½ cup pumpkin seeds
¼ teaspoon paprika
½ teaspoon maple syrup
1 tablespoon soy sauce
Method:
For the almonds mix the almonds, pumpkin seeds, paprika, maple syrup and soy sauce together then spread onto a baking tray on baking paper and bake at 180ºC  until golden brown (about 10 to 15 minutes)  and set aside to cool
Add the olive oil, balsamic vinegar, mayonnaise, mustard, honey, garlic and salt to a big bowl and whisk until combined.
Add the broccoli, onions and cranberries to the dressing and toss until all the ingredients are coated with the dressing.
Add the almonds mix just before serving.
Mango and Red Pepper Salad
If you have never tried mango in your salad before you don't know what you are missing so you had better give it a go.
Please excuse the soggy mangoes in my photo above, I really wanted to add this salad to my list because it really is a divine salad, but it is not mango season so the picture above was using tinned mangoes. It really is best to use mangoes that are fresh and firm but feel to make do with tinned mangoes.
Ingredients:
1 mango
1 pepper
1 small red onion
¼ cup coriander leaves
1 tablespoon balsamic vinegar
1 tablespoon lemon juice
3 tablespoons olive oil
1 teaspoon sugar
½ teaspoon salt
½ teaspoon pepper
Method:
Whisk together the balsamic vinegar, lemon juice, olive oil, sugar, salt and pepper until combined
Cut the mango, red pepper and red onion into julienne style pieces
Add the coriander leaves and dressing to the mango, pepper and onion and toss until coated
Fully Loaded Butternut and Spinach Salad
Nothing beats a green salad but there is no reason to make it boring, there are so many ways to make a salad fun, delicious and interesting. Here's the fully loaded salad that I love to make but feel free to swap out the ingredients for your favourites and play around. A great fully loaded salad does not limit itself to traditional salad items, you can add fruit, seeds, nuts, grains, legumes, meat and veggies.
Fully loaded salads make great braai salads and are also perfect as a meal all on their own too.
Ingredients for the butter nut:
4 cups butternut chopped into smallish cubes
2 tablespoons of olive oil
2 tablespoons of honey
1 teaspoon of cinnamon
Ingredients for the salad and dressing:
100g baby spinach
½ cup mixed sprouts
½ cup of chopped almonds
½ cup of pumpkin seeds
½ cup of dried cranberries
½ cup of feta cut into blocks
1 ½ tablespoons of olive oil
1 ½ tablespoons of balsamic vinegar
1 tablespoon of honey
2 teaspoons of mustard
1 clove of garlic minced
½ teaspoon of salt
¼ teaspoon pepper
Method:
For the butternut mix the olive oil, honey and cinnamon together and then toss with the butternut cubes to completely coat the butternut
Bake the butternut cubes at 180ºC for 25 – 30 minutes until just cooked through. Make sure to turn them a few times. Put aside to cool.
Roast the almonds and pumpkin seeds for a few minutes in a pan to bring out the flavour and put aside to cool.
Add the spinach, butternut, almonds, pumpkin seeds, sprouts , cranberries and feta to a bowl.
In a separate bowl mix the olive oil, balsamic vinegar, honey, mustard, minced garlic, salt and pepper until combined, then drizzle over the salad.
Braai Sides Recipes
Salads are always great with braais but there are also plenty of non-salad braai sides that you can also include with your braai to make the occasion more interesting and fun. Here are my top braai sides for South Africans to enjoy: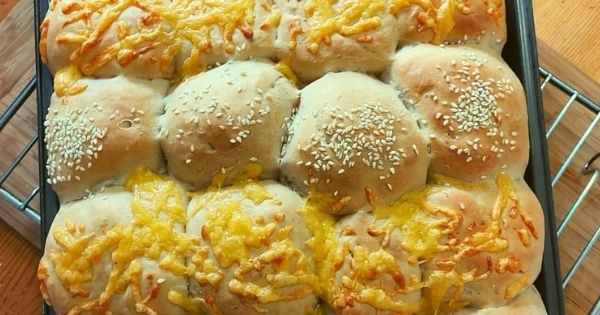 Pull Apart Bread
This pull apart bread recipe from Grace Stevens is absolutely amazing, it is fantastic to make with soup for those winter days or as a side for a braai. Make sure to start making them early as they take some time to prepare and pop them in oven 15 minutes before you are ready to eat as they really must be eaten hot out the oven.
Ingredients:
4 cups of flour
2 teaspoons of salt
60g butter
375ml milk
10g instant yeast
1 egg
Method:
In a bowl add the flour, salt and butter
Add the milk to a jug and add yeast in and the egg, mix well
Add the milk mixture in the bowl of dry ingredients and mix together until just mixed
Turn the dough out onto your work surface and knead it for about 2 minutes until it is silky smooth
Put the dough back in the bowl and cover with cling wrap and leave it for an hour or two until it has doubled in size
Turn the dough out onto your work surface and play with a bit
Form the dough into 16 equal balls and place them on your baking tray just touching each other
Using a basting brush baste the tops of the dough with milk and sprinkle with your toppings (I sprinkle half with sesame seeds and half with grated cheese)
Cover with a tea towel and let it rise again (about 30 minutes)
Bake at 180ºC for 12 – 15 minutes until the bread rolls are golden
Serve hot out the oven
Mushroom Braai Kebabs
I love mushrooms, and they come out exceptionally well on the braai. They are quick and easy to make and make a wonderful braai side for any occasion. Plus mushrooms are an excellent source of Vitamin D.
Ingredients:
2 punnets button mushrooms
½ cup tomato sauce
2 tablespoons of soy sauce
2 tablespoons of honey
2 tablespoons of lemon juice
¼ teaspoon of salt
½ teaspoon of peppers
Method:
Skewer the mushrooms on kebab sticks
Mix the ingredients together and pour over the mushrooms and leave to marinade for an hour or more.
Put the mushroom kebabs on the braai, turning occasionally and marinade with the left over sauce often until well cooked.
Roasted Chickpeas
Leave the chips and opt for a healthier snack option with these super tasty roasted chickpeas! They are super crunchy and delicious when served hot and once they cool down they become a little more chewy.
Ingredients:
1 tin chickpeas
3 tablespoons of olive oil
1 ½teaspoons of salt
2 – 3 teaspoons of spices of your choice (I like to use paprika, cumin and garlic salt)
Method:
Drain the chickpeas and dry them as much as possible with a serviette or clean tea towel.
Mix the olive oil, salt and spices in a bowl then add the chickpeas and toss to coat them
Spread the chickpeas out on a baking tray
Roast the chickpeas at 180ºC for about 20 to 30 minutes until golden brown. Make sure to turn them often while they are cooking.
Serve them hot.
Bacon Oepsies
Bacon oepsies are a great braai side, you can make them before you cook any of the other braai meat as a starter or you can serve it with the meal, either way they will go down a treat.
Ingredients:
3 packs of streaky bacon
1 ½ cups of tomato sauce
¼ cup of honey
¼ cup of brown sugar
½ cup of soy sauce
½ cup worcester sauce
¼ cup oil
3 tablespoons lemon juice
1 teaspoon chili sauce
Method:
Lay two pieces of bacon on top of each other and pierce the skewer through the both and twist the bacon around the stick and pierce through the bottom of both pieces. Make sure to roll them really tight and place them all in shallow dish next to each other.
Mix all the other ingredients together and then pour over the bacon oepsies in the dish. Make sure they are completely coated and leave to marinade for at least an hour.
Braai the bacon oepsies turning them and marinade them often until done.
WIN A R500 Pick n Pay Digital Voucher
Win a R500 Pick n Pay Digital  Voucher – fill in your details in the form below to enter the competition and share your favourite braai salad or side in the comments!
This competition is open for residents of South Africa.
This competition is open for entries from 27 June – 02 August 2021 – the winner will be announced on our competitions page.
This Competition Is Closed For Entries
Click here to sign up for my newsletter so you don't miss another competition!