Many parents are interested in using coconut oil for babies. You do not want to choose the wrong products when it comes to baby skincare. Children and infants are prone to skin issues and conditions. That is why natural products are always the safest and works best when you are treating any skin condition in most babies.
One natural product that keeps a baby's skin healthy and soft is coconut oil. Coconut is deemed to be healthy, due to its varied therapeutic components.  The medium-chain triglycerides content in coconut oil is essential, particularly when used for medical reasons. Therefore, coconut is mainly used as a primary fat source in the diet of premature or critically ill babies.
A range of different coconut oils have been developed over the years, however, not all of them have equal nutritional value. In this post we will be exploring the use of coconut oil for babies and how you can obtain the maximum advantages from it. 
***Disclosure -The links in this post may contain affiliate links and I may receive a small commission if you make a purchase after clicking on a link.*** 
Different Varieties Of Coconut Oil Available
Coconut oil is made from the fruit that grows on a coconut tree. Here are the three primary coconut oil variants.
Virgin or unrefined coconut oil
Virgin or unrefined coconut oil is extracted from the fresh matured coconut fruit. Virgin oil is not processed or refined, and high temperatures or chemicals are used for preparing the product.
Refined coconut oil
Refined coconut oil is made from dried coconut kernel (copra). This type of oil is often refined using deodorization or chemical bleaching.
Partly hydrogenated coconut oil
Partly hydrogenated coconut oil is processed via partly hydrogenation which is the process where unsaturated fatty acids are transformed into saturated fatty acids. 
The molecular construction of coconut oils makes it easy for the oil to be absorbed through your skin, making it an ideal natural moisturizer, especially in tropical areas. The anti-inflammatory, antimicrobial and antioxidant properties contained in coconut oil makes it an excellent remedy for skin-related issues in babies. It is often utilized as an emollient for patients that suffer from atopic dermatitis. However, before coconut oil is topically applied for any skin condition, it must only be done after thorough discussion with your paediatrician.
15 Uses of Coconut Oil for Babies
Baby massages
Baby massages are known for soothing fussing and crying infants, and most importantly, helping them to sleep better. Coconut oil is an ideal option for massages since it contains anti-bacterial properties which are absorbed easily into the skin. Always use pure coconut oil for baby's skin to get the best results.
Removing meconium from baby's skin
Coconut oil is a suitable substance for removing the tar-like viscous substance (meconium) that come from your baby's bowel. Gently rub the coconut oil over the meconium to remove it from your baby's delicate skin.
For relief of eczema
Eczema is a well-known skin issue that causes the skin to be itchy and dry. It can be incredibly uncomfortable and are commonly prevalent in infants, but generally disappears when the child grows. Coconut oil comes in useful for providing relief and soothing the dryness. Massage your baby's skin with coconut oil after or before his bath as well as before bedtime. The antibacterial properties in coconut oil can help the condition to lessen with frequent use.
For promoting baby hair growth
Did you know that coconut oil contains MCFAs (medium-chain fatty acids) which assists with eliminating sebum accumulation from your hair follicles? It is also rich in the C12 chain of medium-chain fatty acids, also referred to as lauric acid. This property assists with prevention of protein loss in your hair. Coconut oil comes in handy for treating dry scalp in babies. Massage it into the scalp before bath time to assist with replenishing the skin and encouraging hair growth.
As a skin moisturizer
Coconut oil contains numerous healthy fats and vitamins which makes it the perfect natural moisturizer for baby's skin. You can merely dab some of the oil on your infant's dry skin and gently massage it until it is absorbed. 
Using coconut oil for diaper rash
Most infants suffer from diaper rash at some point due to urine absorption and nappy quality. The anti-fungal and moisturizing characteristics of coconut oil can prevent the spread and occurrence of nappy rash. Coconut is also used effectively for curing Candida Albicans, which is a well-known cause of fungal infections. Coconut oil is used for treating yeast diaper rash that commonly happens with babies. The coconut oil is creating a barrier between the affected skin and soiled diaper. Apply a coconut oil layer on your child's diaper region with each diaper change. Gently massage the oil into the folds of the skin and the groin area.
Relief for constipation
Due to coconut oil being hypoallergenic and containing lauric acid, it is incredibly useful for easing digestion as well as offering relief from constipation. You can mix half teaspoon of coconut oil into your infant's breakfast and make sure that your baby is taking in enough fluids to promote bowel movements. You can also rub some coconut oil in the area between the genitals and anus (perineum) and leave it during the night.
Using coconut oil for baby acne
Babies often develop small red pimples or bumps that are itchy and swollen. It is possible that it is baby acne, and when touched, it could result in infection. Coconut oil is a tried and tested solution for baby acne. The lauric acid content in the substance kills the bacteria which causes the acne and avoid scarring when the condition clears up. Rub some of the oil lightly between your fingers to allow it to warm up prior to applying it on the affected areas. You can leave it on or wash it off with warm water afterwards. However, make sure you check with your baby's paediatrician prior to using it.
Using coconut oil in your baby's food
There are numerous benefits linked to adding coconut oil to your baby's homemade food. The oil is an excellent source of calories and fat for your child and it is deemed safe for consumption. If you are unsure about using it, consult with your healthcare professional first. Coconut oil is used for cooking just like standard oil.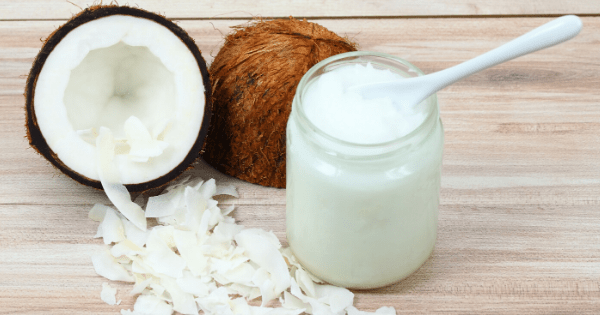 For cradle cap
Many new-borns develop dry scalp or cradle cap and the condition is usually due to hormonal fluctuations at the end of pregnancy. The condition has symptoms of flaky scalp that has the same appearance as dandruff. Cradle cap is also referred to as seborrhoea or seborrheic dermatitis. The anti-bacterial characteristic of coconut oil can do wonders in curing cradle cap. After applying the oil to your baby's scalp, let it rest for twenty minutes then gently brush off the dry flakes with a soft baby brush. Once the flakes are removed, you can remove the oil with lukewarm water. 
For insect bites
Research studies revealed that the fatty acids in coconut oil might have the potential to act as insect repellent to keep away stable flies, bed bugs, and horn flies. Besides this, the emollient and inflammatory characteristics of coconut oil may offer relief from the sting caused by an insect bite. Rub some coconut oil between the palms of your hands to warm it up and gently apply the oil to the affected area where the bite is. Do not rub too hard since it can lead to more discomfort and pain. Leave it until baby's next bath.

Relief for chapped lips
Dry and chapped lips can be incredibly painful for infants and can make nursing problematic. The condition can worsen with your baby licking his lips to try and easy the discomfort. Dip your fingers into the coconut oil and gently smear it onto your baby's lips as well as the area surrounding it. For maximum benefits when using coconut oil for babies, ensure that you only use organic, virgin coconut oil as opposed to the refined one. 
Homemade baby wash
It can be challenging to find the right baby wash for your baby's delicate skin. Many of the baby washes available on the market contain chemicals that could be harmful to your baby's skin or cause an allergic reaction. In many instances, you might be unaware of the ingredients that your baby might be allergic to. You can make your own homemade baby wash by mixing coconut oil and castile soap or castor oil. Apply over baby's face and body when bathing him, gently massage to remove any dirt, and rinse with bathwater.
However, before using this homemade body wash, you must first consult with a pediatrician. This is essential since the efficacy and safety of co-ingredients like castile soap and castor oil must be checked prior to use.
Chest rub
When your baby has a cold, he can find it challenging to breathe and it may even impact his feeding schedule. If not treated, the cold can escalate and result in fever. Therefore, using a chest rub for a cold can help with decongesting his nose and chest area, and assist with treating the cold. 
Soothing pain linked to teething
Most babies begin teething in their first year, usually round about six months. Teething can result in your baby acting fussy, feeling cranky, and losing sleep. You can apply coconut oil to his gums or a teething toy to help relief his discomfort. Coconut oil is useful for soothing inflammation, however first check with his pediatrician about using coconut oil as a home remedy. 
3 Recommended Coconut Oil Products For Babies
Cocobelle baby pure and gentle organic virgin coconut oil
This product is 100% cold-pressed virgin coconut oil. 

Suitable for baby's sensitive skin, keeping it soothed and moisturized. 

Contains no chemicals.

Can be used as a bottom balm and baby massages.

Manufactured from ethically sourced and organically farmed coconuts.

The ideal head-to-toe, multi-purpose moisturizer. 

Cocobelle baby coconut oil can be used for dry scalp/cradle cap, skin sores, eczema, dry skin, inflammation, and redness. 

The products are packaged in 100% recyclable BPA-free jars.
Viva naturals organic extra virgin coconut oil
This product is made with fresh organic coconuts that are cold pressed with a nutrient rich and natural rich flavor. 

The product is rich in nutrients and can be used as a hair conditioner or moisturizing lotion. 

Viva naturals extra virgin coconut oil can also be used for spreading, cooking, and frying, sautéing, and baking as a healthy alternative for butter.

Perfect for a gluten-free, keto, or paleo lifestyle, is easy to use and does not require refrigeration. 

This product is non-GMO and USDA-certified organic, gluten-free and made from only high-quality organic coconuts. 

Sustainably harvested.
Baby bum monoi coconut balm – multipurpose coconut oil with cocoa and shea butter
The manufacture of Baby Bum Monoi Coconut Balm was inspired by the coconut oils that was made by Pacific islanders that infused the oil with tiare flower petals (also called monoi).

Can be used as nipple cream, hand balm, or body moisturizer.

This natural product is plant-based and contains cocoa butter, shea butter and aloe, suitable for all skin types.

Cruelty-free, gluten-free, dye-free, and vegan.

Suitable for use on sensitive baby skin.

User instruction: melt a little bit between the hands and rub into your skin. Warm it up and apply it as a moisturizing oil or cool it for use as a salve or balm. 

Product must be stored in a cool and dry place. 

This product was formulated particularly with babies, toddlers, and kids in mind with natural and moisturizing ingredients. 

Tested by paediatricians and dermatologist. 

Contains no phthalates, sulphates, or silicone.
Conclusion
Coconut oil has numerous benefits for babies and are readily available to moms everywhere. Make sure that this incredibly useful and multi-purpose oil are kept at hand for soothing the many ailments that babies can suffer from. However, make sure that you do not have a history of coconut allergy in the family. Before using coconut oil for your baby, first consult with your doctor or paediatrician to make sure you have been given the all clear.