Lately my favourite thing to wear is maxi dresses, and I was eyeing this floral boho maxi dress from Amazon for a while before I bought it. Find out more about it in my floral boho maxi dress review below.
***Disclosure -The links in this post may contain affiliate links and I may receive a small commission if you make a purchase after clicking on a link.***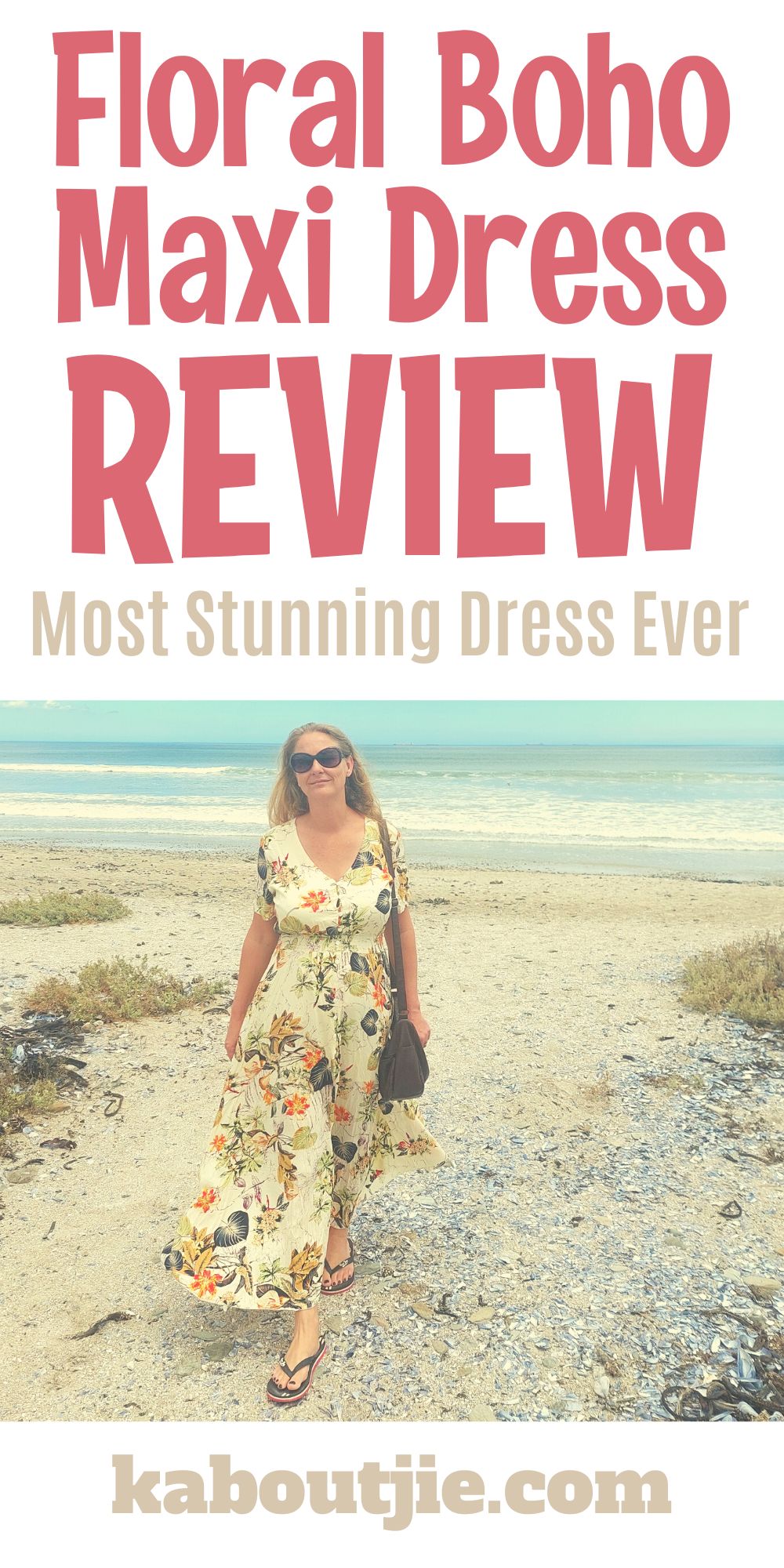 V Fashion Women's Floral Maxi Dress Button Up Split Summer Boho Long Beach Dress
This maxi dress is 100% rayon, with a V-neck, A line buttons up a flowly split, front tie (decorative) and smocked waist. It is available in 15 different prints.
This dress has 995 reviews on Amazon with an average 4.3 star rating out of 5 stars.
My Floral Boho Maxi Dress Review
I could not be happier with this beautiful maxi dress I bought in December. I actually had a few of the dresses in different prints saved in my wish list on Amazon and planned on buying the dusty pink one first but I ordered the beige by mistake. I wasn't sure if this print would look nice on me, but I am so glad I made a mistake because I could not be happier with this one.
It feels fantastic, I love the colours, and it is so comfortable. One thing to take note of is that I detest ironing and while I feel it doesn't need ironing if taken off the line and hung up straight away, the inner skirt lining does need to be ironed after washing as the fabric bunches up and then only comes half way down my bum making it feel uncomfortable. I think the short inner skirt is meant to protect against the dress being see through in the sun but it is not see through at all so that inner is not really needed and I might just remove it so I don't have to bother with ironing.
The tie in the front was annoying and I didn't like the look of it so I removed it which was very easy to do.
I love the buttons. There are loops to button the dress up rather than button holes which are very feminine, it is a lovely touch.
Something I always have to pay attention to is how much space there is for my boobs since I'm a 36DD and very often dresses are too tight around the bust. After reading all the reviews I was certain that the dress would fit nicely and it is perfect for women with big boobs.
The quality so far seems good. I've worn it a lot and put it through the wash a number of times with no problem. It does say on the website to handwash the dress but I don't ever bother with handwashing and so far so good.
I want to buy the dusty pink and black floral prints too at some stage.
I paid $63.99 when I ordered it ($28.99 for the dress, $15.21 for the shipping, and $19.79 for import taxes) which works out to approximately R1164.58 depending on the current exchange rate. I got a refund of $13.99 to my Amazon account for import taxes, so in total I only paid $50  which is about R909.97.
It took exactly two week to be delivered from the time I placed my order.
If you love feminine flowing maxi dresses I highly recommend checking out this dress on Amazon.