With winter approaching, you may feel the need to stock up on hot cocoa and extra blankets so home will become a warm haven in the colder months. Don't think this makes you a recluse or a hermit, its a worldwide trend that's spreading like wildfire. Similar to the concept of "nesting", where parents prepare for the arrival of a new family member, cocooning is the name that's been assigned to the concept of staying in and living it up… at home.
Picture it. Cold outside, warm and snug inside. Everything you need within arms reach. Friends gather and enjoy good food and wine, while the kids play board games on the floor. Sound appealing? Keep reading for some easy tips to get your home cocoon ready.
Stock that Pantry
It's time to line those cupboards with the things you love. Imagine prepping for a long hibernation. Stocking up a pantry creates a feeling of abundance, so if you see your favorite food items on sale, grab a few extra. Snacks, spices and soul food, get them all.
Notice there is a difference between abundance and over indulgence. This is not an excuse to fill the pantry with sugary treats and eat yourself sick. It's about experiencing moments of pleasure where you can enjoy the decadence and celebrate life.
Healthy food option can also be warming and feel luxurious. Winter soups and stews feed more than just the stomach.
Cozy Bed & Couch
Few things are as restorative and healing as a quality nights sleep. This is a key area not to neglect, especially considering that we spend almost half our lives sleeping. Layer your bed with soft, warm blankets to ensure a snug night. If you're a hot sleeper, invest in a comforter for hot sleepers, it will help keep your temperature constant and support a healthy sleep pattern.
Your living area should have the same inviting feel as your bedroom. Think of curling up to watch your favorite series or enjoy a good book. Plush is the new plain. Sink into that sofa as if into a hug and stay there as long a your heart desires. Have furniture nearby that adds to the comfort of the space. Even a simple side table can make a space more liveable and comfortable so you can keep items you may need close by.
Light it Up
Both day and night, lighting makes a space more inviting. During the day, allow in as much natural light as possible. For Sunday naps and chilling out, position your favorite chair or daybed in a spot that received soothing sunlight.
As day turns to night, close the curtains or draw the blinds and experience cocooning at its best. Light candles to add romance and the feeling of safety. Whether you're alone, busy family or a group of friends, the last thought on anyone's mind will be leaving soon.
Sounds & Smells
It makes perfect sense that in creating a haven, you should appeal to all the senses, and what you hear and smell plays just as important a part in creating a space you never want to leave. Gentle music or the kind that makes your foot tap will infuse the area with the same mood.
The smell of baked cookies or food in the oven is enough of a sensory treat, but scented candles are another way to stimulate the senses. The brain reacts to certain scents which in turn, affect our moods. This is because our olfactory receptors are directly linked to one of the most primitive parts of the brain, believed to be the source of our emotions.
In-house Entertainment
Food, music and good company are often all the entertainment you need, but it doesn't hurt to have a few backups available, especially with kids around. Create a list of activities that you can work through so you don't need to stress about what to do when a bit of boredom creeps in.
Movies are great to keep the kids entertained for just over an hour. If you prefer to limit screen time, board games are great fun for kids and adults alike.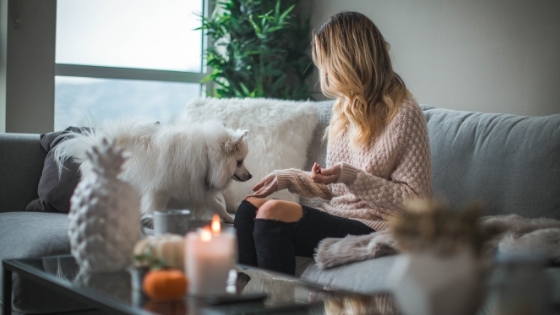 Stay Clutter Free
A "winter"spring clean, is the best way to get rid of the old and replace it with the new, even if the new is just more open space. The whole family can get involved in keeping the home neat and in order. This makes is warm and welcoming to return to. If you return to a mess, you are less likely to enjoy the environment.
For kids, easy storage options make unpacking and packing a breeze, and that means less work for you. If space is limited, look into furniture that helps hide unavoidable messes, like toys and crafts. Trundle drawers are made to fit under beds and sofas and help camouflage what you'd prefer not to see.
The reward of having a home where friends and family gather is priceless. By applying these points you will create a zone that will undoubtedly attract those you love, and help create hours of wonderful winter memories.
---
About The Author
Bianca loves spending time with her family. She is a big lover of the outdoors and travel, which she enjoys sharing with her husband and 9 year old son. Her philosophy towards life is that of finding pleasure in every experience. Food, friends and meeting new people are all opportunities to celebrate life. Follow her on Instagram: https://www.instagram.com/biancaknauf/
---