When my hubby told me he had booked us a table at Russells On The Port Restaurant for our 10th wedding anniversary date I was very excited, I had been wanting to try them out for years! A special anniversary deserves a special restaurant right? Our wedding anniversary was in August, so publishing this review has been on my to do list for a while.
Russells On The Port is right on the water overlooking the Power Own Marina. They offer accommodation in their guest house and guest lodge. They also offer venue hire for events.
Their restaurant hours are Wednesday – Saturday from 8h00 to 22h00 and Sundays from 8h00 to 17h00.
The restaurant offers indoor seating as well as outdoor seating . Since it was still quite cool in August and it was about to get dark we chose to sit inside even though the view was spectacular outside. We did go have a look and I took a photo of the sunset.
Their main menu is lovely with some fantastic choices including steak, burgers, seafood, curry and pasta. They also have a breakfast menu.
We shared the Prawn Pil Pil starter of shelled prawn tails, Spanish paprika, chili, garlic and olive oil. It was served with cooked, halved cherry tomatoes and it was divine. I'm not too fond of hot foods but the amount of chili was not too much for me to handle and it complimented the dish very well.
For the main meal I chose the Roasted Butternut Ravioli with toasted seeds, blue cheese creme and brown butter. I'm a huge lover of pasta and this dish did not disappoint. It was a wonderful mix of flavours and the portion size was perfect, leaving me enough room for dessert but not feeling like I had eaten too little.
My husband had the Crispy Pork Belly  with crackling, apple puree, calconnon and spiced onion jus. I sampled some of his meal and it was cooked to perfection. Thankfully he is not a fan of pasta so I managed to keep that all to myself.
We ended off our meal with a cappuccino and homemade ice cream. The ice cream was amazing! I chose the coffee flavour and my husband chose the caramel. I've been dreaming of this ice cream ever since!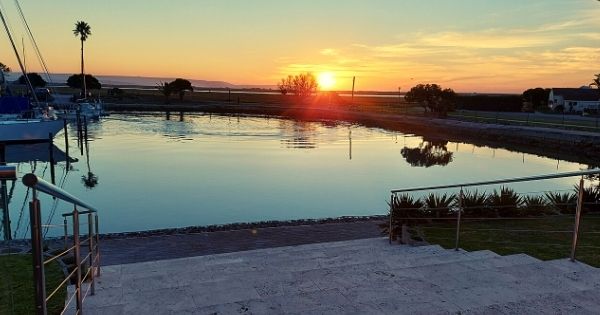 My Russells On The Port Restaurant Review
This is the perfect venue for a romantic occasion and I really want to go back to eat outside so that I can enjoy the outdoor view. I'm thinking Valentine's Day would be amazing since the weather will be warm.
I loved everything about Russells On The Port restaurant, from the friendly service to the amazing food and fun decor. They have found that special combination of being upmarket yet completely unpretentious and comfortable.
If you are looking for a venue for a special occasion in the West Coast then Russells On The Port Restaurant is my top recommendation.