Let's face it, kids are expensive. There are school fees, medical bills, food for growing bodies and of course clothing, and this all adds up over time. Children grow at an alarming rate – in the first 2 years of their lives they will outgrow their entire wardrobes a total of 7 times! From 2 years old you will be replacing your child's wardrobe every 1 – 2 years plus you will have to stock up on both winter and summer clothing. Unless you are rolling in money you will need to figure out a way to budget and keep costs as low as possible.
***Disclosure – This post is sponsored by Keedo.***
Keedo supplies stylish clothes, shoes and accessories for kids, with free deliveries on orders over R750.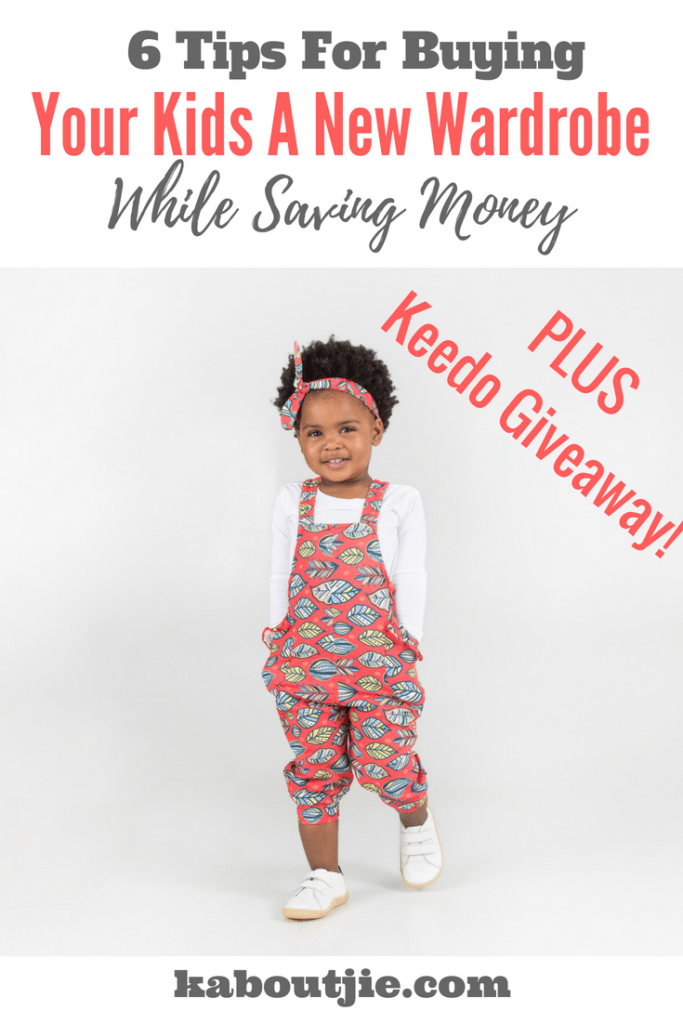 Buy Quality Clothing
This single tip is going to save you loads of money in the long run. For saving money it may sound counter productive to buy more expensive clothing that is good quality, but it will benefit you long term especially if you have more than one child so you can pass the clothing down to the next child.
I've bought many clothes that were cheap thinking that it is fine because it does not have to last long, however when an item of clothing doesn't make it past the one month mark without the hems coming undone, buttons falling off and seams splitting it hardly seems with the price does it?
Keep in mind that kids are hard on their clothing – they are climbing trees, playing in the mud, riding bikes and painting. You need to buy clothing that can be washed often and will still keep their shape. The fabric must be high quality so that it does not hold stains easily.
Make sure that you can return any clothing that you have purchased if it has not been worn, if the clothing has defects or if the clothing falls apart. Keep in mind that buying quality clothes from a reputable kids clothing company usually has a good returns policy.
Make sure to visit Keedo for high quality and stylish clothes that last. Take advantage of their free delivery to your door for orders over R750.
Buy A Size or Two Larger
When I was growing up I remember everything that my granny bought me was 1- 2 sizes too big and I would wear the clothing with the arms rolled up. I always thought my granny was a little strange doing this but now that I have kids I totally get it. By buying clothing one size up I can sometimes get 2+ years wear out of each garment instead of just one season.
The first year the clothing is baggy and a bit big, the second year it fits like a glove and if I manage to squeeze my kids into that garment for a third season what a bonus.
Buy Gender Neutral
This may not be applicable if you have only girls or only boys but when you have a pigeon pair like I do then buying gender neutral clothing is a big bonus so I can pass down my daughter's clothing to my son. Buying gender neutral clothing is becoming so much easier now with the gap closing between traditional girls and boys clothing.
It is now much more acceptable for a boy to wear pink or a dress than it was when I was growing up. However my kids are still stuck on what is considered appropriate in their eyes for girls clothing and boys clothing. For this reason I try to buy as many things as I can that are gender neutral.
Buy Practical Clothing
While buying a few funky, fun and fashionable items is great make sure to make up the majority of your kids wardrobes with practical, functional clothing items. In winter your child will need a raincoat, a warm jacket, a pair of gumboots and other warm clothing. In summer you will need to make sure that your child has a swimming costume, a sun hat  and plenty of light cool clothing for the hot days.
Have a list of all the important clothing items your child needs for each season and replace those when necessary before buying any clothing items that are not necessities. Frills and bows are pretty but they will do nothing to protect your child against the cold.
In winter you can also make use of a lot of the summer items by, for example, pairing a summer dress with thick stockings and wearing a long sleeve top underneath. You can layer summer clothing during winter to make up some warm and funky outfits.
Layering clothing during the spring and autumn months is also a great idea since often the mornings are chilly and the afternoons can get hot. Your child can then take layers on and off as needed throughout the day without getting too hot or cold.
Look Out For Sales
Keep your eye out for sale items, especially at the end of season when left over items are being sold at really good prices to make way for the new seasons garments! Yes your child won't need summer clothing going into winter, but remember the tip to buy a few sizes extra and grab some things to store for the next season coming. Long term you will benefit and you will always have something tucked away for the next season.
Check out Keedo's sale for up to 50% of selected items – now is the perfect time to scoop up some awesome deals!
Sell Second Hand Clothing
When your child has outgrown clothing keep all those sizes together and sell them as a bundle online or in a second hand store. There is a market for good quality second hand clothing and if you buy quality clothing as suggested you will easily be able to sell any old items.
What better way to find some extra income to buy new clothing than to sell all the old clothing that your child has just outgrown? True it won't cover all the new purchases, but it will take the punch out of it a bit.
Keedo Giveaway
Stand a chance to win a R500 Keedo gift card by entering your details into the form below.
Double your chances of winning by leaving a comment below this blog post sharing your tips and tricks for saving money when it comes to buying your kids clothing.  
The winner will be announced via blog post on Thursday 19 July 2018, as well as notified via email.
Please note that this competition is only open to residents of South Africa. Please be sure to check our competition terms.
**COMPETITION CLOSED**