Caramel is the perfect topping for a variety of foods enjoyed by adults and kids alike: popcorn, ice cream, yogurt, pretzels, cookies, crackers, you name it. In fact, when it is turned into an ooey-gooey, pourable sauce, this classic confection not only sweetens snacks, but it also instantly elevates them into something a little more special. 
Who wouldn't love to receive a bowl of vanilla ice cream drizzled with hot caramel sauce? What kind of spread has more appeal than a board of small bites alongside a bowl of hot caramel, ready for dipping? Caramel dipping sauce offers endless possibilities for wowing and delighting yourself and loved ones. 
While you can certainly purchase caramel sauce at a grocery or specialty food store, making it from scratch offers the added pleasure of enjoying a snack that is delightfully homemade. You can make enough to keep on hand in the fridge, and you can use caramel sauce as a great DIY gift anytime you like. If the thought of making caramel seems intimidating, do not worry: The truth is, a DIY caramel dipping sauce is entirely possible with the right tips. It is the ideal, special indulgence for you and/or your kids.
Interested in making caramel dipping sauce to share with family and friends? Here is what you need to know.
The Tools: What You Will Need to Make Caramel Sauce
Creating creamy caramel sauce is not as complicated as it seems. In fact, you only need a few basic tools, for example, all of which you likely already have on hand. 
Here are the must-haves when making caramel at home: 
A heavy-bottomed, medium saucepan

A heatproof spoon

Measuring cups and spoons
The Risk: What Most People Fear With Homemade Caramel
While the basic building blocks of caramel are the everyday ingredients of sugar, cream, and butter, anyone who has tried to make caramel at home could tell you knowing how to mix them into caramel can be tricky. What's the problem? It all lies in the way a caramel mixture easily overheats, scorches, and burns. Nobody wants burnt caramel scalding a pan! 
Never fear, however. Here is an insider tip to make your recipe foolproof: sweetened condensed milk. This single ingredient is truly the ticket to creating caramel that is a creamy, pourable consistency, rather than one that is hard and/or burnt. In the world of caramel-making, it changes everything. 
The Ingredients: What to Gather for the Recipe
For the following caramel sauce, you will need six or maybe seven ingredients to create your creamy dip. Building on the foundation of butter, sugar, and cream, you also use corn syrup, sweetened condensed milk, vanilla, and, if desired, salt.
Here are all the ingredients you will need: 
7 tablespoons salted butter

3/4 cup light corn syrup

2 cups granulated sugar

1/2 cup sweetened condensed milk

1 1/4 cup heavy whipping cream

2 teaspoons vanilla extract

Optional: 1/2 teaspoon salt (or to taste)*
*While salt is not necessary, and you can certainly skip it, using a 1/2 teaspoon can take your caramel's flavor up a notch and create that signature salted caramel effect. 
The Instructions: How to Make Caramel Dipping Sauce
With all your tools and ingredients on hand, you are ready to proceed. Read the list of instructions carefully, follow each one closely, and you are on your way to decadent homemade caramel in no time. Here is what to do:
To make caramel sauce, start by melting the butter in a medium, heavy-bottomed saucepan over medium heat. 

Next, add the corn syrup, sugar, and sweetened condensed milk and stir.

Stir this mixture constantly, until it is golden brown, the color of a new copper penny.

Once the mixture reaches the right color, immediately turn off the heat.

Slowly stir in whipping cream and, if desired, salt.

Return the pan to medium/medium-high heat, and stir the mixture until the caramel bubbles.

Once it is bubbling, keep stirring it over heat for five more minutes, letting the mixture thicken as it cooks. Note that when it is ready, it will still seem thinner than a traditional caramel sauce (although it will be perfect for drizzling on ice cream or adding to hot drinks), but it will continue to thicken as it cools.

Remove pan from heat, add vanilla extract, and stir to incorporate.

Give your caramel about 30 minutes to cool, and you'll have a thick, creamy caramel sauce.
What's most important to remember when making caramel is that constant stirring helps prevent scorching. If, for any reason, your mixture does scorch, do not scrape the bottom of the pan; simply keep stirring what's left above the scorched part.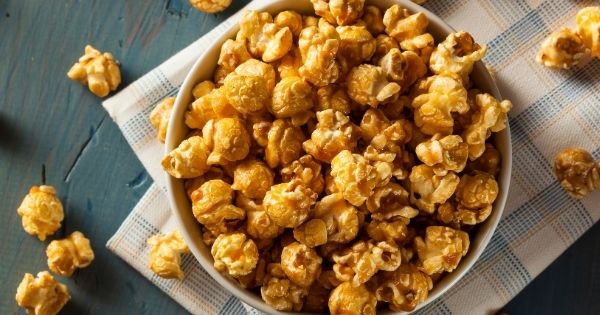 Fun Serving Ideas
The best part of making caramel sauce is you can keep it on hand to use any time you like. What are the best serving suggestions? Think of all the ways you enjoy caramel, and you are sure to come up with lots of great ideas for using your fresh-made sauce. 
To inspire you with possibilities, here are some popular, family-friendly options:
Serve caramel dip alongside sliced fruit, cookies, pretzels, or crackers.

Drizzle sauce on top of a bowl of popcorn, ice cream, yogurt, or cottage cheese.

Use it on pancakes, French toast, or a Dutch baby in place of maple syrup.

Add it to your morning oatmeal.

Swirl some cooled caramel dip into brownie or cake batter to create caramel ribbons.

Use it in cinnamon rolls or an apple pie.

Fill a tart shell with caramel sauce, and top with melted chocolate.

Use caramel sauce on top of a favorite cake in lieu of icing.
Once you learn how doable homemade caramel sauce is, you are sure to come up with all kinds of ways to use it in your kitchen. The sky's the limit! With the tips and recipe above, you are never far from the delicious, delectable enjoyment of creamy, buttery, sweet homemade caramel sauce.
About The Author
Samantha Kowalczyk is Director of Product Development and Key Accounts for Mrs Prindables. She leads a team responsible for the creation of new product concepts, such as Caramel Apple flavors, gifts, and confections. Kowalczyk joined Mrs Prindables in 2013 after completing her education in marketing. Her dedication to Mrs Prindables enabled her to progress to her current role.