The energy crisis isn't the only thing dominating the thoughts of average South Africans – they are also worried about inflation and the ever-increasing cost of food.
The Bureau for Food and Agricultural Policy (BFAP) shows that food prices in South Africa remained at elevated levels in the first month of 2023 and, according to the Pietermaritzburg Economic Justice & Dignity (PMBEJD) Household Affordability Index for January, the average cost of the household food basket is R4 917.42 compared with R4 401.02 the year before, an increase of 11.7%.
Luxury items are out of reach for most people, and consumers continue to be mindful of the prices of grocery items when shopping – inevitably buying less, buying cheaper and buying goods of inferior quality.
Load-shedding adds to the burden, with fridges and freezers often off for hours and food wasted and spoiled.
Chef Sharon Visagie, a chef lecturer at Capsicum Culinary Studio's Durban campus, provides some tips to help consumers save on their monthly grocery bills as well as sharing a few delicious, inflation-beating recipes.
Her top advice is:
Purchase canned and preserved foods which are more shelf stable.
If possible grow your own fresh fruit, vegetables and herbs at home.
Buy from local suppliers who price more competitively. Imported foods often cost more due to transportation.
Add pulses, such as lentils, to curries and stews to bulk the protein element. These are cheap, delicious and have a multitude of health benefits and makes a little go a longer way.
Buy smaller quantities of fresh items, reducing the chances of them spoiling.
Purchase from outlets that have rewards programmes.
Use dinner leftovers and repurpose them if necessary for the following day's lunch.
Plan your meals a week in advance and have a shopping list on hand when you visit the supermarket, so you buy exactly what you need and there are no impulse items added to your trolly.
Know exactly what your weekly/monthly spend on food is.
With these few inflation busting tips, it is very achievable to manage the rising cost of living. If you are just getting into the swing of sustainable and more affordable cooking, that's okay! Here are three recipes for tasty, affordable and easy-to-make dishes to get the ball rolling:
Chicken and Lentil Curry (Serves 2)
Ingredients
100g lentils (yellow, red or green)
250g boneless chicken thighs or breasts
2 tbs oil
½ onion, diced
4 curry leaves (optional)
2 bay leaves
1 tsp ginger
1 tsp garlic
1 large tomato, chopped
2 tbs curry powder
¼ tsp garam masala
½ cup coconut milk
1 cup chicken stock
½ tsp tamarind paste
½ tsp salt
½ tsp white pepper
2 cups steamed basmati rice
Fresh shredded coriander (optional)
Method
Cut the chicken into bite-size pieces, place in a medium bowl and season with salt, pepper, and 1 tsp of curry powder. Combine well and marinate for 15 mins. This can be done up to 12 hours in advance and stored in the fridge. In a heavy bottom sauté pan add 1 tbs oil and sauté the chicken on medium-high heat for 2 to 3 minutes. Allow the chicken to brown but not cook fully. Remove from the pan and keep warm.
In the same pan, add the remaining oil and sauté the onions for a minute, then add the curry leaves and bay leaves, the grated ginger and minced garlic. Sauté for a further 2 minutes. Add the chopped tomatoes and remaining curry powder and cook for about 2 minutes. Add the lentils and ½ cup of stock, cover and cook for 7 minutes. Return the chicken to the pan add the coconut milk and remaining stock, cover and cook for 15 minutes until lentils are soft. Add the garam masala and tamarind paste, return to a boil then taste and adjust seasoning. Serve over steamed basmati rice and garnish with fresh coriander.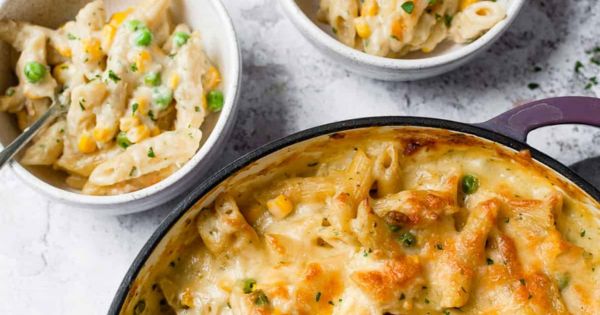 Tuna Pasta Bake
Ingredients
600g rigatoni or penne pasta
50g butter
50g plain flour
600ml milk
250g cheddar cheese, grated
300g tinned tuna in spring water, drained
330g tinned sweetcorn, drained
300g frozen peas
chopped parsley (optional)
Method
Heat oven to 180°C. Cook the pasta for 2 mins less time than stated on the packet. Melt 50g butter in a saucepan, stir in 50g plain flour and cook for 1 min before gradually stirring in the milk to make a thick white sauce. Remove from the heat and stir in the cheese, keeping a little aside. Drain the pasta, mix with the white sauce, tuna, sweetcorn, peas and a large handful of chopped parsley, then season. Transfer to a baking dish, top with the remaining cheese and bake for 15-20 mins until the cheese on top is golden.
Beef Stew (serves 4)
Ingredients
¼ cup all-purpose flour
¼ tsp ground black pepper
450g beef stewing meat, cut into bite-size pieces
3 tbs vegetable oil
2 tbs red wine vinegar
250ml red wine
3½ cups beef stock
2 bay leaves
1 medium onion, chopped
5 carrots, chopped
2 large potatoes, peeled and cut into cubes
2 tsp salt
Method
Combine the flour and pepper in a bowl, add the beef and toss to coat well. Heat 1 tbs of oil in a large pot, then add the beef a few pieces at a time making sure you do not overcrowd. Cook, until beef is browned on all sides, about 5 minutes per batch. Add more oil as needed between batches.
Remove the beef from the pot and add the vinegar and wine. Cook over medium-high heat, scraping the pan with a wooden spoon to loosen any browned bits. Add the beef, stock and bay leaves, bring to a boil, then lower heat and simmer with lid on until the beef is tender (90 minutes). Add the onions and carrots and simmer for 10 minutes then add the potatoes and simmer until vegetables are tender, about 30 minutes. Season with salt and pepper to taste.