Most people enjoy a cup of coffee early in the morning to give them a much-needed boost to start the day on the right note.
While a cup of brew can provide healthy antioxidants to the body internally but not a lot of people are aware of the healthy skin benefits coffee can provide. It can be applied topically by making a paste, mask or scrub by using either coffee powder or fresh coffee grounds.
Generally, people with sensitive skin have limitations as to which skin products or treatments they can use as some ingredients can be too abrasive or cause skin irritation. Coffee powder is one of the best remedies for sensitive skin as it contains anti-inflammatory components.
***Disclosure -The links in this post may contain affiliate links and Kaboutjie may receive a small commission if you make a purchase after clicking on a link.***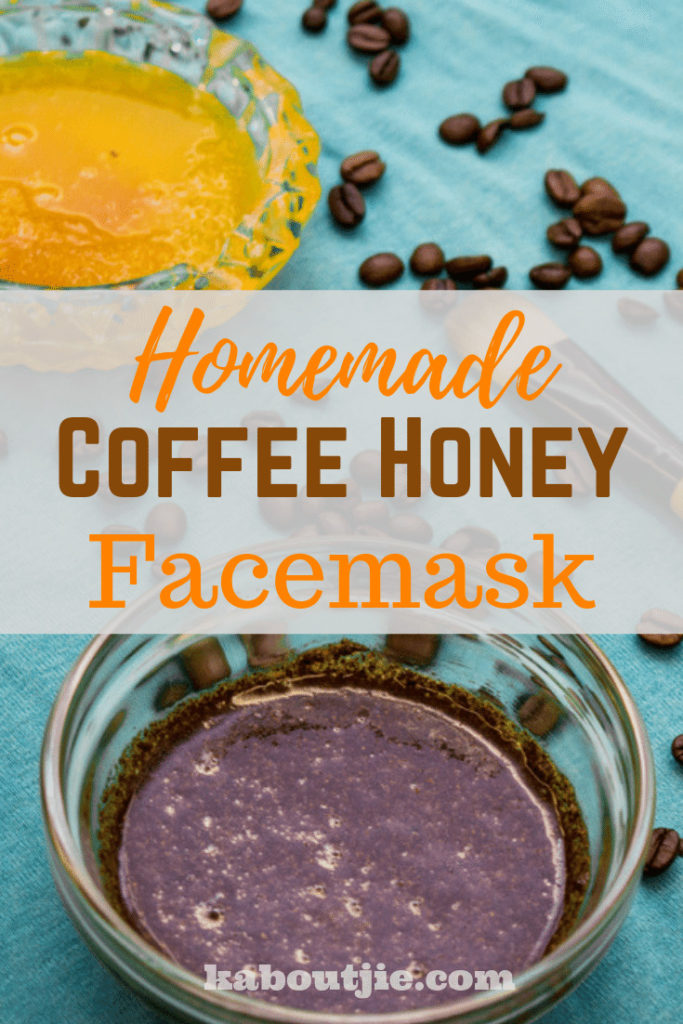 Homemade Coffee Honey Face Mask
Make sure you have cleansed your skin.
Mix 1-2 tablespoons of coffee grounds with 1-2 tablespoons of honey into a smooth consistency. The products used in the video is 100% Heavenly organics Acacia honey and fresh espresso coffee grounds. You can use any type of coffee powder or coffee grounds and honey, just make sure it is 100% honey.
Use a spatula or your hands to apply the mixture all over your face, avoiding the eye area. Make sure your hands are clean.
Leave the paste on your skin for 10-15 minutes then start scrubbing to exfoliate the skin.
Remove the mask with warm water and gently pat your face dry with a soft towel.
You can apply witch hazel to your skin as a toner and follow up with your usual moisturiser.
This face mask/scrub is great for skin tightening, exfoliating and moisturising of the skin.
Other face masks that can be made with coffee:
Coffee face mask
Mix equal parts coffee grounds and olive oil and apply to the skin in circular movements. Leave the paste on for 15 to 60 minutes and rinse off with warm water. (Can be applied three times a week).
Coffee, honey and lemon face mask
Lemon provides an extra boost of vitamin C in this mask. Mix one tablespoon of coffee powder with one tablespoon of honey and a few drops of lemon and mix well. Apply to the face and neck and rinse off after leaving it on for half an hour.
Coffee powder and water
For removal of puffiness and dark circles under the eyes, you can make a paste with coffee powder and water and gently apply around the eye areas. Wash off after half an hour.
Coffee powder and egg white
This paste is an excellent choice for removing of pigmentation and dark spots from the face and for giving your skin a vibrant complexion.
Coffee powder/grounds and coconut oil scrub
A simple coconut oil and coffee powder mask can provide you with a natural skin smoother.
The coarse particles in fresh coffee grounds are an excellent ingredient for a homemade face scrub to exfoliate the skin. Simply mix coffee grounds with a little bit of coconut oil or water and scrub your face and body. You can even mix a little bit of honey with coffee grounds to use as a lip scrub.