My kids and I visited Cape Town at the beginning of the June/ July school holidays and I took them for a day out in Simonstown. It's quite strange visiting a town like a tourist with my kids when I grew up in this neck of the woods… well not Simonstown exactly, but I went to Fish Hoek High School and we lived in Noordhoek, so close enough.
Upon arriving in Simonstown we first stopped at Seaforth and took the Penguin Walk all the way to Boulders Beach and back so we were very hungry by the time we arrived in Jubilee Square to find somewhere to eat.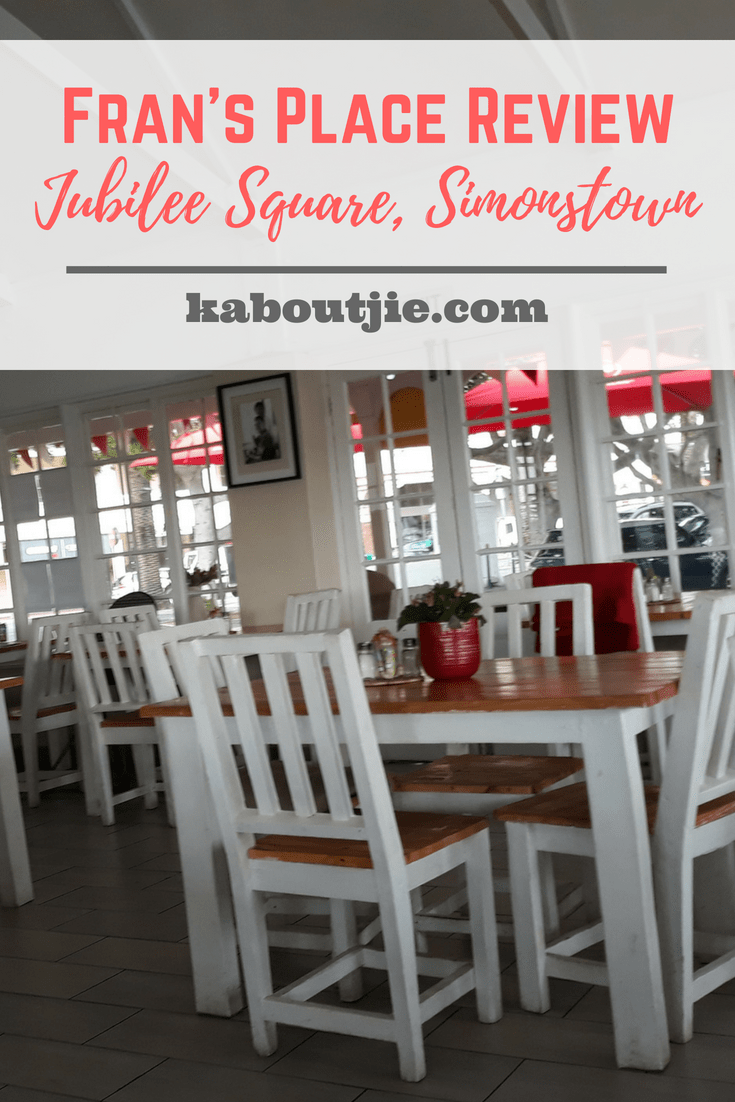 Fran's Place is right in Jubilee Square overlooking the water. I'm sure I must have eaten there before many years ago but I have no clear memory of it.
Now when you have a very boisterous 4 year old boy and a 6 year old girl eating anywhere that does not have a kids play area is a gamble, if you have kids you will know exactly what I mean. It was a little chilly so I chose to sit inside, which was another gamble.
The breakfast menu was good, I ordered the English Breakfast along with a cappuccino. I can't remember if it was called an English Breakfast but it was the usual bacon, eggs, sausage, mushrooms, tomato and toast.
What I really loved about their menu was that there were meals to choose from, plus a section at the bottom to make your own breakfast. This is so perfect for kids. They loved picking exactly what they wanted to eat instead of me trying to figure out how to swap items on their plates for things that they do like which always causes confusion somewhere along the line.
I'm not sure about you but I am not fond of ordering a dish and then asking to remove 3 things but add another 2. Maybe it is because I have done a lot of waitressing and it can be darn annoying.
Our waiter was lovely and the kids thought he was just the bees knees.
The food and my cappuccino was great. The portions were perfect and the pricing was so reasonable. I had a big breakfast and my kids both ate plenty and we all had a drink. Our total bill only came to R191.50 which is not bad at all especially for a lovely restaurant right on the waterfront.
The next morning when we needed to eat I asked my kids where we should go and they both requested Fran's Place again. When I asked them why my daughter told me that they have the best eggs in the whole world. Even better than I make apparently.
On our second visit there we were served by another waitress and she was also lovely. Since it was a bit warmer we sat at an outside table.
My daughter ordered her eggs and my son got his sausages and chips. I decided to try something different and have the french toast, bacon and cheese. The food was perfect again. We sat for quite a while longer and enjoyed the view and the sunshine while I managed to get in another cappuccino to kick start my day.
My Verdict for Fran's Place
This is a lovely restaurant, with friendly staff that give great service. The food is great and priced well and its got an amazing view. If I still lived in Cape Town I could see myself becoming a regular visitor here. This is the first restaurant my kids love that does not have a play area for kids! For me that is impressive alone.
If you are in the Simonstown area I recommend that you give it a go, especially since it is so central to the information centre, the Just Nuisance statue and the Simonstown Toy Museum. It also has parking right there so you won't struggle with parking.
It's on my list of restaurants to return to, maybe next time we will venture away from breakfasts and try their lunch menu.