The new school year is upon us already and moms all over are getting their kids ready to go back to school. There is lot to prepare and hopefully you already got most of it tackled at the end of 2019.
The better prepared you are the more likely you and your kids will be off to a smooth start. Here are some great back to school tips to run through in case you have some last minute things to get done.
***Disclosure -The links in this post may contain affiliate links and I may receive a small commission if you make a purchase after clicking on a link.*** 
Back To School Checklist
Each year there are certain things that you will always need to organize and it is so easy to slip up and forget something. The best thing is to make a check list that you can start working on towards the end of the year so you are well prepared.
Here are some things to add to your Back To School Checklist:
Buy school new school uniform, sports clothing, sports shoes and school shoes.
Buy stationary and books
Buy text books
Make sure that you have any devices that are needed for your child's school year
Buy labels for books and clothing
Buy wrapping paper and plastic for covering books
Buy school backpacks, pencil case, lunchboxes and cool-drink bottles
Book your child into school aftercare services early
Book an appointment with the hairdresser to get your child's hair cut before school starts
Consider buying as much as you can online or through the school (if they offer this service) – this will make it easier on you since you won't have to make extra shopping trips during the festive season when everything is so busy.
Class Teacher and Friends
Starting the new school year can be very stressful for some children. It can be easier on them if they know who their teacher is going to be and which friends of theirs will be in their class.
If you are able to find out which class your child is in and ask the parents of your child's friends which classes they are in it can make the process so much easier.
Get Hold Of The School Calendar
Find out from your child's school when or where you can get hold of the school calendar for the year so you have access to all the events and activities for the year. You can then plan out your year and be well prepared for all events.
The first parent teacher evening is usually held within a few days of school starting, so make sure you are aware of the date as soon as possible.
Prepare Your Child And Yourself
Whether your child is starting Grade 1 at a new school or if your child is starting a new grade at their old school it is always a good idea to find out what you and your child can expect that year.
Different grades may finish school at different times and have different rules. For example there may be different play areas for different grades or areas that are restricted.
Your child may also start writing exams for the first time. It is best to find out these things before the year starts so that there are no surprises.
Plan Your Morning and Afternoon Routine
Work out what time you need in the morning to get up and get everything ready, including the time to get your kids up and out of bed. Allocating enough time is crucial to prevent panic and to provide a bit of leeway in case of any delays.
Tell your children what is required of them in the morning so that it goes as smoothly as possible.  It is never nice to have a battle of wills with your kids before school, you want the mornings to be as drama free as possible.
The afternoons go so fast and when kids come home tired from school they will need to be fed, have a rest and get homework done. Make sure your children also understand the afternoon routine.
It is a great idea to get your kids to take as much responsibility for themselves as possible, depending on their ages of course.
Things like making their own beds, packing their school bags and hanging up their uniforms after school are good habits to start and continue with throughout their schooling.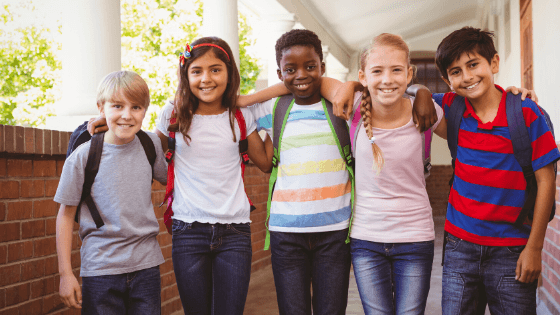 Keep The First Week Clear
The first week of school is often a whirlwind of activity with everyone adjusting to routine after a long school holiday. There will also be lots to do in the first week such as covering and labeling books and stationary.
There will be a parent teacher meeting very soon after school starts and school sports might start by the second week.
Keeping the first week clear of any other commitments means you will have the time and energy available to attend the parent teacher meeting and attend to all the things that need to be done, as well as be available for your children if they struggle with anything.
Start Off On The Right Foot With These Back To School Tips
If you start off right chances are it will continue that way. Starting off with mishaps and upset can throw everything off balance and it may take a while for you to get a handle on it.
Get into a great routine as soon as possible, especially with homework and stay in tune with your children so you can pick up on any potential problems as soon as possible.
Good luck parents – may your start to the 2020 school year be as smooth and painless as possible!