If you have a kitchen gadget fundi and/or aspiring home chef in your house that has a birthday or anniversary coming up or if you're just looking to spoil them with a surprise, then you'll find this list of gift ideas for cooking enthusiasts very tasty.
***Disclosure -The links in this post contain affiliate links and Kaboutjie  may receive a small commission if you make a purchase after clicking on a link.***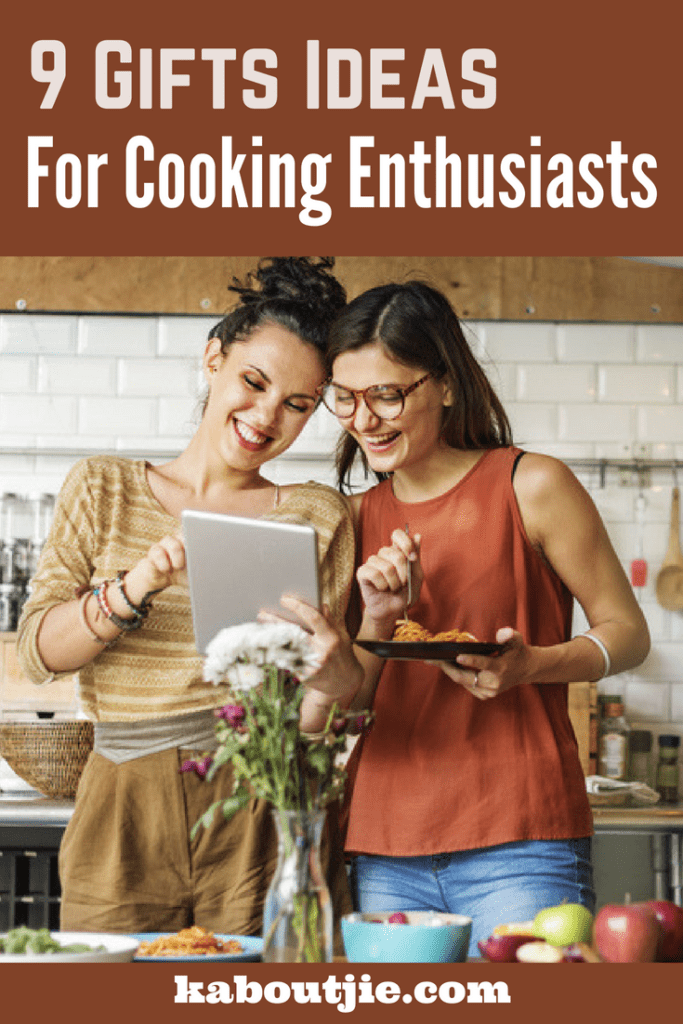 Every chef needs to have a decent set of cookware. Let's face it. Having this cookware set at your disposal will inspire amateur cooks to create tantalizing culinary delights.
This ceramic cookware set has a non-stick exterior as well as interior that resists staining and scratching and is extremely easy to clean.
To ensure reliable cooking results the heat base provides even heat distribution.
The product is dishwasher safe.
The ceramic cooking surface resists heat up to 570◦ Fahrenheit


With this bakeware set you can bake up a storm. From homemade cookies and scrumptious muffins to casserole dishes or grandma's pie recipe.
Non-stick inside and out with an easy food release feature and quick clean-up.
Cooling grid included (chrome-plated)
Made from durable solid steel that resists warping and dinging
Heat resistant up to 450◦ Fahrenheit and oven safe.
With this trendy and heavy duty apron you'll be able to cook, grill, bake, craft, barbeque and craft with ease.
Spacious front pocket is great for storing meat thermometer, grill slips, recipe cards or seasoning packets.
This product is versatile and flexible for home or restaurant use.
The apron is made from 100% cotton fabric and free from harmful chemicals, making it safe for the whole family.
This specially designed custom engraved cutting board is the perfect thoughtful gift for a house warming, wedding, Christmas or family and friends.
This durable and strong cutting board measures at 11.5in x 13.5in x 3/4in and weighs 2.5lbs.
Perfect for chopping vegetables, cutting meats and slicing fruits.
Will not dull your kitchen knives.
Reversible décor design – one side for culinary use and the other side for décor purposes.
This elegant recipe card giftbox is great for writing down and saving all your family recipe's and can be passed on to future generations as a family heirloom. It is the perfect addition to your kitchen or can be gifted as a house warming or wedding gift.
Recipe box comes with 100 thick matte recipe cards (4 x6 in) and 12 Dividers (6 x Generic and 6 x unlabelled) to store and organize recipes.
Beautiful double-sided floral designs suitable for both men and women.
The box is made from durable and sturdy Maplewood (quality guaranteed) and can fit up to 400 cards.
This handy spice tower is any aspiring home chef's dream with 20 filled spice jars. The spices include: basil, marjoram, garlic salt, coriander, rosemary, oregano and many more to cook up amazing dishes for family and friends.
This spice tower is the perfect addition to any kitchen and makes a great wedding or house warming gift.
Spice jars feature sifter tops for light seasoning or can be removed for measuring.
Compact and easy storage.
This product is eligible for free spice refills for 5 years. Register at freespicerefills.com
All spice jars are sealed to ensure freshness.
Give the cooking enthusiast in your life this great utensil set to spread the love. The perfect gift for anyone that loves cooking. An affordable gift that is perfect for any occasion.
Handcrafted with 100% Organic Bamboo & strategically designed to ensure lasting quality.
Extremely sustainable, eco-friendly and biodegradable.
No more melting plastic, rustic metal or containing BPA silicone toxic materials.
Naturally anti-bacterial and gentle on pots and pans ensuring no scratches or damage on expensive or delicate cookware.
Can be used for high heat sautéing, baking, mixing, flipping and serving. Great for custom kid art projects.
100% Risk free purchase with a lifetime guarantee.
Another must-have item in the kitchen for any aspiring home chef or cooking expert is having a food scale at your disposal for accurate measuring. The wrong measurements can make or break a dish. With this nifty digital food scale, you'll have no trouble at all to stay on the right track when it comes to measuring ingredients.
Detachable bowl design, easy storage, measure directly without the bowl or free mix ingredients. The practical design allows for whichever option you prefer.
CE approved and comes with a one-year warranty provided by Etekcity.
Multifunctional with units between lb (oz), g, ml and fl. oz and a high range of applications including food, milk, ingredients, chemicals, drugs and more.
Ensures precise measurement.
Auto-zero and tare functions for easy compatibility with other containers whether you're measuring with a mug, plate or different size bowl.
No kitchen is complete without a proper knife set for dicing, cutting and slicing your meat, vegetables and other ingredients.
All-in-one complete set containing: Chef knife, slicing knife, Santoku knife, Bread knife, Utility knife, Paring knife, Kitchen scissors, Knife sharpener and six steak knives.
Made from superior high carbon German stainless steel blades to ensure perfect stability and control.
No rust, stains or pitting.
Sharp, sturdy and practical.
Handles and knife block are made from Beautiful Pakkawood to maximize durability and stress tolerance.
Great for professional and amateur cooks.
Not dishwasher safe. Needs to be hand cleaned.
100% Money back guarantee with 100% customer satisfaction.
Conclusion
With the right utensils and cooking accessories at their disposal, anyone can whip up amazing meals in no time.
Whether you're an everyday cook, an aspiring home chef or just looking for gift ideas for the cooking enthusiasts in your family or home life, these products will ensure a smile on their faces and inspire them to cook up a storm.
Amazon.com offers a wide selection of home and kitchen products and offers free shipping for all orders over $25.