This 3 layer vanilla cake recipe that I found on Bigger Bolder Baking is absolutely amazing! Gemma Stafford shares loads of microwave meals and is considered the queen of microwave cooking, so when I decided to try out a microwave cake that was the first place I went to look. And who knew I could even make a cake, never mind cook it in the microwave. This is hands down my biggest baking success ever and my biggest microwave success too!
I am having so much fun with my new LG Neochef and in addition to cooking this awesome cake I am now making regular use of my microwave to cook most of my meals. Who would have thought!
For more information on the LG Neochef click here!
***Full Disclosure – LG gave me the LG Neochef Microwave for a review and this post is a sponsored post***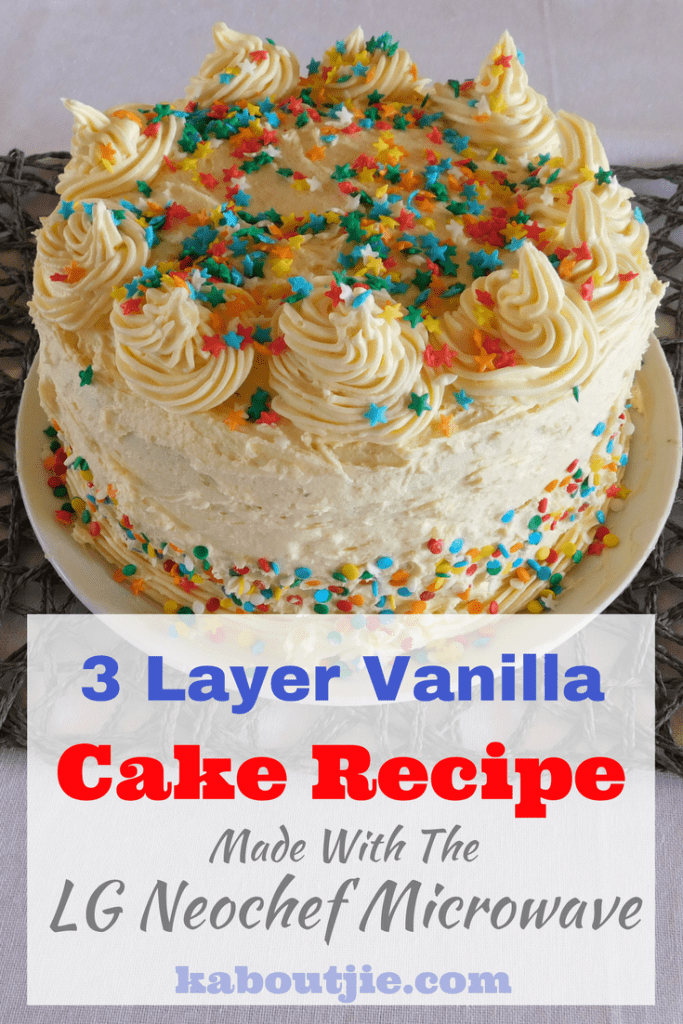 So why did I choose a cake for this recipe when I could have chosen any microwave recipe to share? Well the thing is that it is my son's birthday zooming up on the 20th December and I have always wanted to be able to bake a cake for my kids for their birthdays. Maybe it is a strange thing to want, but I just want to have the ability to do that and I thought if I can get this right I can bake my son's birthday cake this year.
It looks like this is going to be a reality and I am so excited about it.
I chose a vanilla cake because for both my kids birthday parties (yes my son has his party 3 weeks early every year so his friends are here) when I ordered their cakes because my daughter insisted she preferred vanilla and then my son copied her. So I thought I must make sure to be able to make a vanilla cake.
3 Layer Vanilla Cake Ingredients
2 ⅓  Cups Flour
1 Teaspoon Baking Powder
½ Teaspoon Baking Soda
½ Teaspoon Salt
1 ½ Cups Sugar
½ Cup Light Brown Sugar
1 Cup Melted Butter
2 Large Egs
2 Cups Buttermilk
1 Tablespoon Vanilla Essence
⅔ Cup of Sprinkles
Method
Mix the flour, baking powder, baking soda, salt, sugar and brown sugar together in a big bowl.
Melt the butter in the microwave.
Whisk the eggs, buttermilk and vanilla essence together until it is completely mixed.
Add the egg mixture into the dry ingredients and stir it. Add in the butter and stir until it is completely mixed and there are no lumps.
Add the sprinkles and stir gently until they are just mixed in, but don't stir too much. You don't want the colour of the sprinkles to mix into the batter.
Pour the cake batter evenly into 3 silicone cake tins – make sure they are microwave safe!
Microwave each cake – the time will depend on your microwave. The recipe I got this from said 2 ½  minutes for each cake but I found that my cakes weren't done by then. I microwaved each cake in my LG Neochef for 4 ½ minutes.
Leave each cake to cool completely before turning out of the cake tins.
Turn each cake out once cooled and level the tops (which I never needed to do).
Start icing your cake, ice a thin layer first, called the crumb layer. Then put the cake in the fridge to set the icing before adding another thicker layer of icing.
Vanilla Buttercream Icing
1 ½ Cups Butter (Room Temperature)
5 ⅔ Icing Sugar
2 Teaspoons Vanilla Essence
2 Tablespoons Milk or Cream
Pinch Of Salt
Method
Beat the butter until it is creamy and lighter in colour – about 5 minutes.
Slowly start adding the icing sugar while beating.
Once all the icing sugar has been added, add the vanilla essence, salt and milk. Beat for another 3 minutes.
This icing is very sweet, next time I make it I will probably experiment with using a little more vanilla essence and less icing sugar. I also need to practice how to ice a cake neatly, but as this was my first ever attempt I won't be too hard on myself!
For my son's birthday on the 20th I am going to be making this cake and adding some blue food colouring to the icing – on his request he wants his cake blue! I also think that having the icing blue will offset the colour of the cake beautifully and make the layers stand out better.  I'll share some pictures after his birthday.