Flowers have always been a wonderful go to gift for any and every occasion and it is not hard to see why. There is a good reason why flowers are part of almost every occasion from a wedding bouquet to a funeral casket – flowers are beautiful, sentimental and meaningful.
Even if there is no special occasion, giving someone a bunch of flowers conveys love and caring to that special person without you having to say a thing. You can also include a card or a letter with a personal message.
Here are some great reasons why flowers say it best:
Each Flower Has Special Meaning
There are so many flowers and so many colors that sharing all the meanings with you would be impossible. If you have a special occasion coming up do some research into your options and what the flowers and colors mean to convey your message.
Weddings
Almost every single wedding has an abundance of flowers. Usually each table has its own flower arrangements, the bride has a beautiful bouquet that she throws to the unmarried female guests at the end of the wedding, and the church is often filled with flower arrangements too.
Here are some great flower choices for your wedding:
Honeysuckle – devotion and generosity
Chrysanthemums, Roses & Tulips – love
Speedwell & Ivy – fidelity
Heliotrope & Red Peonies  – devotion
Funerals
A funeral is a time where people say goodbye to their loved ones and having flowers with special meanings
Lillies are a popular flower tradition for funerals. They suggest that the soul of deceased person has returned peacefully to a state of innocence. It symbolizes virginity, purity and radiance of the soul.
The peace lily is very similar to the lily and represents the innocence and rebirth of the soul to a greater place. This makes a lovely gift for those that are grieving.
Red roses symbolize love and grief, while white roses mean innocence, spirituality and purity. Dark pink roses symbolize thankfulness to the departed. Friends often choose a yellow rose to show their bond.
Orchids are another popular choice for funerals that mean "I will always love you".
Birthdays
Choosing symbolic flowers for a birthday present would depend on the nature of your relationship with the recipient.
A red chrysanthemum is a great choice that symbolizes sharing and a gardenia represents joy.
Thank You
What better way to say Thank You than to say it with flowers?
Sweat peas are a wonderful way to say thank you for a great time. Hydrangeas are traditionally given as a flower to show gratitude to someone that has helped you through a hard time.
Chrysanthemums are often given to show gratitude for friendship.
Wedding Anniversaries
1st Wedding anniversary – Carnations
2nd Wedding anniversary – Cosmos
3rd Wedding anniversary – Sunflower
4th Wedding anniversary – Geranium
5th Wedding anniversary – Daisy
6th Wedding anniversary – Calla Lily
7th Wedding anniversary – Freesia
8th Wedding anniversary – Lilac
9th Wedding anniversary – Bird Of Paradise
10th Wedding anniversary – Daffodil
11th Wedding anniversary – Tulip
12th Wedding anniversary – Peony
13th Wedding anniversary – Chrysanthemum
14th Wedding anniversary – Dahlia
15th Wedding anniversary – Roses
20th Wedding anniversary – Aster
25th Wedding anniversary – Iris
30th Wedding anniversary – Lily
40th Wedding anniversary – Gladiolas
50th Wedding anniversary – Yellow Roses and Violets
They Are Beautiful
Flower are beautiful and will light up any room that they are in. So many gifts are forgotten and go unused but flowers are always put on display. They will be appreciated by the recipient and everyone else that gets to see them on display.
They Are A Safe Gift
Have you ever bought a box of chocolates for a diabetic? Or spent hours strolling through the shops looking for a gift for someone that you don't know very well or for someone that is close to you but hard to buy for?
Flowers are always a safe gift that everyone loves, regardless of age and gender.
They Won't Break The Bank
There are flowers to suit every occasion, taste and budget. You can even give a solitary flower as a gift and it will be appreciated.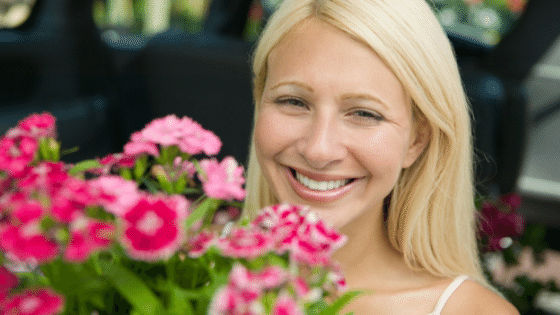 They Are Convenient and Easy To Buy
You can buy flowers online from the comfort of your home which is especially great if the recipient is far away from you. You can spend some time online looking for the perfect flowers or you can even have a custom bouquet made up specially for you.
If you are going to a family event it is so easy to buy flowers on the way since flowers are available in supermarkets and many convenience stores.
Buy A Pot Plant For Longevity
The only downside to a bouquet of flowers is that they don't last forever so if you want to buy a flower gift that keeps on giving you can buy a pot plant and get the best of both worlds.