Thali Thali Game Lodge is 1460 hectare game and fynos reserve in the West Coast. It borders on Langebaan and the West Coast National Park, just over an hour drive from Cape Town.
Thali Thali offers accommodation, day visitors, game drives, archery lessons and a restaurant and bar.
In December of 2017 we were given a game drive voucher for Thali Thali from West Coast Way and we were so keen to go on the game drive but 2018 started off on a bad note for us and then it wizzed by so fast and before I knew it the voucher was about to expire so I finally got around to booking the game drive for myself, my husband and two children.
The plan was to go on the game drive in the morning before it got too hot and then have lunch at the restaurant. When we arrived at Thali Thali for the game drive we were met by Thys and his wife Amalia.
When I enquired about lunch for afterwards we were told that booking is essential because they are almost always full but they said they would try and fit us in.
Click here WIN a Thali Thali Game Drive for 2 Adults and their children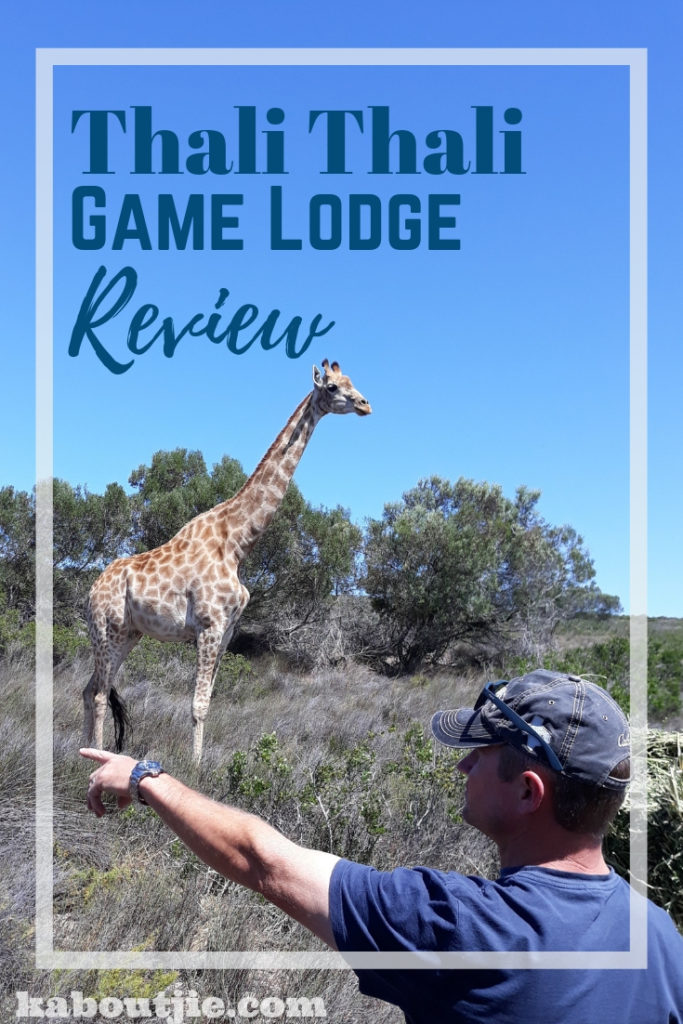 The Thali Thali Game Drive
Thys took us on the 90 minute game drive and shared loads of interesting information about animals and their tracks and spoor along the way. I watched in amusement as my kids were horrified when Thys picked up various bits of animal dung to explain which animal it came from and how you can identify it.
We saw lots of game including giraffes, wildebeest, zebra, kudu, springbok, eland, ostrich and camel while on the drive. I was surprised at how peaceful and enjoyable it was, especially for my kids. I had already explained to them that it would not be the same as seeing other animals in cages where they are often quite tame and confined – I told them we were going to have to look for them and they may be quite far away since they are wild and in a much more natural environment.
My kids were both so excited to learn that there was a family of owls living in one area even though they couldn't see them, not lack of trying though!
The giraffes were most definitely a highlight for me and for my kids too. They knew that Thys would give some food so they came really close where we could watch them eating. While watching them Thys gave us plenty of giraffe facts and shared information about each giraffe.
It was such a pleasant morning – I would love to go back and enjoy it all over again!
Thali Thali Restaurant
After the game drive Amalia told us that she could accommodate us for lunch much to our delight.
My husband ordered the ribs and I ordered the eisbein. My kids ordered toasted sandwiches and chips.
When the food arrived we were blown away. It was beautifully presented and talk about giving value for money! Our plates were packed with yummy food. The sweet potato that I received with my eisbein was hands down the best sweet potato I have ever eaten. The salad was divine and so not just for garnish.
I am so glad that I had a good appetite that day so I could really enjoy it to the fullest, but I still had to bring a doggie bag home! My husband cleared his plate and said his meal was absolutely outstanding.
Our waitress was lovely and when my daughter had a malfunction with the salt, covering her entire plate of food with salt, she very quickly whisked it away and brought her a fresh plate of food.
It is not hard to see why their restaurant is fully booked every weekend, the only surprise was that they managed to fit us in and I am so grateful for that.
Archery At Thali Thali
Thali Thali also offers archery lessons given by Thys which my husband has been to a number of times previously but not on this particular trip. Every time he came home he raved about how much he had enjoyed himself.
My husband had also been previously to Thali Thali for a guided walk through the reserve. The walk was pleasant, but he went on a very hot day and part of the walk is through very thick sand. He also forgot his water and his hat so he came back home looking rather worse for wear. So if you go make sure to have plenty of suntan lotion, a hat and a water bottle!
My Verdict For Thali Thali
Honestly this day out was one of the highlights of my year with my family. From the moment we arrived Thys and Amalia greeted us and welcomed us like we were family coming to visit for the day. From start to finish it was an absolute pleasure and delight to be there and experience the game drive and reserve.
Thys also showed me a feature on my Samsung to help me take better pictures when I wanted a shot of him next to his vehicle – big time help for me as a blogger, thanks!
My only regret is that I have been living in the West Coast for over 7 years and only now have I gone to Thali Thali for the first time ever. I can't wait to go again.
So if you are looking for ideas for a day trip or a weekend away from Cape Town or the surrounding area I highly recommend putting Thali Thali on your list of things to do. If you are living in the West Coast and you have not yet been to Thali Thali you are so missing out, so make your booking asap!
One thing I also really enjoyed surprising Thys soon afterwards to tell him how much we loved our visit and letting him know I would be writing a review and I asked if he would like to offer a giveaway for this review, which he was very happy to do!
Click here to enter the giveaway to win a Game Drive for 2 adults and their children at Thali Thali.