In case you haven't heard, Play Time Indoor Play Centre opened recently in Vredenburg. My husband took our kids there first and then told me it was great and recommended that I take them again during the school holidays.
Just take note that they are open every day except for Mondays. The reason this stands out so much for me is because the first time I went there we arrived on a Monday and had to come back the next day! It was a big time disappointment for my kids, but I should have checked first.
Their opening hours are from 10am to 5pm Tuesday to Sunday. We arrived just after 10am on the Tuesday morning and there were already a lot of people there, with only a few open tables left.
My kids raced off to go and play leaving me to take in the play centre. The most noticeable thing is the slide – it looked so awesome I was tempted to ask if I was allowed to give it a go! They also provide little blankets for the kids to sit on when sliding down to ensure they reach super speeds!
To get up to the top of the slide the kids can take various routes that involve lots of climbing and fun. At the bottom there is a little road set out below the climbing area and there are little plastic motorbikes for the kids to ride.
To the one side of the play centre are little rooms and kids were coming out dressed up as different characters and superheroes. I loved  seeing all the kids running around in their dress up and seeing mini masked and caped superheroes climbing their way to the top of the slide.
On the other side of the play centre is a section for toddlers with a little slide that leads into a ball pit and various other toys for younger children.
On the same side is a fenced off section with a long table with chairs – I assume this is a section for private parties since you can arrange to have your child's birthday party at the venue.
There were two staff members actively overseeing the kids – one at the top of the slide and one at the bottom. While I watched my kids like I always do it is great to see that there are staff members there making sure that all the kid are sticking to the rules!
One thing that annoys me no end is when I go out to eat at restaurents with play areas and I can see kids running up the slides the wrong way in the play area, yes maybe they won't get hurt but all the littlies are watching and will try to copy them… a recipe for disaster. This doesn't happen at Play Time, the staff members are there stopping the kids from breaking the rules. Thumbs up for that!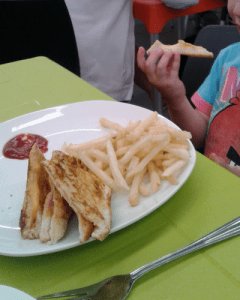 Soon after sitting down a waitress came to get our order – the food on offer is really simple (toasted sandwiches and chips) and very reasonably priced. I think the most expensive toasted sandwich and chips is R29.
It costs R45 per child per hour at Play Time and you pay when you leave, not when you arrive.
We spent 2 hours at Play Time and my kids had a blast, the bonus is that I was actually able to sit and relax for a while and know that my kids were in good hands enjoying themselves.
If you live in the West Coast and you have kids you just have to visit this establishment. It really is so badly needed here, especially during the winter months since there is not much available for entertaining your kids!
Play Time Indoor Play Centre is located in the industrial area opposite the Weskus Mall – Shop 10, 23 Sterling Road, Marais Industria, Vredenburg.
Play Time's phone number is 022 713 1301