Wednesday was a wonderful day. Being invited to join the Happy Event#MommyHero morning by Happy Event was an honour and to be able to meet Elana Afrika-Bredenkamp along with many other wonderful women was mind-blowing.
If you have children then I am sure you have heard of Happy Event, it is the cream to have when you are expecting a baby to moisturize your body and to prevent stretchmarks. Due to the fact that it is so good most moms continue to use Happy Event long after their babies are grown up.
I've got to take my hat off to Michelle and Tasneema from Spice4Life and Angelica from Happy Event for arranging this event, it was so well done. What I really loved is how intimate it was and how we all got to really engage with each other.
My only regret for the morning was that I didn't get to talk to more amazing women due to the fact that I had to leave early to attend another event.
So in case you want to know Elena Afrika-Bredenkamp is a stunning person with a great sense of humour. I was totally taken aback by the way she hugged and kissed me before we even exchanged our first words. She showed me the most gorgeous video of her daughter dancing – as mothers do but it wasn't what I expected from a celebrity.
Thank you Elana for being such a real and pure soul. It's no wonder you are the face of Happy Event!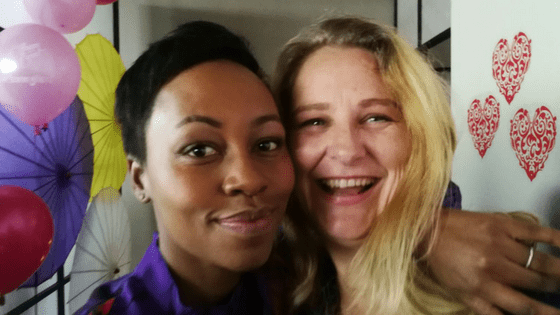 Meeting Lauren Kinghorn from Inspiring Mompreneurs has been long overdue and it finally happened at this event. We have actually been firm friends for a few years already, having met on the Wealthy Affiliate platform. We have spoken on the phone many times and via Whatsapp, sharing tips and leads as well as just supporting each other as mommy bloggers.
Meeting in person was such a natural move forward, it feels like we have been meeting for coffee dates for years anyway!
Along with Lauren I met her mom Jill, which also felt completely natural since she is also on the Wealthy Affiliate platform and we have chatted online many times.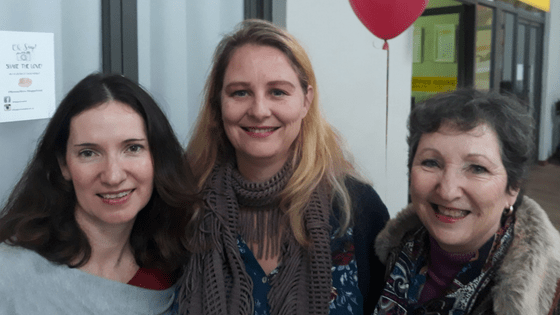 I also had the pleasure of meeting Grace Stevens and she is an absolute hoot. She is so much fun and down to earth. Grace has a baking blog and Youtube channel. I just checked out her channel and have seen some amazing things to make, first up for me is this delicious pull apart bread! So much for me staying away from carbs and white bread… oh dear.
Meeting Kim Muller from Muller Kids, Lisa Bartlett from Chronicles Of Baby Cassidy and Cindy Alfino from 3 Kids 2 Dogs and 1 Old House was also awesome. I have seen them on Facebook sharing their posts in the same groups and I have visited their blogs before but now I got to meet the moms face to face and get to know them better.
Along with meeting all these lovely women there was a spread of note that almost looked too good to eat! In fact for the better part of the morning the moms were taking photos of the food and instagramming it… typical blogging behaviour isn't it?
The morning ended off with the most amazing arm, neck and head massage before I had to head out to catch the tail-end of the Netflix Mother's Day event.
Once again thank you to everyone that made this event possible and thank you to all the amazing, strong and beautiful women that I met.