If mommy to be plans to breastfeed her baby then breastfeeding gifts that will help her with her breastfeeding journey as well as motivate her when she is feeling down will be the perfect baby shower gifts for your loved one.
Breastfeeding is not always easy and anything that can make the journey easier for mom will be a lifesaver. You can choose a practical gift from the best breastfeeding products for new breastfeeding moms or you can choose a gift that will be more along the lines of nice to haves that most mommies won't buy for themselves!
Here are some lovely breastfeeding inspired baby shower gifts.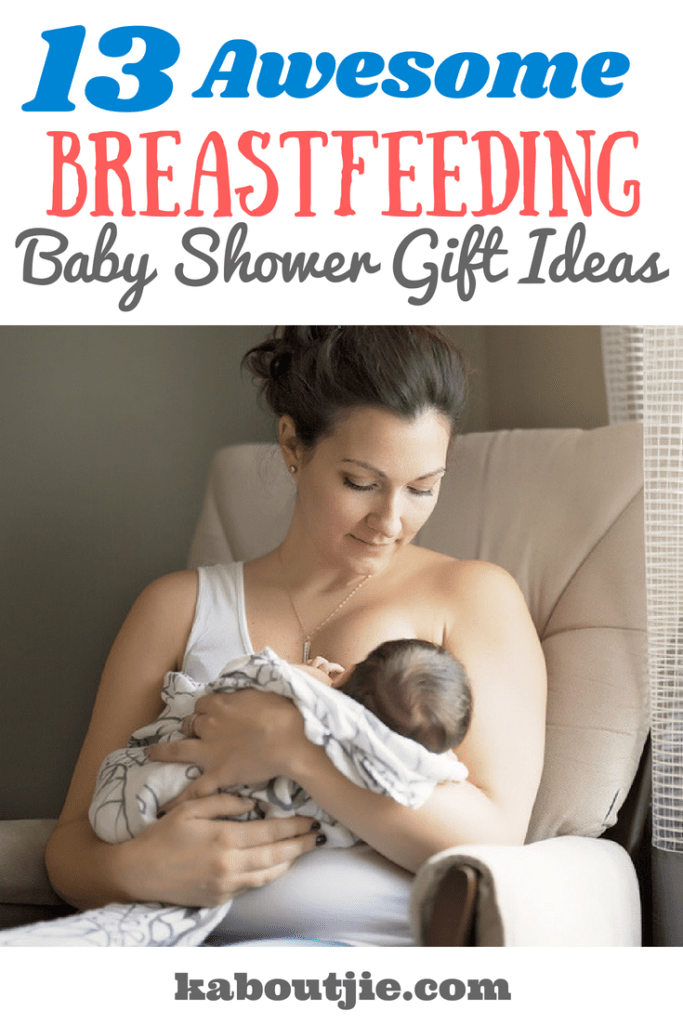 This silicone teething necklace is beautiful and stylish with 7 different color choices available. This will make mommy look great and give baby something to play with while breastfeeding as well as provide BPA free silicone chewing pleasure when her baby starts teething.
The beads are individually knotted and it has a break away clasp for safety.
This silicone teething necklace has a 4.5 star rating on Amazon from over 560 reviews.
This gorgeous little unisex onesie will be perfect for any breastfeeding baby. This is sure to put a smile on any mommy's face.
Mommy is going to need to get loads of fluids in making this Eat Sleep Breastfeed Repeat Mug an awesome breastfeeding gift.

As mentioned, mommy will need to stay hydrated in order to produce enough breastmilk, but drinking coffee and tea with caffeine in is not going to be helpful. There are many herbal teas that increase breast milk and this organic Mother's Milk tea will promote mommy's lactation.
These nursing tank tops are not only pretty and stylish, they also make breastfeeding so much easier. The front frills make a great breastfeeding cover for breastfeeding  while out and about in public.
While breastfeeding it is essential to always have healthy and wholesome snacks on you to ensure that your energy levels are kept up and to ensure that you are able to produce enough breast milk. These healthy lactation bars are the perfect snack for breastfeeding moms to keep their milk supply going strong.
These bra clip reminders are perfect to keep you on track with which side you fed on last – they also make for a lovely way to keep your baby distracted rather than tugging on your hair.
Fenugreek and Blessed Thistle are well known for increasing breast milk supply making this breastfeeding supplement is a great way to increase your breast milk supply. This will be a lovely gift for a new breastfeeding mommy.
These beautiful nursing scarfs will have mommy looking chic and stylish while also providing a convenient nursing cover for baby.
Worn during pregnancy the baby gets accustomed to the sounds of the pregnancy chimes in this harmony bola necklace. After birth the baby is used to the sounds of the chimes and will be comforted by the sound while breastfeeding and being cuddled by mommy. Baby can also start playing with the necklace while nursing as a comforter.
This hands-free nursing clip is super helpful to pin up your clothing while breastfeeding or pumping to keep it out of the way making your nursing experience so much easier and more comfortable for mommy and baby.
This cute nursing night light is super useful. It is activated with an easy push button . It is light weight and can clip onto mommy's clothing or bra which is very convenient for night time feeding. It also has a vibration alarm which can be set for 5, 10, 15 or 20 minutes to track how long baby is feeding for.
With these nifty nursing cover clips any blanket can easily become a hands free nursing cover – they are manufactured by PBnJ which is an established and trusted brand that sells in many retail stores.
The clips are easily used with one hand and they are gentle on fabric so they won't cause any damage to your blankets.