Father's Day is all about Dad and one of the best ways to treat him is to make him his favourite meal.  So, whether he's a brunch, breakfast, lunch or a lazy supper around the fire kinda Dad, we've got you covered.  Great recipes for any time of day, super easy to make and even more delicious! If you'd like to make his day, see below for scrumptious feasts!
Father's Day Brunch Recipes
Mushroom & Spinach Scrambled Eggs With Smoked Mozzarella & Paprika
Who said breakfast should be boring? This smoky scramble should do the trick – it's almost an omelette, without the stress.
Ingredients: (serves 1)
30 ml butter
2-3 large brown mushrooms, sliced
a handful baby spinach leaves (optional)
3 XL eggs, whisked
1/2 cup grated smoked mozzarella
salt & pepper, to taste
smoked paprika, for sprinkling
Method:
Heat the butter in a pan and fry the mushrooms until golden. Add the spinach and fry for half a minute until it just starts to wilt.
Add the eggs and stir to scramble. While the eggs are still slightly runny, sprinkle the cheese over and cover with a lid to melt.
After a minute, remove the lid and season with salt, pepper and a sprinkle of paprika. Transfer to a plate and serve at once.
Smoked Salmon & Mushroom Frittata
Served with KWV 10 Year Brandy & Cold Brew Cocktail
Serves 4-6
Ingredients:
8 XL free-range eggs
125ml milk or cream
Salt and pepper, to taste
200g baby spinach, stems removed
2 Tbsp olive oil
250g portabellini or button mushrooms, sliced
100g fresh baby fennel, sliced
1 bunch spring onions, sliced and divided in 2
100g smoked salmon
60g soft goat's cheese / soft cheese of choice
To serve: Fresh dill & lemon wedges
Method:
Preheat the oven to 200 °C.
Place baby spinach in a colander and pour over a kettle of boiling water to quickly blanch the spinach. Squeeze out all the excess water and roughly chop.
Heat olive oil in a cast iron pan. Fry mushrooms until they release their liquid and begin to brown. Add the baby fennel and half the spring onions. Cook until just tender.
Add the spinach to the pan and mix. Season.
Whisk together the eggs and milk. Season well with salt and pepper.
Turn the heat down to medium low and pour the egg mixture over the vegetables. Distribute things nice and evenly.
While the mixture is cooking arrange the smoked salmon and cheese on top of the egg mixture.
Once the frittata starts appearing cooked around the edges transfer it to the oven.
Bake for 15-20 minutes or until the eggs are set and the frittata has slightly puffed up.
Scatter with the remaining spring onions and some fresh dill and serve.
KWV 10 Year Brandy & Cold Brew Cocktail
 Makes 1 cocktail
Ingredients:
50ml cold brew coffee
50ml KWV 10 year Brandy
50ml full cream milk
25ml simple syrup
3-4 coffee beans, for garnish
Method:
In a shaker filled with ice combine the cold brew, brandy, milk and simple syrup. Shake well. Strain into a coupe style glass and garnish with 3-4 floated coffee beans.
Father's Day Lunch Recipes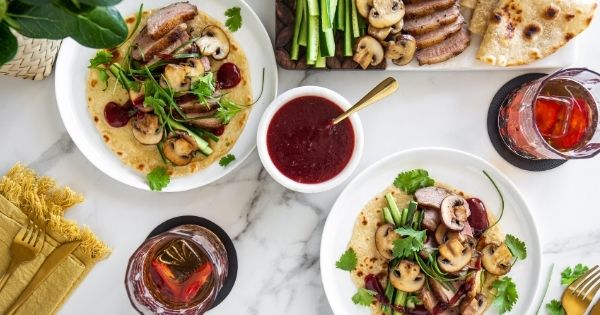 Duck & Mushroom Pancakes
Served with Musgrave Vanilla Brandy Plum Manhattan
Serves 4-6
Ingredients:
Pancakes:
300g flour
Pinch sea salt
250ml boiling water
3 Tbsp sesame oil
Plum sauce:
6 plums, halved and stoned
¼ cup brown sugar
1 Tbsp soy sauce
1 tsp sherry vinegar
Duck:
4 medium duck breasts, skin on
2 tsp five-spice powder
Pinch sea salt
Five-Spice Mushrooms:
250g portabelllini mushrooms, sliced
1 tsp five-spice powder
Salt and pepper, to taste
To serve:
1 cucumber, cut into matchsticks
4 spring onions, julienned
Fresh coriander
Hoisin sauce
Method:
The night before:
Rub the flesh of the duck breasts with the five-spice and salt.
Place duck breasts skin side up on a rack on top of a tray and refrigerate overnight to marinate and let the skin dry out.
For the pancakes:
Mix the flour and salt in a heatproof bowl.
Pour in the boiling water and mix until a dough forms. Once cool enough to handle, knead the dough until smooth. Cover with plastic wrap and allow to rest for 20 minutes.
Divide into 18 little balls. Cover with plastic wrap.
Working with two balls at a time- flatten them into little discs.
Brush oil on the surface of one disc.
Then overlay with the other disc.
Roll out the two pieces sandwiched together into 20cm pancakes.
Brush a non-stick frying pan on medium low heat with a little neutral oil and place one pancake into the pan. After a minute, you should see air pockets begin to form between the two pancakes. Flip the pancake until both sides have faint little golden brown dots on them.
Remove the pancake and when cool enough to handle carefully pull the two pancakes apart at the seams. Place finished pancakes onto a plate and cover with a dish cloth.
For the plum sauce:
Place all the plum sauce ingredients in a saucepan. Mix and bring to a simmer over medium heat. Cook until the plums are soft, falling apart easily and the sauce is thick.
Switch off the heat, using a stick blender, blend until smooth. Set aside.
For the duck:
Place the breasts skin-side down in a cold cast iron frying pan over a medium-high heat.
As the duck cooks and the fat renders, tilt the pan towards you and spoon out the excess fat.
Cook the duck breasts until the skin is deeply golden brown and crisp. At least 10 minutes.
Turn over and cook for about 3 minutes on the flesh side. To test the doneness of the duck breast, press it with your finger – it should be firm but still springy to the touch. If you have a meat thermometer, it should read 54˚C for rare, 61˚C for medium and 65˚C for medium/well done. The best cook for these pancakes is medium.
Allow the duck breast to rest for 10 minutes before slicing.
In the same pan with a little residual duck fat, fry the mushrooms until golden brown.
Season with five-spice, salt and pepper.
To assemble the pancakes:
Serve pancakes family style with sliced duck, five-spice mushrooms, cucumber sticks, plum sauce, hoisin and fresh coriander.
Musgrave Vanilla Brandy Plum Manhattan
Makes 1 cocktail
Ingredients:
50ml Musgrave Vanilla Brandy
25ml sweet red vermouth
2-3 dashes Angostura bitters
2-3 slices fresh plum for garnish
Method:
In a glass filled with ice combine the brandy, vermouth and bitters.
Stir well (or shake in a cocktail shaker for a slightly weaker drink).
Strain over ice and garnish with fresh plum slices.
Truffle Mushroom Steak
A steak doesn't always need an actual sauce. This luxurious combo of truffle oil and pan-fried large brown mushrooms on a perfectly cooked matured steak are the stuff dreams are made of.
Ingredients: (serves 1, adjust accordingly for more people)
300 g aged steak of your choice, boneless
olive oil, for drizzling
salt & pepper
30 g butter
a few large brown mushrooms, sliced
2 sprigs thyme, woody stalks discarded
a few drops of truffle oil (or truffle flavoured oil)
Method:
Drizzle the steak with oil and season with salt & pepper. Braai over hot coals or grill in a piping hot griddle pan, until cooked to your liking (3,5 minutes a side for a 3 cm thick steak, for medium rare). Remove and leave to rest while you prepare the mushrooms.
Heat the butter over high heat in a pan, then fry the mushrooms with the thyme until golden brown on all sides. Season with salt & pepper. Remove from the heat, then add a few drops of truffle oil and stir to mix.
Top the rested steak with the hot truffle mushrooms and serve at once.
Father's Day Supper Recipes
Mushroom & Mozzarella Fondue
Served with Oude Molen VSOP Cape Brandy
Serves 4
Ingredients:
8 slices baguette
olive oil, for brushing
Sea salt and black pepper, to taste
1 clove garlic, peeled but kept whole
2 Tbsp butter
400g portabellini or button mushrooms, halved
4 sprigs fresh rosemary
Bunch of fresh sage leaves
300g buffalo mozzarella, drained and torn into pieces
Method:
Preheat oven on grill.
Brush slices of baguette with a little olive oil and sprinkle them with salt.
Grill until golden and crisp. Remove from the oven and rub with the garlic clove while still warm. Set aside.
Heat a medium sized oven proof frying pan over high heat.
Melt the butter and add the mushrooms, rosemary and sage.
Season well with salt and pepper.
Cook for 5 minutes until golden brown.
Deglaze with a splash of brandy and flambé.
Scatter with the mozzarella and place under the grill for 3-5 minutes or until melted and bubbling and beginning to brown. Serve immediately with the garlic toasts.
Mushroom, Cauliflower and Cheddar Soup
This silky soup is super easy to make (a simple blender does the trick). The bulk of the soup is creamy cauliflower, so it is virtually gluten free and so hearty. A stunning lighter meal for cooler evenings.
Ingredients: (serves 2)
30 ml butter
250 button mushrooms, sliced
1 small garlic clove, finely grated (optional)
300 g cauliflower, sliced
250 ml cream
1 cup grated mature cheddar cheese, plus more for serving
salt & pepper, to taste
a handful of chives, finely chopped
Method:
Heat the butter in a medium size pot over high heat. Add the mushrooms and fry until they start to soften (don't let them get too dark, and set a few aside at this point for garnish at the end). Add the garlic and stir for a minute, then add the cauliflower and cream. Cover and bring to a simmer, taking care not to let it boil over.
Let it cook for about 5-7 minutes or until the cauliflower is tender. Transfer to a blender, then blend until very smooth. Add the cheddar and season to taste. Serve hot, topped with more cheese, a few of the saved mushrooms, and scattered chives.
We hope you love these fantastic treats for dad to make this Father's Day extra special.
Recipe and image supplied by
The South African Mushroom Farmers' Association