Bringing a newborn home after delivery can be a daunting experience during those first few weeks. It takes a while to adjust to your new routine amidst nappy changes, feeds, and sleep deprivation. Before we share things you will need newborn baby checklist, here are five things you can do before D-day to make your life a little easier on yourself.
***Disclosure -The links in this post may contain affiliate links and I may receive a small commission if you make a purchase after clicking on a link.***
Wash baby bedding and clothes
A newborn baby's skin is delicate and sensitive, therefore it is recommended to wash all bedding and clothing items with non-bio detergent before using them. This will prevent skin irritation.
Cook in bulk
Once baby arrives, you will often feel as if the days have not enough hours. You are going to have your hands full. Preparing and cooking food will be a challenge. Cooking and freezing meals in bulk before the time will be a huge time-saver during those first few weeks after giving birth. 
Do some spring cleaning
There will not be a lot of time for doing household chores once your little one arrives. Take advantage of your nesting instinct and do a thorough clean of your home or hire someone to help you if you are not feeling up to it. Instead, you can do things like organizing baby supplies and doing the last bibs and bobs to get everything ready for baby's homecoming.
Buy loads of nappies
You will be amazed at how many wipes and nappies a newborn goes through, so stock up on disposable nappies beforehand. You will need about ten to twelve a day.
Start packing your hospital bag
During the last stretch of your third trimester, labour can happen during any time. Start packing your hospital bag around 36 weeks with baby essentials, clothing, and nappies you will need for labour and after delivery. Place the bag close to the front door so when the time arrives you can just grab it on your way out.
Essential Big-ticket Items You Will Need For Your Newborn Baby
A car seat. 

A pram that reclines so that baby can lay flat.

Crib or bassinet.

Baby bath.
During the third trimester of pregnancy, in between naps and resting your swollen feet, you can start stocking up on everything you will need for the big day when your newborn is coming home with you. However, do not buy too many baby toiletries and clothing before your baby shower since you will most probably receive loads of these. Wait until afterwards and buy the things you still need.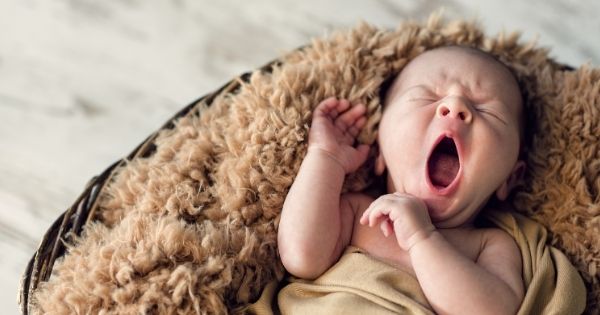 How Do You Know What Your Baby Will Need?
The best way to start creating your newborn shopping list is to think about what your baby will need. Break it down into a few primary categories to avoid forgetting something important. Focus on the things they will need for different rooms/activities. This will make it easier to remember and categorize. Make a list and tick the things off the list that you have already bought or received.
Baby Bedroom Necessities
Crib/bassinet

– The first thing on your list would be a safe and comfortable place for baby to sleep. Moses baskets or cribs are preferred options. Just make sure whatever you choose, is baby safe and adheres to safety regulations.

Baby linen – The second item would be what your baby will sleep under. Baby's bedding must be comfortable, soft, and free from any loose threads or other hazards such as embellishments. Always adhere to safety tips to protect baby's limbs if swaddled.
Sleeping supports

– This include extras for entertainment, for instance, a baby mobile. You can also consider things that create white noise, like CDs or white noise toys. Soft teddies are also a firm favorite for when baby gets bigger.

Never give babies under twelve months any objects to sleep with, this include teddies.
Night light –

even though darkness is soothing for newborns who are used to spending time in the womb, a night light could make night time feeds easier on you and less disruptive to other sleeping household members.

Baby monitor

– Baby monitors proof to be invaluable for keeping an ear, or eye on your newborn when you are not in the nursery. You can compare different models to decide which one would be the perfect fit for you. Remember to test and replace batteries frequently.

Bedding

– We recommend having three large cotton blankets and eight receiving blankets that can double up as burp cloths. Also, invest in three mattress covers that are waterproof and a sleep sack.

Mattress

– Crib mattress that is baby approved.
When baby starts growing and moves into his own bedroom, you will have to re-evaluate this list and update some of baby's necessities. It is also essential to remember to frequently wash baby's pillowcases, sheets and other baby for hygienic purposes and ensuring your baby stays protected and healthy while sleeping.
Baby Necessities For Outings Away From Home
Changing bag – This is something that you are going to use for a long time, therefore invest in a quality one with loads of different compartments for organizing and packing everything you might need. Many changing bags come with a complimentary changing mat which is incredibly useful.
Nappies and scented nappy bags

– the quantity you will need, depends on the time you will be out. Newborns need regular changing, therefore always pack a few extra, just in case. We have used disposable scented nappy bags for storing soiled or wet nappies in a separate compartment of the bag until we get home or are at a place where we could dispose of them.

Baby toiletries

– baby wipes, bum cream, and cotton wool are our go-to toiletries for cleaning up messes and changing nappies when you are out and about. 

Muslin cloths

– These are ideal for wiping spillages on yourself and baby.

Extra clothes

– Pack an extra set or two of clothing for unexpected accidents. You might want to pack an extra top for yourself as well.

Quality pram – choose a pram that is safe and comfortable and not too heavy for you to lift or push. 
Car seat – A car seat is a must have item for keeping baby safe while traveling. Make sure you select on that meets safety regulations. Practice a few times and familiarize yourself with how everything works, so when baby arrives you will have no issues putting and taking him out of it. 
Baby Feeding Essentials
If you are planning on breastfeeding, having these items can make things a whole lot easier:
Plenty baby bibs

Burp cloths

Nursing pillow

Manual or electric breast pump

Containers for storing breastmilk

Nursing bras

Nursing pads (washable or disposable)

Nipple cream that is safe for baby
If you are planning on formula feeding, you will need:
Plenty baby bibs

Burp cloths

Nipple and bottle brush

Infant formula (always check the expiry date) – make sure to check out the top ten baby formula South Africa so you know which brands to try out! 

Thermal bottle carrier
Baby Essentials For Changing Diapers
If you are planning on using cloth diapers that are re-usable:
A few dozen (four to five) re-usable / cloth diapers

Eight waterproof covers

Bum cream or barrier ointment for rash prevention

Changing mat

Safety pins for securing re-usable diapers

Washcloths or disposable baby wipes for cleaning baby's bottom
If you are planning on using disposable nappies:
Two boxes of newborn diapers (Do not buy too many since you do not know what size your baby is and how quickly he will grow)

Changing mat

Bum cream or barrier ointment for rash prevention

Washcloths or disposable baby wipes for cleaning baby's bottom
Clothing
Let's face it, it is difficult to resist all those tiny and cute baby outfits online or in the shops. But keep in mind that babies grow rapidly, and they do not fit into a particular size for very long. It is not worth spending hundreds of dollars on baby clothing that is only going to be worn a few times. You will also be doing a lot of nappy changes, so you want to opt for something that is comfy and allows for quick nappy changes. 
Also, keep in mind, how many times a week you do laundry. If you do laundry twice or three times weekly, you are not going to need too many clothes either.
 When shopping for baby outfits, do not buy too many newborn sizes since babies outgrow them too quickly. Also, if your baby is big, it will most likely not fit him. We recommend buying a few newborn items and then rather invest in 0-3 months.
Suggested clothing for newborns:
Eight onesies (an assortment of long sleeve and short sleeve).

Five nightgowns to use until baby's cord falls off.

Five pairs of pants.

Eight baby grows.

Two newborn beanies.

Eight pairs of booties or socks.

If it is Winter, two jackets, or cardigans.

Three cute outfits for dressing up (not compulsory).
Bath Time Essentials For Newborns
Plastic baby bath – baby baths or basins are useful for bathing newborns. You will use a lot less water and it is safer. Always check the bath water with a baby bath thermometer or test the water with the underside of your forearm to make sure it is not too hot.

A few extra washcloths (not used for wiping baby's bottom).

Baby soap or wash suitable for baby's sensitive skin.

Tearless baby shampoo.

Nappy rash barrier cream.

Baby hairbrush with soft bristles.

Three soft hooded baby towels – when drying your newborn, remember to gently pat his skin dry and avoid rubbing. Do not forget to dry in the creases of their little legs, arms, and in between toes and fingers.

Baby bath thermometer for testing the temperature of the water.

Tap covers – soft tap covers acts as protection against baby burning on hot taps or getting their little toes caught on them by accident.
Other Newborn Baby Essentials
Nail scissors or clippers

Bulb syringe for suctioning out mucus

Medicine spoon or eye dropper

Medicine for fever

Baby thermometer for checking baby's temperature
Non-essential baby items, but nice to have
Apart from all the essentials mentioned above there are a few items that are not essential but are incredibly comfortable to have and will make your life a lot easier.
Changing table for nappy changes (or a changing mat on top of the bed or dresser).

Rocking chair for feeds or swaddling your little one.

Bottle/food warmer.

Sunshades for car windows.

Plastic hangers for baby.

Night light.

Baby mobile.

Two to four pacifiers (if you are planning on using them).
First off, congratulations on your pregnancy. Enjoy every moment because before you know it, it will all be over, and it will be time for baby's arrival. We know it can be tricky to try and remember every single thing you are going to need once you and your baby is discharged from the hospital. Parents often splurge or overindulge, thinking that they need all the gimmicks and baby equipment they see advertised, especially if it is their first child.
 But, truthfully, newborns only need a few big-ticket items, like a stroller, baby car seat, and crib.  And apart from nappy changes, they feed, and sleep. Rather, stick to essentials and save money for nappies and other baby essentials. You are going to go through a lot of nappies during those first few weeks. 

Conclusion
We hope you have found this article helpful. This list contains the general expectations as far as baby necessities go. Before buying baby clothes, think about what he will actually need. We have only listed the basics, but depending on your budget, aesthetic preference, and lifestyle, your list may vary.
Having children does not come cheap and it is useful to start spending wisely from the very beginning. We hope that our checklist is going to be something that you can use as a guide when you are preparing for the arrival of your newborn. Remember, there are some things that your baby is not even going to use during the first few months of his life. You can always stock up on the essentials and get those at a later stage. 
WIN A R1500 Checkers Virtual Voucher
Win a R1500 Checkers Virtual Voucher by entering your details into the form below AND leaving a comment on any blog post on this website.
Each additional comment you leave is one extra entry into this competition and every other competition that is currently running.
Please ensure that both of these steps are taken for your entry to be valid.
This competition is open for residents of South Africa.
This competition is open for entries from 16 February 2021 until 15 March 2021 – the winner will be announced on our competitions page.
T & C's apply.
This Competition Is Closed For Entries
Click here to sign up for my newsletter so you don't miss another competition! 
Get Extra Entries Into This Competition
The requirements for entry into this competition is via the entry form above and leaving a comment on any blog post.
You have to enter your details into the form and leave a comment on a post to enter this competition, however you can gain extra entries into this competition in the following ways:
Share this post on social media tagging @Kaboutjie and include the hashtag #WinWithKaboutjie – each share is an additional entry
Join the Kaboutjie Community group on Facebook and post a parenting question in the group – each post in that group during the duration of this competition is one extra entry!