Sonic The Hedgehog 2 (release date 01 April 2022) is an upcoming action-adventure comedy film directed by Jeff Fowler and written by Pat Casey, Josh Miller, and John Whittington, based on the video game franchise published by Sega, and the sequel to Sonic the Hedgehog (2020). It stars Ben Schwartz returning as the voice of Sonic, with the rest of the cast consisting of James Marsden, Idris Elba, Jim Carrey, Tika Sumpter, Colleen O'Shaughnessy, Natasha Rothwell, Shemar Moore, Adam Pally and Lee Majdoub.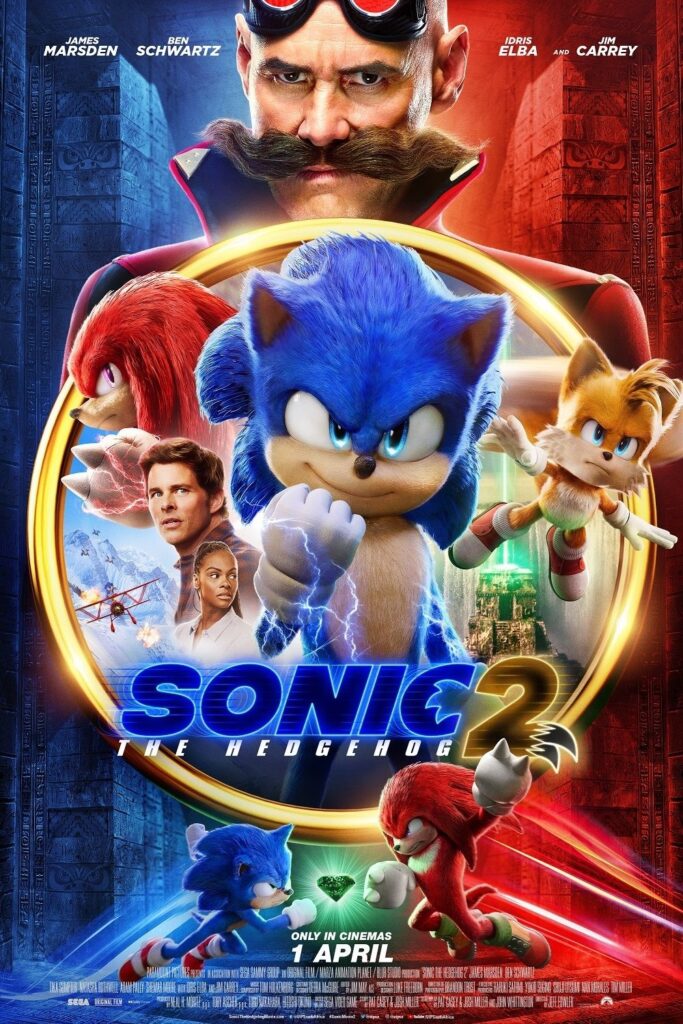 The world's favorite blue hedgehog is back for a next-level adventure in SONIC THE HEDGEHOG 2. After settling in Green Hills, Sonic is eager to prove he has what it takes to be a true hero. His test comes when Dr. Robotnik returns, this time with a new partner, Knuckles, in search for an emerald that has the power to destroy civilizations.
Sonic teams up with his own sidekick, Tails, and together they embark on a globe-trotting journey to find the emerald before it falls into the wrong hands. From the filmmakers behind The Fast and the Furious and Deadpool, SONIC THE HEDGEHOG 2 stars James Marsden, Ben Schwartz as the voice of Sonic, Tika Sumpter, Natasha Rothwell, Adam Pally, Lee Majdoub and Jim Carrey returning, alongside new additions Shemar Moore, with Idris Elba as the voice of Knuckles and Colleen O'Shaughnessey as the voice of Tails.
Paramount Pictures Presents
In Association with SEGA Sammy Group
An Original Film / Marza Animation Planet / Blur Studio Production
Directed by: Jeff Fowler
Screenplay by: Pat Casey & Josh Miller and John Whittington
Story by: Pat Casey & Josh Miller
Based on the SEGA Video Game
Produced by: Neal H. Moritz, Toby Ascher, Toru Nakahara, Hitoshi Okuno
Executive produced by: Haruki Satomi, Yukio Sugino, Shuji Utsumi, Nan Morales, Tim Miller
Starring: James Marsden, Ben Schwartz, Tika Sumpter, Natasha Rothwell, Adam Pally, Shemar Moore, Colleen O'Shaughnessey with Idris Elba and Jim Carrey
Sonic 2 – Character Bios
Sonic (Ben Schwartz/voice talent)
Capable at traveling at the speed of sound, Sonic is a curious, confident and fast-talking blue hedgehog always ready for any type of adventure. After seemingly defeating the nefarious and power-hungry Dr. Robotnik, he's speedily settling into his life on Earth with Tom and Maddie. But excitement is never far away from our favorite blue friend – Sonic meets a new ally, Tails, and the two must band together to defeat Dr. Robotnik after he escapes captivity on the Mushroom Planet with the help of a powerful partner, Knuckles. 
Tom Wachowski (James Marsden) 
Born and raised in quiet Green Hills, MT, Tom Wachowski had always played by the rules. As a small-town cop, he felt like he never had the excitement and adventure he dreamed of when he decided to be an officer… that is, until a fun-loving ball of energy named Sonic came into his life and lovingly gave him the nickname "Donut Lord." Tom and his wife, Maddie (Tika Sumpter), have since welcomed Sonic into their home, bringing with him more love and even more chaos.  
Maddie (Tika Sumpter) 
Tika Sumpter returns as Maddie, a veterinarian who's married to Tom Wachowski (James Marsden). She and Tom let Sonic live in their home in Green Hills, MT and keep a close eye on him. Sonic refers to her as "Pretzel Lady" for her impressive yoga moves.
Dr Robotnik (Jim Carrey)
Dr. Ivo Robotnik is the smartest man on Planet Earth and the world's foremost expert on robotics. His relentless pursuit of the world's fastest hedgehog ended unsuccessfully, and he was forever banished to the isolated Mushroom Planet. His quest for ultimate power is seemingly lost, until he's able to partner with powerful echidna Knuckles to return to Earth to try and conquer Sonic's power once and for all. 
Tails (Colleen O'Shaughnessey/voice talent)
Miles "Tails" Prower emerges on Planet Earth and quickly becomes Sonic's loyal best friend and sidekick as they battle it out against Dr. Robotnik. As a skilled pilot and mechanical genius, Tails creates brilliant inventions to help Sonic out of trouble… not to mention he can use his twin tails like helicopter rotors to fly through the sky. 
Knuckles (Idris Elba/voice talent)
Knuckles boldly makes his entrance on Planet Earth as Dr. Robotnik's new comrade in the quest to bring down Sonic. As of force of nature with fists to destroy, Knuckles' strength will square up against Sonic's speed and create the ultimate showdown between the alien hedgehog and the alien echidna. 
Win 1 Of 3 Sonic The Hedgehog 2 Hampers
Each hamper includes: pop fidgets game, phone ring light and Sonic 2 cable guy (character will be Sonic, Tails or Knuckles – winner not be able to choose which character they receive)
Enter your details into the form below to enter this competition.
This competition is open for residents of South Africa and Terms and Conditions apply.
The winner will be announced on our competitions page - this competition is open from:
16 March 2022 – 18 April 2022
This Competition Is Closed For Entries
Click here to sign up for my newsletter so you don't miss another competition!