There are many selenium health benefits you should be aware of. Even though you might not have heard about selenium before, this amazing nutrient is essential to your health.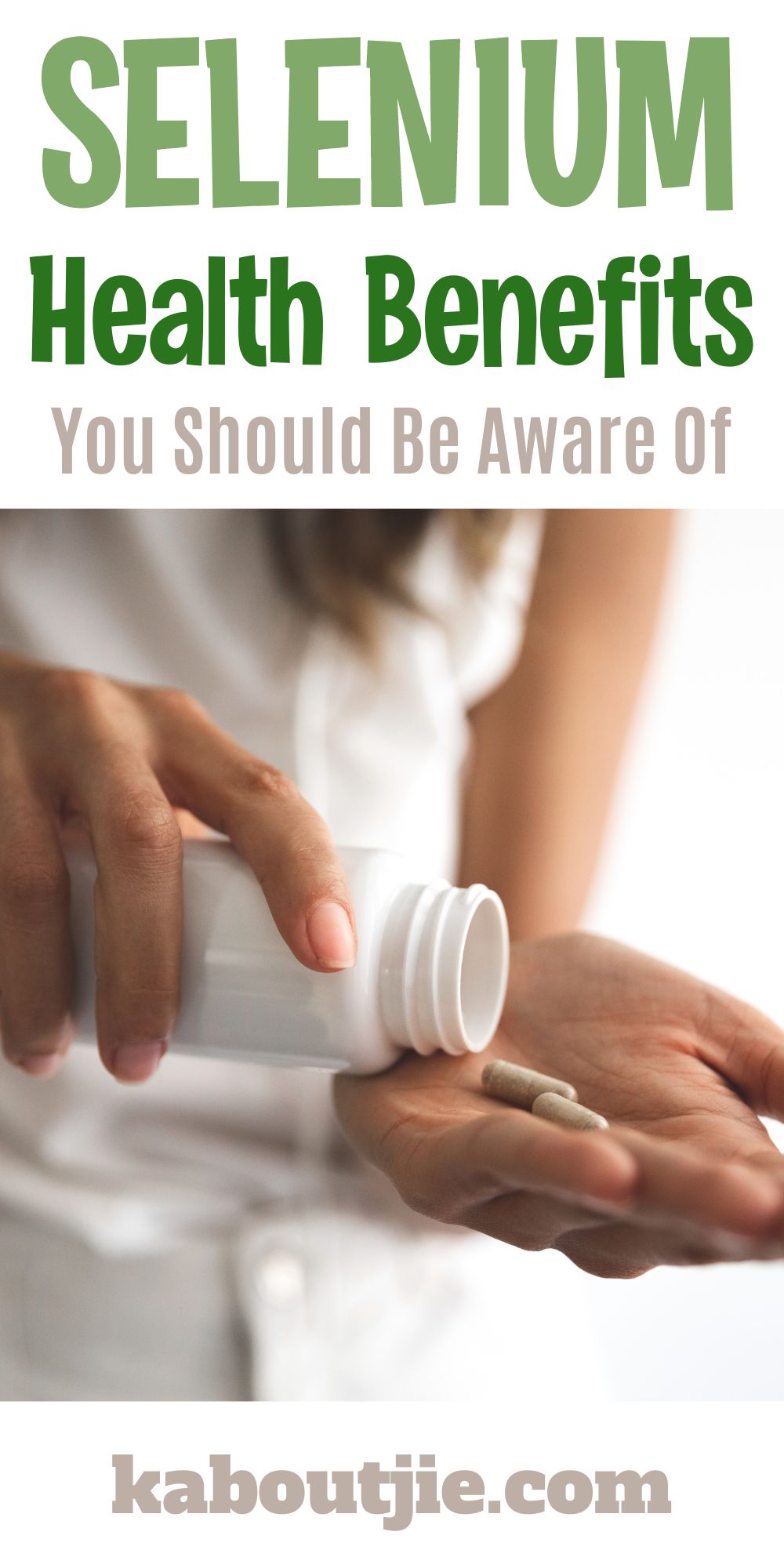 What Is Selenium
Selenium is a vital mineral that is primarily obtained through your eating plan. You only need it in small amounts, however, it plays a significant role in essential bodily processes, including thyroid function and a healthy metabolism.  It is essentially a mineral found in soil, but it also naturally occurs in water and certain foods. The mineral has attracted attention due to its antioxidant properties. It impacts various important processes in the body, including:
Protection against infections

DNA synthesis

Reproduction

Thyroid hormone metabolism
8 Selenium Health Benefits
Some of the health benefits of selenium include:
Acting As A Potent Antioxidant
Free radicals are standard byproducts of processes formed in the body on a daily basis, including metabolism. They often have a negative connotation to them, but free radicals are vital for your health. They have necessary functions like protecting your body against disease. However, things like alcohol, smoking, and stress can result in an excess of free radicals which subsequently causes oxidative stress that damages healthy cells in the body.
Oxidative stress is associated with chronic conditions like Alzheimer's, heart disease, premature aging, cancer, and a higher risk of stroke. Selenium can help lower oxidative stress by avoiding an excess of free radicals in the body. They operate by protecting cells from damage and keeping free radical numbers in check.
Lowering The Risk of Certain Cancers
Amplified blood levels of selenium can lower the risk of certain cancers, and supplementing with this mineral can help enhance the quality of life of those that undergo radiation therapy.
Assisting in Prevention of Mental Decline
Alzheimer's disease is a life-changing condition that leads to memory loss and adversely affects behaviour and thinking. It is the sixth-leading cause of fatalities in the US, and the numbers keep growing. Thus, finding ways to prevent this devastating disease is imperative. An eating plan rich in selenium can help with mental decline prevention and enhance memory loss in those with Alzheimer's disease.
Heart-Friendly
A selenium-rich diet can help with heart health, lowering the risk of heart disease. It can help by keeping oxidative stress at bay which is one of the risk factors for heart disease.
Boosting Fertility
Many think of selenium as a "super" vitamin for boosting fertility because of its antioxidant properties. Selenium assists with promoting healthy uterine follicles, where eggs are formed and released. The recommended dose for women who are trying to conceive is 60 mcg daily. It is also beneficial for men.
Thyroid Health-Booster
Selenium is an essential element of a proper functioning thyroid gland. Your thyroid tissue has a higher selenium content than any other body part. This potent mineral assists with protecting the thyroid against oxidative damage and also helps in producing thyroid hormones. Having a healthy functioning thyroid gland is essential for regulating your metabolism and controlling development and growth. Selenium deficiency has been linked to thyroid conditions such as Hashimoto's thyroiditis – where the immune system attacks your thyroid gland.
Boosting Your Immune
The immune system is quintessential for identifying and combating potential health treats like viruses, bacteria, and parasites. Selenium assists with lowering oxidative stress in the body, which lowers inflammation, and boosts immunity.
Lowering Asthma Symptoms
Asthma is a chronic condition that impacts the airways and transport air into and out of the lungs. These airways get inflamed and start to narrow, leading to symptoms  like shortness of breath, coughing, wheezing, and chest tightness. The condition has been linked to excess levels of inflammation and oxidative stress in the body. Because selenium reduces inflammation and keeps oxidative levels in check, it goes a long way in reducing asthma symptoms.
Foods High In Selenium
Nuts, like walnuts and Brazil nuts

Grains

Certain fresh and saltwater fish such as red snapper, tuna, sardines, herring, halibut, and cod

Poultry

Beef

Oysters

Eggs

Shiitake mushrooms

Sunflower seeds
How Much Selenium Do You Need?
It depends on your age which is measured in micrograms (mcg):
Birth to six months – 15mcg

Infants (7-12 months) – 20mcg

Kids (1-3 years) – 20mcg

Kids (4-8 years) – 30mcg

Kids (9-13 years) – 40mcg

Teenagers (14-18 years) – 55mcg

Adults (19-71 years and older – 55mcg

Pregnant women and teens – 60mcg

Breastfeeding women and teens – 70mcg
Signs Of Selenium Deficiency
A selenium deficiency is not common and is caused by not getting enough selenium through your regular diet. The deficiency can cause male infertility and Keshan disease (a kind of heart disease). It may also cause Kashin-Beck disease, which is a type of arthritis with symptoms that include swelling, loss of motion in the joints, and pain.
Some of the signs of a selenium deficiency include:
Hair loss

Infertility in women and men

Fatigue

A weakened immune system

Muscle weakness

Mental fogginess
Selenium Supplements
Below are a few excellent selenium supplements to consider. 
Always check warning labels on products and never use any new supplements or herbal products before checking with your doctor first, especially when you are pregnant or breastfeeding.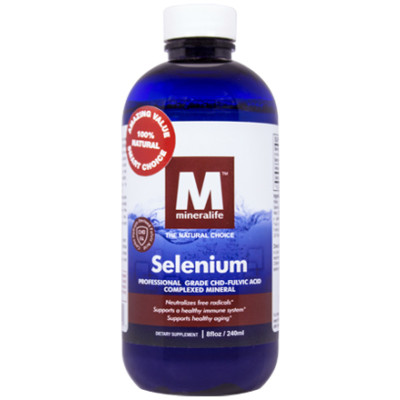 Mineralife Selenium
Mineralife Selenium is specially formulated for providing overall health and beauty benefits, combatting the signs of aging and protecting skin cells against free radical damage.
Benefits
Easily absorbed

Regulating red blood cell levels

Promoting cell generation

Ensuring healthy heart pattern and rate

Keeping mucous membranes, organs and nerve tissue healthy
Product details:
Contains 240ml (96 servings)

Selenium content: 400mcg per serving

Ionic catalyst content: 200mcg ionic

Daily serving size: 2.5ml (in juice or water)

100% Natural product
Viridian Selenium 200ug
Viridian Selenium is specially designed for promoting a green lifestyle. All packaging materials and ingredients are organic and eco-friendly.
Benefits:
Keeps free radical levels in check

Healthy thyroid function

Overall cardiovascular wellbeing

Reduces the negative effects of mercury toxicity

Assists with inflammatory issues
Product details:
Contains 90 capsules

Dosage: 2 capsules daily (400ug) – do not exceed the dosage

100% Organic and vegan-friendly product

Contains bilberry, alfalfa & spirulina
Solgar Selenium 200ug
This product is specially formulated with no yeast for those with sensitivities and allergies. Provide your entire body with additional support with Solgar's natural selenium supplement.
Benefits:
Aids the body in Vitamin C recycling for extra antioxidant protection

Promotes healthy and clear skin

Combats free radical damage

Supports healthy thyroid function

Aids heart health
Product information:
Contains 50 tablets

Dosage: 1 tablet per day

Yeast-free

100% Natural

Easily digested and absorbed

Gluten and dairy free

Vegan and vegetarian-friendly

Kosher-friendly

No sugar or sodium added

Made with no artificial sweeteners, colouring, and flavouring
Earthier Organic Selenium
Earthier organic selenium supplement is made with 100% certified organic food extracts to provide you with an immune boost and ensure your thyroid works as it should.
Benefits:
Supports healthy thyroid function

Immune-boosting properties

Supports bone, hair, skin, and nail health

Promotes healthy thyroid hormone production

Aids collagen production
Product information:
Contains 60 capsules (60 servings)

Dosage: one table at night before bedtime

Certified organic product

Contains silica, mustard seed extracts, seaweed, and bamboo

Contains no additives, colouring, flavourings, and preservatives

No added sugar or gluten

Recyclable packaging materials

Vegan and vegetarian-friendly

Vital non-metal and micro-nutrient
Product warnings:
Do not use when pregnant or breastfeeding

Contains allergen – mustard seed
Naturmade Selenium Capsules
Apart from selenium, these capsules also contain vitamins A, C, and E, making it an all-round product for health and beauty wellness.
Benefits:
Cell generation

Regulates red blood cell levels

Promotes healthy mucous membranes, organs, and nerve tissue

Anti-aging benefits

Prevents an excess of free radicals

Promotes normal heart pattern and rate

Lowering the risk of stroke or heart disease

Boosts the ratio of good cholesterol (HDL) to bad cholesterol (LDL)
Product information:
Contains 90 capsules

Dosage: one capsule daily

Product contains vitamins A,C, E and selenium

100% Natural
Final Thoughts
Selenium is a potent mineral that your body needs for proper functioning. It also plays a vital role in metabolism and thyroid function while protecting your body against free radical damage as a result of oxidative stress. We hope you have enjoyed our post about the benefits of selenium and why it is vital to follow a selenium-rich diet for good health and boosting your immune system.