This year has been especially long for parents who found themselves juggling teaching, parenting and working thanks to the COVID-19 pandemic and its subsequent lockdown restrictions. So, when it comes to the festive season holiday period, no one deserves a bigger break than parents.
But, according to Dr Iqbal Karbanee, paediatrician and CEO of Paed-IQ Babyline, this holiday will look and feel a lot different to any previous holiday at this time of year.
"The rising number of Coronavirus cases across the country is forcing many families to revaluate travel plans and choose a staycation over a vacation. Furthermore, families are facing added financial pressure and may be worried about what to do with the kids over the extra long school holiday period, which is over six weeks long, given this perpetual state of 'new normal', which includes social distancing," says Karbanee.
If you are a parent and find yourself in this situation, you may be tempted to turn to the screen to entertain your kids for the duration of the very long holidays. But, with so many warnings about the impact of too much screen time on young minds everywhere, should you be worried and resist, or give in?
"Mostly parents are only trying to do their very best in what are often tough situations. The COVID-19 pandemic has placed enormous pressure on parents, and finding balance can be very hard," says Karbanee. "If you are looking after the needs of your child in a supportive and loving environment, and trying your best, even if this includes screen time, then you and your family are doing fine."
He says that parents need to remember that while the health and safety of their children is the parents' responsibility, boredom is not.
"You don't need to keep your kids constantly entertained throughout the holiday. It's ok to let children complain about boredom. Make a few suggestions but allow them to be imaginative. Imagination itself is a source of entertainment with huge benefits for children," he adds.
Karbanee says there are ways however that you can ensure a better balance for your child when it comes to the screen, whether PlayStation, tablet, phone, TV or any other device. Below are his top tips for parents who want to create lasting and positive habits screen habits this holiday.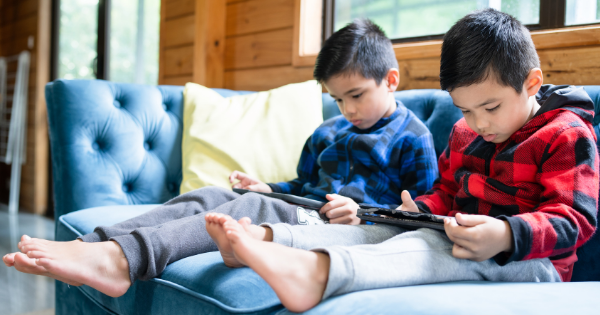 Tip 1: Do not let kids have screen time at least two hours before bedtime. This is because this will interfere with their sleep pattern, which is vital for healthy development. And while we are at it, it is a good idea to keep to a routine during the holidays as far as possible, especially when it comes to a regular bedtime. Try to be consistent in enforcing bedtime.
Tip 2: Ensure your child takes regular breaks from the screen, especially where there is continual stimulation, whether through PlayStation, HouseParty, Google Hangout, or any other application.  A 30 to 40-minute break is recommended. Older children and teenagers tend to play online for extended periods. Make an agreement that some form of physical activity will be interspersed with the screen time.
Tip 3: Pay attention to what your kids are consuming. Make sure you have rules when it comes to what content they are allowed to watch, and what they are not allowed to access. There should also be clear consequences for children who do not follow the rules. This is also relevant if there are different aged children in the home; younger kids should of course not be exposed to inappropriate content. Parents should familiarise themselves with parental control settings on all electronic devices.
Tip 4: Try to limit the number of devices your child has access to at any given time. For example, don't let them play on a phone or tablet if the TV is on at the same time. Rather turn the TV off while they are on another device. This will help them stay focused on one activity, rather than being over stimulated from multiple sources. 
Tip 5: Have clear rules around when screen time is off-limits, for example, at family functions, or the dinner table. Children often don't know that they are full if they eat in front of the screen, and will continue to consume. By teaching them to not be around a device while eating, you will be teaching them the value of connection as well as listening to their body.
Tip 6: Lead by example. If children see the parent on the phone continually, including during family time, they will follow that example. Rules are for everyone!
"It is more important to strive to create a loving and balanced family environment than a  perfect,  one, especially during the holidays," concludes Karbanee.
About Paed-IQ BabyLine 
Paed-IQ BabyLine is a 24/7 telephonic-based, medical advice subscription service for caregivers to babies and children, given by paediatric-trained nurses. By offering early and appropriate medical intervention through advice, we have helped to safeguard the health of over 10000 children. Paed-IQ BabyLine's protocol was developed for South Africa by Karbanee and is endorsed by globally renowned paediatrician, Dr Barton Schmitt, the father of medical-advice telephonic systems. Paed-IQ BabyLine reduces the burden on the healthcare system by offering quick, early and appropriate medical intervention via the telephone. Visit https://Paed-IQ.com/ for more.