When we went to the Pixie and Fairy Village in Jacobs Bay at the beginning of the school holidays we went to lunch afterwards and I won't mention names because I love sharing things that I love that I stumble across… when something is awful I just don't write a review on my website (I might give them a negative Google Review).
While we were looking for a place to eat I saw a place called Charlie's Deli & Cafe but I never looked in, instead choosing a place that had outside tables which is usually a safer bet than indoors when eating out with small kids. Let's just say that we were not impressed and leave it like that.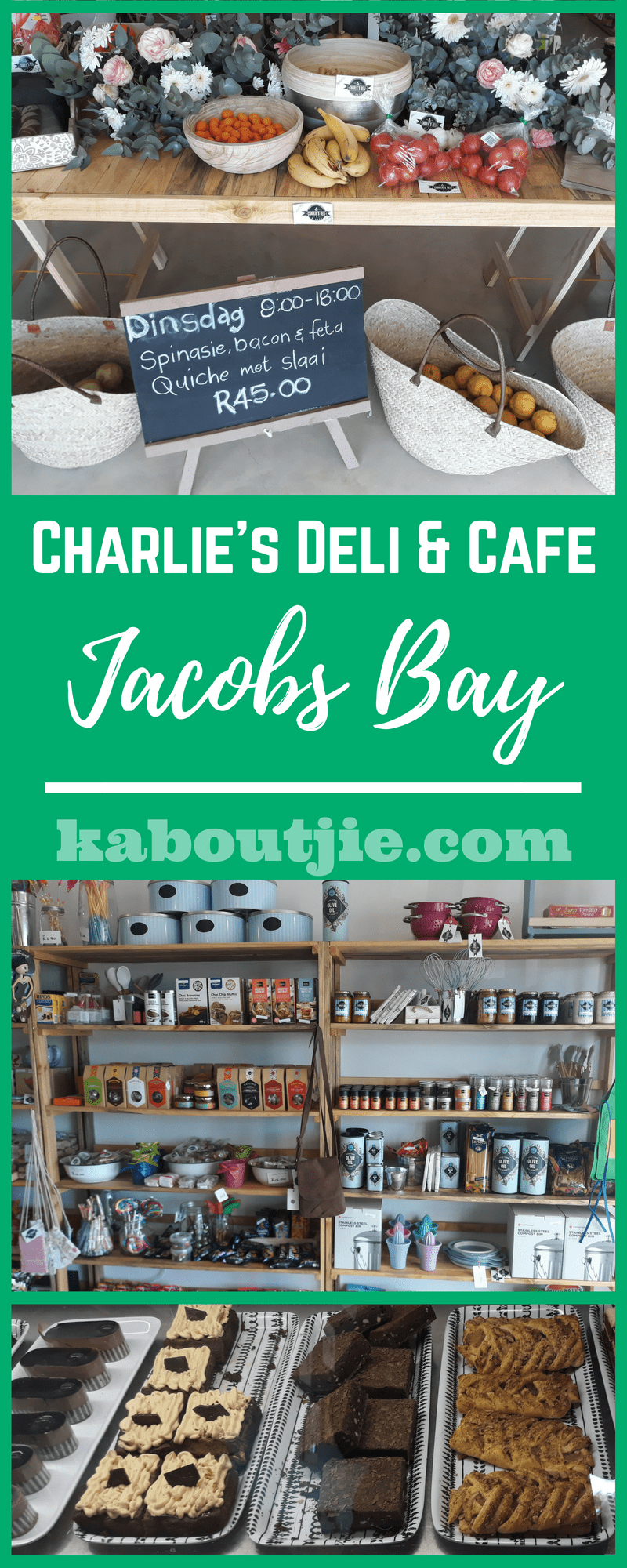 A week later I was on Facebook and I stumbled across a post about Charlie's Deli & Cafe . It is a brand new establishment that has been open just 3 weeks and is owned by Charldo De Kock – someone that I have had regular contact with over the years since I moved to the West Coast. Charldo is a lovely person that is always smiling, kind and willing to help others.
So yesterday morning my kids and I jumped in the car and took another drive over to Jacobs Bay to check out Charlie's Deli & Cafe.
When we arrived the first thing I noticed is that everything looks great. It is a friendly and inviting setting. They have homemade breads, jams, sauces, spices, fruit, vegetables, artisan products and more on display. There are five tables for sit down meals.
I had a chat with Charldo and it was great catching up since I hadn't seen him recently. He told me that opening Charlie's Deli & Cafe is amazing because it has been a dream of his for a long time. Business is good and he is loving it – you can see it, he is totally in his element.
My kids and I chose a table and had a look at the menu. There are different menus for different days as well as a regular menu which has some kiddie meals to choose from. Being Monday we got the Monday menu. My daughter ordered the Morning Wrap (Scrambled Egg, Cheese, Tomato & Bacon) with Chips and I ordered the Beefy Panini with Salad from the Monday menu. My son ordered the Sausage and Chips from the Kiddies Menu.
I wasn't planning on ordering the Beefy Panini, I actually asked the waitress what she thought was best between two other meals and she gave me her opinion, then added that the Beefy Panini is really special so I decided to go with that.
I am so glad I went with her recommendation, it was divine! I'm also really glad I went with the salad too. Very often when a meal is served with salad it can be a very sad affair. I love salad but I am not particularly fond of lettuce, I prefer other types of leaves. There was not a lettuce leaf in sight with this salad. It was various leaves, cherry tomatoes, cucumber and feta – the perfect salad in my opinion.
My kids loved their meals. I never took a photo of my daughter's wrap because as soon as it was put in front of her she ripped it open and I didn't think that would do it justice.  Both my kids enjoyed their meals and the sausage meal came with a face design which was a lovely touch that put a smile on my boy's face even though it was made partly with salad which he later grumbled about! As he puts it he doesn't eat leaves.
My kids ordered fizzy drinks while I had a cappuccino, I love my coffee and it was great so I had to have another one when we ordered dessert.
My daughter and I both chose the Black Forest Cake (plus we took another one takeaway for my hubby) and my son chose the red velvet cupcake. It was a tough choice because I was tempted to try out the chocolate brownies that Charldo makes himself. Dessert was divine and the fact that I didn't choose the chocolate brownies just gives me a great excuse to go back there soon.
My Verdict for Charlie's Deli & Cafe
If you are visiting the West Coast or live there permanently you really need to take the time to visit Charlie's Deli & Cafe, it is well worth the short drive to Jacobs Bay. The food is heavenly and homemade with love and care. The waitress is lovely and very friendly.
The food (and other products) is priced well so it won't cost you an arm and a leg to have a meal out.
Charldo also provides frozen meals, takeaways and "kosblikkies" – what's not to like?
I am so happy to have found this little gem in the West Coast. This is definitely going to be my venue of choice for my next coffee date with my bestie! If you go to the Pixie and Fairy Village in Jacobs Bay this is the place to head to afterwards.