Around the world the family meal and the homecook (even the domestic goddess!) have made a comeback.  And we're delighted as we're sure you are too!
We're reinventing our homes and our lifestyles and with slightly smaller money pockets our indulgences are smaller but equally enjoyable and our eyes are focused on healthy (but very delicious eating).
With Eating In being the new Eating Out, everyone needs that little bit of magic that only
mushrooms can bring
to everyday meals. They're
umami rich
so packed with flavour; they're meaty so they can reduce the meat bills when added to your favourite meat meals and they're low in calories to fill you up without filling you out!
Try our mushroom recipes here; you'll love the gourmet touch that mushrooms add: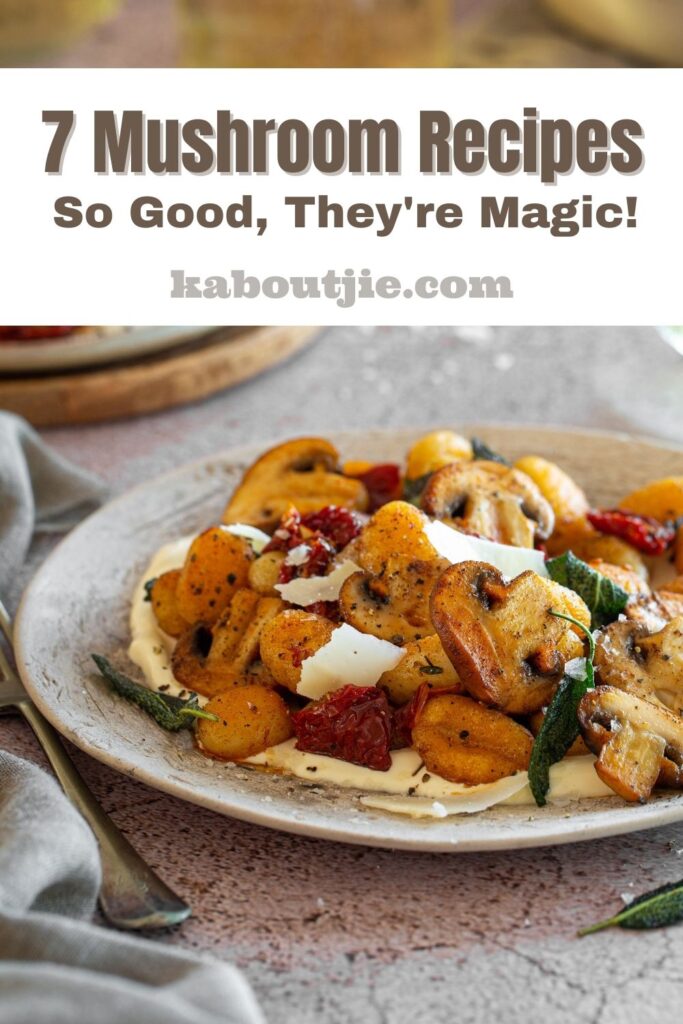 Crispy Gnocchi with Mushrooms & Paprika Butter
Serves 4
Ingredients:
100g butter
500g portabellini mushrooms, sliced
2 tsp smoked sweet paprika
1 handful / small bunch fresh sage leaves
Juice of ½ lemon
100g sun-dried tomatoes, roughly chopped
½ cup crème fraîche
Parmesan shavings, to serve
Salt and pepper, to taste
For the gnocchi:
1kg floury potatoes, washed & dried
1 egg yolk
30g grated parmesan
Pinch ground nutmeg
1 tsp salt
100g flour, plus more for dusting
Method:
Heat oven to 200˚C.
Place potatoes on a baking tray and prick them all over with a fork.
Bake for 1 hour or until very tender.
Slice potatoes in half lengthwise. Allow excess steam to escape.
When potatoes are cool enough to handle with a clean dish cloth, scoop the flesh out of the skins and pass through a potato ricer. If you don't have one, simply mash them with a potato masher.
In a bowl combine the potato, egg yolk, parmesan, nutmeg and salt. Mix together with a fork.
Sprinkle the flour evenly over the potato mixture and very gently fold the mixture together using a spatula.
Turn dough onto a lightly floured work surface. Divide dough into 4.
Roll each piece into a 2-3cm thick rope. Cut the rope into 3cm pieces.
If you want to add the traditional little lines you can gently roll each piece down a wooden butter pat or the back of a fork.
Place finished gnocchi on a lightly floured baking tray. Repeat with the remaining dough.
Cook gnocchi in a pan of boiling salted water for 2 to 3 minutes – as soon as they float up to the surface they are cooked.
Heat a large frying pan and add about 2 Tbsp (30g) of the butter.
Add the mushrooms and cook until golden brown. Season.
Now add the rest of the butter and when sizzling add the paprika and sage.
Cook until fragrant and nutty.
Using a mesh spider or slotted spoon, drain the gnocchi and transfer directly to the pan and toss in the buttery mushrooms. Cook until the gnocchi start getting golden brown crispy bits on each side.
Add sun-dried tomatoes and finish with a good squeeze of lemon juice.
Season to taste.
Serve gnocchi onto plates swished with a little crème fraîche. Finish with a few shavings of parmesan and serve.
Moussaka and Brinjal Canneloni
Serves 4 – 6
Ingredients:
Brinjal rolls:
2 large brinjals
olive oil, for brushing
Moussaka filling:
5ml oil
1 red onion, diced
2 garlic cloves, crushed
200g minced lamb
200g button mushrooms, minced
15ml harissa paste
5ml ground cumin
3ml ground cinnamon
½ jar passata tomato sauce
1 (410g) can brown lentils, drained
To assemble:
150g fresh ricotta, crumbled
50g thick Greek-style yoghurt
35g Parmesan cheese, grated
½ jar passata tomato sauce
Method:
Brinjal rolls:
Cut the brinjals lengthwise into ½ cm thick slices.
Lightly brush both sides of the brinjal with some olive oil.
Heat a griddle pan or braai. Cook the brinjal slices, in batches, for 2-3 minutes per side. Transfer to a plate and set aside to cool.
Moussaka filling:
Heat the oil in a pan and gently fry the onion and garlic for 4 – 5 minutes.
Fry the lamb and mushrooms for 3 – 4 minutes.
Stir in the harissa paste, cumin, cinnamon and tomato sauce.
Simmer for 5 minutes.
Stir in the lentils and set aside to cool.
To assemble:
Preheat the oven to 160°C.
Combine the ricotta cheese, yoghurt and half of the Parmesan cheese in a small bowl.
Place a brinjal slice on a work surface and top with a little of the ricotta mixture and a spoonful of the mushroom and lamb mixture.
Roll up to enclose filling.
Spread the remaining tomato sauce on the base of an ovenproof dish and place the brinjal roll on top.
Repeat with remaining brinjal slices and place in a single layer in the baking dish.
Sprinkle the remaining Parmesan cheese over the brinjals.
Bake for 15 – 20 minutes.
Top with fresh herbs, if desired, before serving.
Mushroom Ceviche
Serves 4-6
Ingredients:
45ml lemon juice
1 orange, finely grated zest and juice
½ red onion, finely diced
250g fresh, firm, baby button mushrooms
60ml chilled vegetable stock
2 tomatoes, deseeded and diced
½ cucumber, deseeded and diced
1 avocado, diced
5ml hot sauce (optional)
15ml fresh coriander, chopped
15ml olive oil
salt and milled black pepper, to taste
toasted pita wedges or nachos
Method:
Place the lemon juice, orange juice and zest into a non-metallic mixing bowl.
Add the red onion, stir and set aside for 15 minutes.
Add the mushrooms and stand for 5 minutes.
Carefully stir in the remaining ingredients and season to taste.
Drain away any excess liquid and serve the mushroom ceviche with pita toasts or nachos.
Mushroom Dutch Baby with Aged Cheddar, Parmesan & Fresh Rocket
Serves 4 – 6
Ingredients:
8 large eggs
180ml milk
165g flour
½ tsp sea salt flakes
½ tsp freshly ground black pepper
2 Tbsp parsley, chopped
3 Tbsp chives, chopped
85g butter
30g Parmesan cheese, grated
30g aged cheddar cheese, grated
400g portabellini mushrooms, quartered
1 Tbsp butter
1 small bunch fresh thyme
Olive oil
Wedge of lemon
Salt and pepper, to taste
Fresh rocket, for serving
Method:
Heat oven to 220˚C and place a 30cm cast iron pan in the oven.
In a large bowl whisk eggs and milk together until well combined.
In a small bowl, whisk salt and pepper into flour to distribute evenly.
Whisk dry ingredients into wet ingredients. Add the chopped herbs and mix.
Carefully remove the hot cast iron pan from the oven and place on a lit burner on medium heat. Add butter and swirl it around the pan until it sizzles, melts, coats the pan completely and begins to smell nutty.
Pour in the egg mixture. Scatter with parmesan and cheddar.
Return the pan to the oven and bake for 25 minutes until very puffed up and golden brown.
While the Dutch baby is cooking- preheat a large frying pan.
Add the butter and a little drizzle of olive oil.
Cook mushrooms on high heat with the sprigs of thyme until golden brown. Season well.
Squeeze over a little fresh lemon juice and remove from the heat.
When the Dutch baby is cooked it will begin to deflate so serve it quickly!
Fill the centre with the golden brown mushrooms, top with rocket and serve!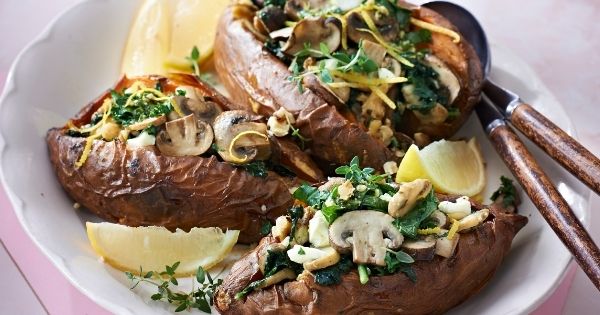 Stuffed Sweet Potatoes with Pesto Mushrooms
Serves 4
Ingredients:
4 roasted orange sweet potatoes
15ml + 15ml olive oil
250g button mushrooms, sliced
60ml pesto
100g kale, chopped
60g soft feta, cubed
45g walnuts, toasted
salt and milled black pepper
lemon wedges to serve
Method:
Preheat the oven to 190°C. Place the sweet potatoes onto a baking sheet, drizzle with 15ml olive oil and season with salt and pepper. Bake for 45-60 minutes, or until tender.
Heat the remaining 15ml oil in a frying pan. Fry the mushrooms for 3 minutes.
Add the rest of the ingredients and cook for 2 minutes.
Spoon the mixture between the sweet potatoes and serve with lemon wedges.
Tandoori Mushroom Naans
Serves 2
Ingredients:
15ml red wine vinegar
5ml sugar
1 red onion, sliced
2 readymade naan breads
10ml olive oil
Salt & milled black pepper
15ml oil
10ml ginger, finely grated
5ml garlic, crushed
250g button mushrooms, thickly sliced
30ml tandoori curry paste
100ml smooth cream cheese
15ml white and/or black toasted sesame seeds
a few fresh coriander leaves
some lime wedges
Method:
Place the vinegar, sugar and onion slices in a non-metallic bowl. Stir to combine and set aside for 20 minutes
Preheat the oven to 180°C. Place the naan breads on a baking sheet, brush with oil and season with salt and pepper. Bake in the oven for 5-7 minutes.
Meanwhile heat the balance of the oil in a pan and gently fry the ginger and garlic for 1-2 minutes. Add the mushrooms and fry for 3-4 minutes.
Stir in the tandoori curry paste and cook for 1 minute.
To assemble, spread the cream cheese over the warm naan bases. Drain the onions and scatter over the naans. Top with the mushrooms, sesame seeds and fresh coriander.
Serve with fresh lime wedges.
Umami Mushroom Rigatoni
Serves 4
Ingredients:
250g rigatoni pasta (or another similar short pasta)
4 large portabello mushrooms
250g portabellini mushrooms
2 Tbsp olive oil
2 Tbsp butter
1 large bunch fresh thyme
4 garlic cloves, minced
2 Tbsp soy sauce
½ cup crème fraîche
Salt and pepper, to taste
1 lemon, cut into wedges
Method:
Cook rigatoni in boiling salted water, until al dente.
Reserve 1 cup of pasta cooking water and drain pasta.
While the pasta is cooking, scrape out the black gills from the underside of the portabellos with a teaspoon. Cut each portabello in half and then cut each half into four chunky wedges.
Slice portabellinis into quarters.
Heat oil and butter in a large cast iron pan over medium-high heat.
Add garlic and cook, stirring constantly, until fragrant.
Add mushrooms and thyme.
Cook mushrooms, tossing them often until just tender and golden brown.
Pour in the soy sauce and cook until absorbed.
Turn the heat down.
Stir in the crème fraîche, salt, pepper, and a splash of pasta water.
Add cooked pasta and toss gently to coat in the mushroom sauce.
Keep adding pasta water as needed to achieve a silky, shiny sauce.
Serve pasta with squeeze of fresh lemon juice and extra freshly ground black pepper.
Recipe and image supplied by
The South African Mushroom Farmers' Association