Celebrated on 3 February 2021, World Read Aloud Day highlights the importance of reading aloud and sharing stories; even more so for our younger children.
In a world where COVID-19 has wreaked havoc on life as we knew it, the Early Childhood Development (ECD) sector has been hit particularly hard. After months of lockdown, very few preschools, play groups and creches opened again, for financial reasons.1
Now, more than ever, even the simplest activity like reading aloud to young children is priceless in this extraordinary context.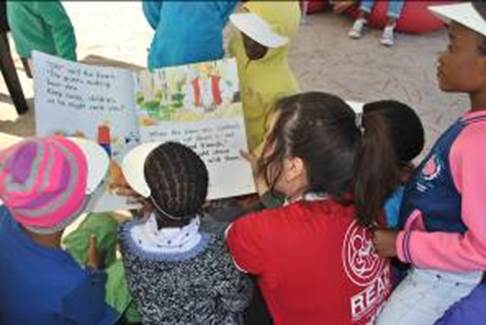 Reading aloud also boosts confidence, helps children cope better with anxiety, develops memory and expands children's worlds. It supports healthy brain development that forms a priceless foundation for success at school and beyond.
Early literacy skills include handling books, being able to name books, knowing how stories work, recognising sounds and letters, growing vocabulary and sharpening listening skills. All of these are imparted when a caring adult or teen reads aloud to younger children.
Established in 1979, READ Educational Trust is a non-profit organisation that operates broadly in the education and literacy sectors across South Africa. READ works alongside the Department of Education to implement teacher training and literacy projects in schools.
Over the years, various tools have proven extremely successful in promoting literacy. The READ ALOUD MAGIC BOX SETS are vital in encouraging reading aloud, and all the benefits this activity holds.
Each of three box sets contains 12 beautifully designed books filled with attention-grabbing, adventure-filled stories set in Africa. These stories revolve around children and animals discovering the world in which they live.
These sets are a priceless investment, not only in terms of serving to build children's vocabulary, but in terms of facilitating quality time with the little ones. Set A is aimed at children aged 4 – 7; Set B is suited to kids aged 5 – 8 and Set C is for children aged 6 – 9. All three sets are available online at http://www.thereadshop.co.za/. All profits are ploughed back into promoting literacy.
In addition, READ Educational Trust has a series of audio books which can be downloaded from the website: http://www.read.org.za/audio-books/ which parents, guardians and older siblings can play for children.  It's a super affordable way of sharing stories with the family and mimics reading aloud.
Visit http://www.thereadshop.co.za/ and http://www.read.org.za/ to find out more and join the conversations on:
Facebook: https://www.facebook.com/READEduTrust/,
Twitter: https://twitter.com/READEduTrust, Instagram: https://www.instagram.com/read_educational_trust/.
Reference: