Parents of today are raising a new breed of savvy technological kids. Toddlers use tablets to play games and teenagers enjoy texting with their friends on their mobile phones. And on top of this, most schools are using computers and tablets in their curriculum, making it tricky to keep kids from using mobile devices. In these modern times, cell phones are an excellent way for parents to stay in touch with their kids.
The frustration that most parents have is comparing the advantages and disadvantages of giving their child complete freedom when it comes to digital devices. By limiting a child's access on the Internet may keep them from learning and developing. However, not limiting their access with the revolutionary Samsung parental controls app, can expose them to cyber threats or seeing information that they are not yet capable of understanding or handling.
***Disclosure – This post is sponsored by Safer Cell Service*** 
Top 5 reasons why you should have parental controls in place
Cyber safety
Cybercrime poses a significant threat today and these organizations will resort to any means to exploit trusting and uneducated individuals with poor cyber habits. A child may unknowingly engage in unsafe online behaviour that can put them at risk, for instance, disclosing too much personal information which can have dire effects for themselves as well as others.
Time management
Too much screen time is not advisable for any child. Adults can be mesmerized into spending too much hours on a mobile device while mentally detaching themselves from the real world. In comparison to an adult, a child a far more likely to become addictive and have a lesser chance of breaking free. Parents can limit screen time by setting time and boundary limits on the types of media their children engage with on their mobile devices.
Online reputation
Kids love engaging on social media, sharing photo's and media posts about their weekends or vacations. Organizations like colleges or companies often perform searches on an individual's public social pages to do a quick assessment of the person. Even if your child deletes information online, it never really goes away.  It's advisable to monitor the privacy and security settings on your child's accounts. Most sites allow you to control who can see your posts or if that is not an option, the account can always be changed to a private account.
Data backup
Make sure that your children do a reliable backup of all their data in a safe place in case of their phones getting lost, stolen or simply malfunctions.
Cyber etiquette
Make sure to teach your children to navigate social media with the same etiquette as they would do in person. It is vital to instil with them the importance of good behaviour whether offline or online. They should be made aware of the consequences of owning and distributing pornographic material, cyberbullying and unethical hacking. These types of behaviours are considered as crimes and parents can't protect their children from the law if they were to be identified as a perpetrator.
Why choose Samsung Parental Controls?
We currently have a new generation of young children who are intelligent, smart and knows their way around the Internet. As a parent, it is our responsibility to keep them safe and teach them to make healthier life choices self-sufficiently. Parents have the right to know what their children are getting up to online, how to protect them from potentially risky activity and talk to them about productive and healthy living practices. Investing in Samsung Parental Controls can help parents to control their children's online access. We as parents need to know what there is to know about the Internet and the potential risks. We need to learn what the "darkweb"is and understanding social media. It is imperative to be vigilant when it comes to cell phone filters and the internet. Parents must protect their children whether in real life or online. Investing in a good security app like this can teach your kids the significance of safety and common sense when they're exploring the cyber world.
Safer cell service understands the challenges that parents face when it comes to parental controls. That's why the service was created. To protect young minds from dangerous and inappropriate content on the web as well as enabling parents to have control over their family's screen time. The military-grade encryption system which are supported by Samsung Knox devices guarantees that children are unable to hack or bypass the limits you've set on their phones.
Services included in the affordable monthly plans:
Reviewing, approving, disabling and removing of apps
Setting a "bedtime" feature to ensure your children are limited to only making calls or sending texts at night.
Blacklisting any peculiar website
Seeing where your child's device was used
Remotely accessing your child's device
In addition, the filtering system automatically blocks admittance to the dark web, VNPs, proxy servers and pornographic sites.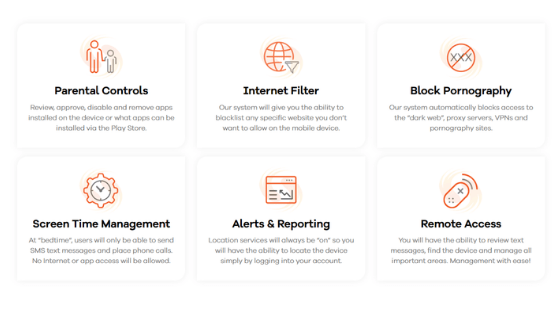 Samsung – One step ahead when it comes to Safer Cell Service
Early on when mobile phones came out, Samsung identified that mobile devices would become detrimental to government, commercial and military agencies and for them to provide the level of security which is required, Samsung knew that microchips would need to be physically installed in each device.
That's why Samsung introduced Samsung Knox in 2013. Every future sold mobile device would have the Samsung security chipset soldered onto them. This security chipset would then allow programmers to safeguard the phone. Since then Samsung has acquired several certifications including certification from the Department of Defense. The physical chipset is ground-breaking when it comes to safety, allowing security, management and restrictions like no other applications out there. This platform was and currently is maintained for military, government, healthcare and other sectors which offers mobile users the peace of mind that their data is protected and secure. Now the same can be done for parents, offering military-grade encryption on their children's mobile devices. Beta testing was scheduled to begin around the 07th of January 2019 and the subscription service will start on or before the 21st of October 2019.
Click here to visit Safer Cell Service.