Once upon a time, long long ago, before I had children I was a morning person. I could get up early easily, get ready quickly and be out the door in record time. Fast forward seven years and things have changed. I work late most nights so that I can work undisturbed and catch up on anything that I didn't manage to complete while my kids were at school and this makes it harder for me to get out of bed in the mornings.
***Disclosure -The links in this post contain affiliate links and I will receive a small commission if you make a purchase after clicking on my link.***
Plus now getting ready is far from simple and it is not even about me getting ready. I have to get two kids up, dressed, washed, fed and out the door complete with packed lunches, their school bags and of course my sanity.
And its the last item that I usually leave home without – my sanity. I always manage to get the kids out the door and to school in one piece but how the morning goes has an impact on the rest of my day. There are some mornings when I get back from dropping my kids at school and when I close the door behind me it takes every last ounce of strength to not crumple in a heap on the floor and cry. If you are a mom that gets her kids ready for school I am sure you are nodding in agreement.
If you don't get to spend this amazing journey with your kids every morning, or if you have no kids you are probably shaking your head wondering why I'm such a drama queen. Go ahead – try it and see for yourself if you don't believe me. It can be really BAD.
I spent some time focusing on getting my mornings to be less stressful and I've now gotten it down (almost) to a fine art (most days). It is so important to try to be patient with your kids and don't shout at them in the mornings. This won't make them get ready faster and it will start them (and you) off on the wrong foot for the day.
Here are the things that I do that make my mornings easier with kids:
Get Things Prepared The Night Before
Make sure your kids school uniforms are washed, ironed and hung up ready for your kids to put on in the morning. If your kids don't wear uniforms for school make sure your child's outfit is set aside ready for the morning so that you don't have to hunt for anything in the morning.
Hunting for a school shoe or having to iron a school uniform before school will throw out your entire morning.
Make sure your child's sport clothes are ready along with anything else that your child is going to need for school. Do a double check that there is no school letter that needs to be signed, cupcakes that need to be dropped off or money that needs to be sent in. Schools are always asking for something so make sure it is there and ready to go the night before.
I prefer to make my kids lunches in the morning but if you like you can save loads of time and effort in the morning by preparing their lunches before you go to bed at night.
Get Up Before Your Kids
This is a biggie. Make sure you are always up before your kids no matter what.
I get up at least 15 minutes before my kids every morning and it makes the world of difference for me. If I oversleep I am done for, my day goes downhill fast. Those 15 minutes gives me a chance to grab a cup of coffee and get a head start on my kids. It means I can wake up and get started without any whining and moaning or demands. Just me and my coffee.
It may just be 15 minutes but I get so much done in that time – by the time my kids are up their lunches are made, their breakfast is ready and I am ready to walk out the door which means I just have to deal with getting my kids ready.
Wake Your Kids Up On Time
Have a set wake up time for yourself and for your kids – make sure that you make it a good time to accommodate for enough time to get them ready tantrums and all.
I have often left my kids to sleep for another 5 minutes – sometimes because I was running late myself and thought if I let them sleep a little longer I could get more done quickly and other times I let them sleep in a little because its just so tempting to have peace and quiet for another few minutes. Yes I'm guilty.
The thing is that their body clocks are used to getting up at a certain time, just like my body clock is set for for 06h15 theirs is set for 06h30. If I wake them up at 06h35 things go pear-shaped very quickly. I'm not sure of the exact reason, I just know it is a fact that messes up my mornings. I don't mess with things that cause chaos. I suggest you choose a time for your kids and stick to it like glue.
Accommodate also for some extra time waking them up – you might spend 5 minutes trying to drag them out of bed. What's with the fact that kids won't get out of bed during the week and when they do get up they have long faces, but come weekend they are bouncing out of bed at 6am with a smile on their faces to come and ruin your plans for a weekend lie in?
Quick & Easy Breakfasts
I have a breakfast rule for during the week – breakfast is a choice of cereal, yogurt with fruit or toast. There are no other options and if one of my kids takes longer than 30 seconds to tell me what they want for breakfast I decide for them what they will eat.
I'm not Mary Poppins and I won't pretend to be. Yes I'm sure a cooked breakfast would be best but I'm not that mom during the week. On the weekends I always make fry ups, sometimes I even make pancakes and bake muffins… but  not on school mornings.
Breakfast takes no more than 10 minutes every morning from asking what they want to eat to leaving the table.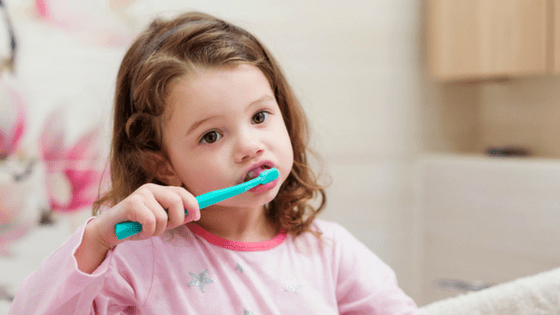 Have A Strict Morning Routine
Create a morning routine and stick to it. Make sure your children know exactly what is expected of them and when. Make sure that things are done in the right order. Kids thrive on routine and it will be so much easier when you kids start getting ready and doing what needs to be done.
One thing that has saved me so much time every morning is something so simple. My kids used to get dressed and then brush their teeth and inevitably mess toothpaste on their clean clothes. I have drilled it into them now that they brush their teeth before they get dressed in the morning.
Let your children know what time they must be at the door with their bags ready to leave. Show them what the clock looks like when it is time to leave so they can start to understand that concept of time. Both of my kids know that when the little hand is on the seven and the big hand is on the three it is time to leave.
Encourage Independence
Teaching your children to do things for themselves will come very much in handy when you are trying to race the clock in the mornings. Each small thing your child can learn to do will save you time so rather invest some time every morning encouraging your child to do some things for herself while you are helping her get ready.
This has really paid off with me when it comes to my 6 year old daughter. She now gets herself ready and does everything for herself – the only trick is getting her out of bed in the morning. This leaves me free to battle it out with my very strong willed 4 year old son that wants me to do everything for him still.
Reward Your Kids
Leaving on time is something to celebrate so come up with some way to reward your kids if they are ready on time and also for any small achievements in the morning. This will make them feel appreciated and encourage them to move it in the mornings with minimal whining, fussing and fighting.