When you've lost a loved one or a beloved family pet, children cope with the loss in different ways, depending on how close they were to the person or animal that passed away, their age and the support they receive at the time.
Here are some tips for helping your child deal with the loss of losing a love one and some children books about death that can be very helpful.
***Disclosure -The links in this post may contain affiliate links and I may receive a small commission if you make a purchase after clicking on a link.***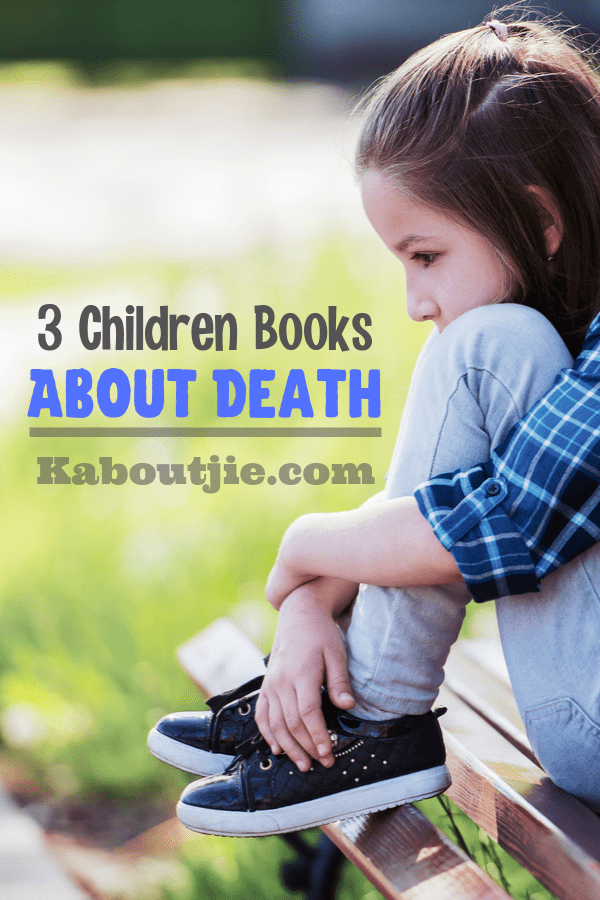 Making use of clear and simple words
When you're breaking the news of someone who has died, your approach must be thoughtful and caring. Make use of clear and simple words and give them a moment to fully take in your words.
Listening and providing comfort
Children react in different ways. Some may ask questions while others cry. In some instances, they may not show a reaction at all and that is ok. It's important that you offer comfort and hugs and offer answers to their questions.
Translating emotions into words
In the weeks following the loss, encourage your child to explain to you what they are feeling and thinking. Don't be shy to talk about your own feelings as it will reassure them in feeling comfortable with what they are feeling and experiencing. You can say to them that you are very sad and that you're also missing Grandpa or the family dog because you've loved them so much.
Offering guidance as to what they can expect
If the loss of a loved one is going to bring some changes in your child's life, address his concerns or fears by explaining what they can expect to happen in future. For instance, explain to them that Dad will be picking them up from school every day like grandpa used to do.
Explaining to them about funerals or rituals
Engage your child by allowing them to accompany you to memorial services, viewings or funerals but explain to them before the time what is going to happen. For example, that there is going to be lots of people that will be praying, singing and paying tribute to grandpa's life. Explain to them that people will offer their condolences and that the polite thing to do is to say thank you.
Offer guidance as to what happens to a person after they've passed away and explain to them by attending a funeral or memorial, we are saying goodbye to that person and that some people will be sad and cry. Tell them that people get together afterwards to eat something and talk about all the happy memories of grandpa to feel better.
Helping your child in remembering the person
In the days and weeks following the passing, offer encouragement to your child by allowing them to write down their favorite stories of the pet or person or drawing pictures. Don't be hesitant to mention the loved one's name. Reminiscing and sharing happy memories can assist with the grieving process and creating positive feelings.
Involving them in the service
By giving your child a small role for example, reading a poem, picking a song or helping with picking out a photo may help them to deal with the emotional and unfamiliar situation. Give them the option of deciding what and how they want to do in taking part.
Responding to their emotions with reassurance and comfort
Pay special attention to your child's feelings and notice if they're looking worried, upset or sad. Ask them about the feelings they're having and listen. Explain to them that it takes time for your heart to feel better after someone passed away. Some kids may have trouble sleeping.
Helping your child to get through it
Provide your child with the comfort they need but try not to dwell on feelings of sadness. After listening and talking to them for a few minutes, try to shift the topic or activity to something that will help them to feel better. Maybe do something like making art, playing, baking or take them somewhere to take their minds of things.
Giving your child the time that they need to recover from the loss and to heal
Grief is a process that doesn't happen in one day. Only with time does one get through it and deal with the loss. Check in every now and again with your child about their feelings and what they're doing. For us to heal it doesn't mean that you must forget about the person or a pet. It means remembering fond memories of that person to help support us to get through a difficult time until one day we can think about them without feeling heartbroken.
Another great way to help a child understand and to help them heal is reading children books about death. The process of grieving can be a lot easier on them when they read a story and can relate to the characters in the book.
3 Children books about death
The invisible string – Patrice Karst
This book has been approved by educators, therapists and parents alike as a valuable tool to help children coping with loss, separation anxiety and grief.  The book is about an invisible string which is made of love that connects us all. Even though you can't visually see it, it can be felt in your heart and you'll always be connected to the people that you love, even the ones that has passed on.
Lifetimes, the beautiful way of explaining lifetimes to children – Bryan Mellonie
This book helps parents to explain to their children about life and death in a caring and sensitive way. It depicts beginnings and endings and life in between. An excellent book to help children deal with the loss of a loved one or a pet.
The memory box, a book on grief – Joanna Rowland
This book is about a little girl who has lost a loved one and creates a memory box where she can keep all her written memories and other mementos to help her cope with grieving. With this heartfelt story parents can offer comfort to their little one's who has lost a pet, friend or loved one.