How often does your baby or child get sick and how often have you had trouble with taking your child's temperature? The MyKi Care Thermometer takes all the hassle out of monitoring your child's temperature to keep your mind at ease. MyKi Care sent me their wireless thermometer to test it and share my findings with you.
***Disclosure – This is a sponsored post.***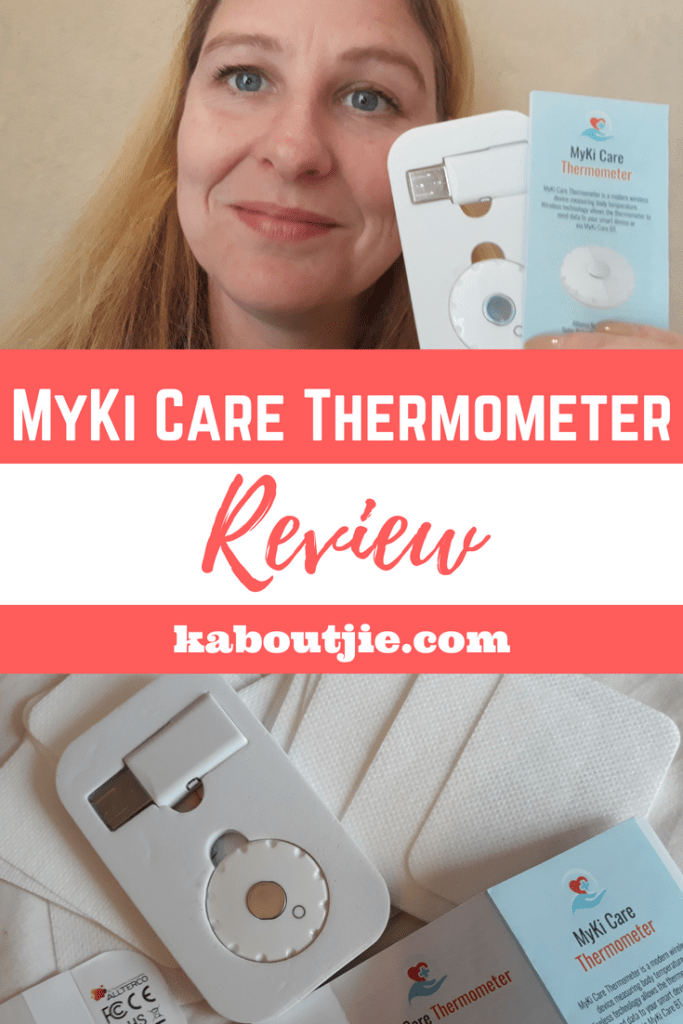 MyKi Care Thermometer
The MyKi Care Thermometer is a wireless device that measures and tracks body temperature. It is placed under the armpit and secured with a hypoallergenic sticker. The MyKi Care Thermometer sends information about your child's temperature every 8 seconds via bluetooth.
To use the MyKi Care Thermometer you need to download their app from Google Play for Android or the app store for IOS.
What's in the pack:
MyKi Care Thermometer – wireless device
MyKi Care BT – USB dongle that gets information from the thermometer and sends it to your mobile phone wherever you are
MyKi Care Adhesives – 15 pieces hypoallergenic stickers that are safe for your baby's sensitive skin yet keep the device firmly attached to the body
Instructions Pamphlet
What I Like About The MyKi Care Thermometer
This thermometer is an amazing product and to explain my reason I will just give you some background. When my first child was 6 months old she landed up in hospital for a week, it was one of the worst weeks of my life. Then when she was allowed home I had to constantly check on her. I was constantly taking her temperature, nebulising her and giving her medication. Up until she was 2 years old she got sick constantly and we were always terrified she would land up in hospital again. I cannot count the amount of nights that I sat up too scared to go to sleep in case her temperature went up.
When my daughter was 2 years old she got measles and her temperature would be fine one moment and hit 40 degrees Celcius the next and I spent another week of not sleeping until she got better.
I'm not sure how often you have taken your child's temperature or how hard it was for you but with my daughter she fought me every time with all her strength. I had to sit her on my lap and with one arm pin her to me and with my other arm hold the thermometer under her armpit until it beeped. This is no fun at all, not for me and certainly not for my daughter.
Looking at this MyKi Care Thermometer now I can see how awesome it is and I can picture how different my life would have been during those first 2 years of my daughter's life if I had one of them then! Yes something so "small" could have made such a massive difference.
Thankfully now both my kids are a little older and very rarely get ill now (touch wood).
So now that I have that out the way let's get on with this review. I tried out the thermometer on myself and also on my kids – my 6 year old daughter and my 4 year old son.
Here's what I like about this product:
Continuously Monitors Temperature
You don't have to worry at all – this device keeps tabs all the time on your child's temperature and if you want to know what's happening you just look at your phone. There is such peace of mind that comes with this and it is so easy.
Set Alerts
You can set your own alerts on the app for low temperature and high temperature and if your child's temperature goes above or below those temperatures an alarm goes off on your phone. Going back to my experience this would have been absolutely amazing. I would have been able to sleep and have my phone alert me if my daughter's temperature was too high.
Do you know that feeling you have when you have to leave your sick child for a little bit? It's awful and yes while I would never leave my child with anyone that wouldn't take proper care of her even if she wasn't ill it feels so wrong for me as a mother to leave my sick child. It doesn't matter if my child is with my husband and I just slip out to the shop for some bread – it feels wrong and I panic. With this device I would be able to monitor my child's temperature from anywhere.
Multiple Mobiles Can Motor The Device
There is no limit to the amount of mobile devices that can monitor the MyKi Care Thermometer as long as each device uses the same registered account. So for example my husband could have peace of mind at work if one of our children is home sick with me. I know he would love that.
Profiles For Each Family Member
You can set up profiles for each family member with name, age and weight. The device stores information for up to 1 year which means you have records for each family member over a period of time if ever you need it.
Simultaneous Use Of Devices
If you have more than one MyKi Care Thermometer you can set them up and use them both simultaneously.
You can share information about your child's temperature via email, messenger or other applications by choosing the time period you would like to share and use the share button. This will be brilliant for sending to your GP or pediatrician.
The MyKi Care Thermometer measures temperature with a preciseness of 0.01 degrees. You can visit MyKi Care School for more information about thermometer accuracy and temperature curves.
The MyKi Care Thermometer is waterproof so it can withstand body moisture and it can also be washed. It is however not watertight so it cannot be exposed continuously to water.
I have to add this point in because I can be quite slow to set things up and figure out how to use them. I love that setting up the app is a guided process where you get told what to do each step.
It is simple to use the app and after playing around with it for a while I had it all figured out very easily. So if you are worried about setup and how to use it I doubt you will have an issue.
Hypoallergenic Stickers Easy To Replace
You get 15 hypoallergenic stickers with the MyKi Care Thermometer and you need to replace the stickers every 8 hours at night and every 3 hours during the day. When these stickers are done you can easily order more online from their website.
It is surprisingly comfortable to wear. I put it on both my kids for a period of 3 hours and they both forgot it was there and didn't seem worried about it. When I tried it on myself I also found that I forgot it was there and it didn't bother me at all. This was one of my concerns about it and it was very quickly tossed aside.
What I Don't Like About The MyKi Care Thermometer
It is important for me to include any negatives about products I review to give you a realistic view of the product. There is just one thing that is not great about this product and that is taking off the sticker. It wasn't bad exactly, it was almost like taking off a plaster and of course the armpit area is a bit sensitive.
I had no problem removing the sticker from my armpit, but my kids moaned a little. It is not as bad as taking a plaster off but I wouldn't call the experience great.
However when I line up this one little negative with all the positives then it is still a no-brainer. I would rather have to take off one sticker every now and then and leave my child in peace rather than have to fight to take a temperature reading every hour or have no sleep because I am too worried and spend the night standing over my kids bed.
There is no way to attach a product like this to the body other than a sticker, so a sticker it must be.
Conclusion
As a mother that has struggled considerably with sick babies and children in the past I highly recommend the MyKi Care Thermometer – It is in my opinion the best way to keep tabs on your child's temperature that causes minimal hassles for mom and much less distress for your child.
This product will not only measure and monitor your child's temperature accurately, it will make everything easier and less stressful for you.