When I was offered a course for free to do a Talentpreneur Academy review I was so excited. I am so passionate about making money online and adding new income streams to my business. So when Lauren from Inspiring Mompreneurs set this offer up for me I couldn't wait to clear my work schedule so that I had some time to do this course.
There is nothing better than being able to wake up in the morning and make money doing something you love and this is why the opportunity to take this course excited me so much. It is a course that teaches you how to take your talent and your passion and turn it into a business. It is all about finding your happiness and exploring the reasons for why you want to do something.
Our mutual blogging friend Vidy Sury also took the course so we decided that we should all team up together live on my Facebook page and Youtube to review and chat about this amazing course. I love it when a plan comes together!
The live video was so much fun, even though we had a few tech problems with me losing my camera and Vidya freezing a few times, losing her sound and popping in and out. You can watch the live video replay at the top of this post.
Click here to buy this course and get 50% off using the code KABOUTJIE
***Disclosure -The links in this post may contain affiliate links and I may receive a small commission if you make a purchase after clicking on a link.*** 
Talentpreneur Academy Review: What This Course Teaches You
This course is right up my alley because I love it when I can learn how to make more money and have fun doing it. In a nutshell this course shows you how to launch your business using the things that you are talented in and are passionate about.
The reason why blogging is such a fantastic fit for me is that I have a flair for writing, for social media marketing and connecting with people – it means that every day I get up and I love what I do. This to me is ultimate freedom.
The Why
Of course you want to make money, so that is the obvious why of starting your own business. However money is not the ultimate goal – money is a tool to reach your true goals.
The first part of the course goes deeper into your why and into what happiness means to you. This is so important to keep in mind when starting up a business so that you don't lose sight of your true goals and become a slave to your business.
Your business needs to be something that brings you joy and brings you closer to your goals.
Evaluating Your Talent And How You Can Create A Business From It
This course teaches you how to define your talents and passions, brainstorm business ideas in line with those talents and how to evaluate each business idea.
Setting Up Your Business Plan
When I started Kaboutjie I remember getting myself into such a twist over things. This course takes you step by step through each thing that you need to look at from your branding,  your product, marketing, collaborating with others, your business system and your team.
You are also taken through what may be holding you back from getting your business going, including common problems and your fears.
Affiliate Program
There is an affiliate program which always excites me because I absolutely love affiliate marketing. When you sign up to do the course you automatically get signed up for their affiliate program and the course takes you through how to get your affiliate link.
This means that you can share your link and earn commission if anyone purchases the course through your link.
Bonus Section
There is a great bonus section which runs through 6 ways to make a passive income – I love that there is such a huge focus on earning a passive income in this course. In my opinion passive income should be the goal of every business owner.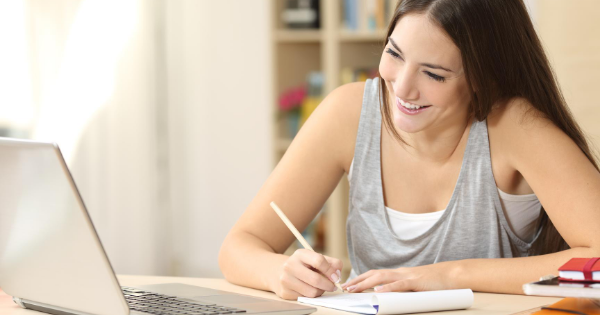 What I Love About This Course
This course is amazing because it tackles what everyone dreams of – being able to work for themselves doing something they love.
There is a big focus on action, which is absolutely essential. The only difference between a dream and a goal is action. Many people stay dreaming and never turn those dreams into goals. This course inspires you to turn your dreams into goals.
I love that this course is a step by step guide with a workbook that takes you by the hand to set up your business plan.
This course pushes how important it is to work smart so that you can be as hands off as possible in the long term. There was one part in the course that really resonated with me, so I will add it as a quote here.
Synergy in your business is all about integrating the elements in your production, marketing and selling plan, leveraging and team building to work together so that the result is greater than the sum of its parts.
It is also fantastic that this course can be used over and over again for different ideas. Once you have one idea set up and running you can rinse and repeat the process for another idea.
This makes this course a fantastic investment.
Who Is This Course For?
This course is well suited to just about everyone but I believe that it is particularly well suited to moms, especially right now with the pandemic.
When I became a mother I was already working full time from home, but as freelance bookkeeper, It never bothered me but when I became a mother I started detesting what I was doing. I needed something for myself, something that inspired me and made me happy. I started Kaboutjie, which was initially an online baby store, when my daughter was 4 months old. It was the best thing I ever did. It gives me so much joy and fulfillment.
It is especially fantastic now during this pandemic, since I am able to continue to work online from the safety of my own home.
My Final Verdict For This Course
There is so much to love about this course, it was so fun to complete and while I did not use it to create a plan for a new business I applied this course to a new venture I started last year but due to various reasons (hello pandemic) I have not been able to move forward with it.
This course helped me to fine tune my business idea and it made me see where I have gone right in my planning and what I can do to make it better.
It has opened my mind to new possibilities and it has reminded me of the number one thing that I need to be doing to move forward with it. I need to put my plan of action into action instead of just sitting on it for longer. I need to put a timeline to it and get cracking.
This course is a fantastic guideline for anyone that wants to start a business, especially for mothers at home that are looking for something that they can work around their families while still feeding their soul.
Click here to buy this course and get 50% off using the code KABOUTJIE