Many moms want to know how to make more breast milk, it is a common worry for new breastfeeding mommies. The best way to increase your breast milk supply is by feeding your baby. It is simple – your body will produce what it needs to feed your baby. The more you feed the more breast milk you will produce.
***Disclosure -The links in this post may contain affiliate links and I may receive a small commission if you make a purchase after clicking on a link.***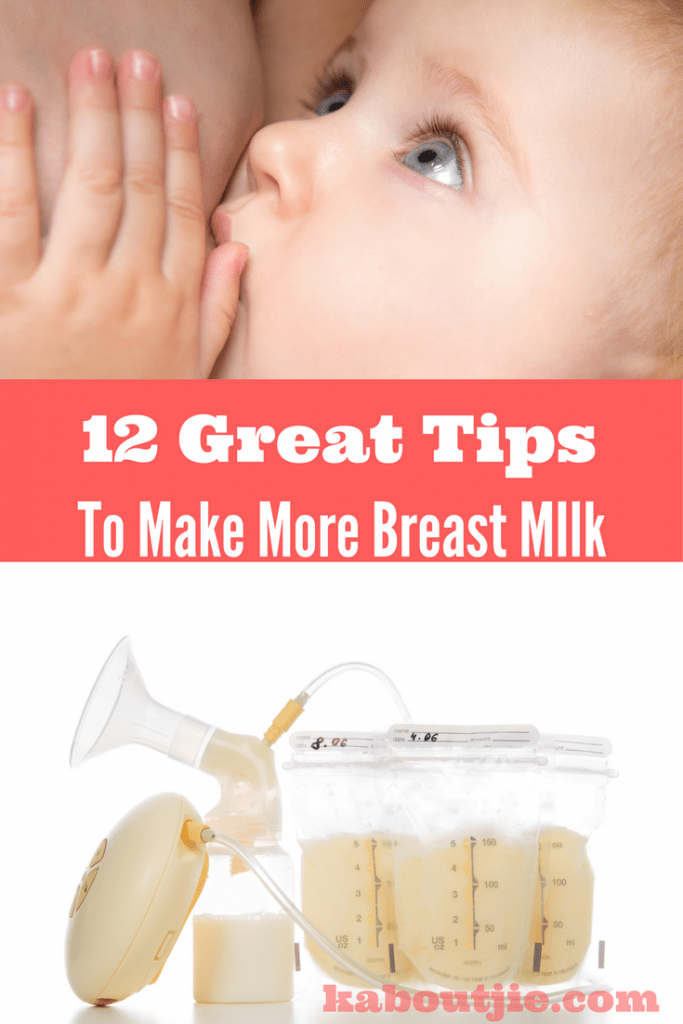 Here Are Some Tips To Make More Breast Milk:
Feed baby more frequently and for as long as he wants;
Offer both breasts at every feed;
Keep baby on the first breast as long as he is actively sucking and swallowing;
Offer the second breast when baby slows down or stops. In this way baby should empty at least one breast meaning he will get the fatty hindmilk that he needs;
Your baby should end the feeding. He may do this by falling asleep and detaching from the breast after about 10 to 30 minutes of active sucking and swallowing;
Try swapping breasts constantly during feeds. Your breasts will never be completely empty as milk is continuously made, so by the time you swap over there will again be some milk for baby;
Wear baby skin to skin in a sling. This is convenient for frequent feeding and you will also be aware of his little movements and quickly be able to get him to nurse as he makes those little feeding signs. This is also great for milk making hormones;
Express in-between feeds for extra stimulation;
It usually takes about 48 hours of frequent stimulation to increase supply;
Stimulation needs to happen at least every 2 hours;
Newborns need to feed frequently;
Breast milk is digested in 90 minutes so wanting to suck all the time is normal and good.
Also remember you!
Find a comfortable and quiet place to breastfeed your baby. Try and rest while feeding. This will make you more relaxed and promote bonding with your baby.
Taking supplements to increase the supply will not work on their own; you have to increase stimulation, either by pumping or by baby sucking. And baby sucking is far more effective than the pump!
Take care of yourself and your body by drinking plenty of water and juices, as fluids are essential in your body's breast milk production. Drinking excessive amounts of fluids will not increase your milk supply, however proper hydration is important.
Eat plenty of fresh fruits and vegetables, get plenty of rest and reduce stress. A strong body has more energy to produce the adequate amount of breast milk for your baby.
Increase your calorie intake!
While new mothers are often preoccupied with losing the baby weight and are trying to reduce calories, breast-feeding requires at least an extra 500 calories per day. Too few calories and your body will not have sufficient energy for proper milk production.
Please remember that breastfeeding does not always come naturally to all moms, if you are struggling and need help you can contact the La Leche League South Africa and they will put you in touch with a La Leche League Leader that can help you.
If you want more comprehensive information how to increase your breast milk supply I highly recommend you consider getting one of these books:
The Breastfeeding Mother's Guide To Making More Milk
This book is written by two leading experts who have been there themselves. This book is recommended by La Leche League International. It provides great up to date information about the causes of low milk supply, how our bodies make milk and how contribute to your milk production.
This is my #1 recommendation if you are looking to increase your breast milk supply. Click here to buy it from Amazon.


The Womanly Art Of Breastfeeding
This book is considered to be the leading source of breast feeding support and information and is endorsed by the La Leche League. It covers topics such as preparing for breastfeeding while pregnant, feeding cues, nursing positions, expressing and storing breast milk.
This book covers all the topics you will need to know about breast feeding, including how to increase your milk supply. Click here to buy it from Amazon.
Do you have any more great tips to make more milk? Please share them with us in the comments!