I'm pretty sure that when they say "The best things in life are free" they were referring to playing with your newborn. There is simply nothing better. Remembering back to when I was a new mom, I tear up at the thought of those precious first moments of interacting with my son.
Playtime is such an important part of a child's development. It is a chance to have an incredible impact on your child's development, an opportunity to introduce them to a fascinating new world, and a chance to teach them new skills – isn't that why we all become parents?
Besides food, all your baby really craves is your constant love and attention, and the best way to give them that is through Play-Time.
Below we will explore the best ways to interact and entertain your newborn while promoting the learning of essential skills and abilities.
***Disclosure -The links in this post may contain affiliate links and Kaboutjie  may receive a small commission if you make a purchase after clicking on a link.***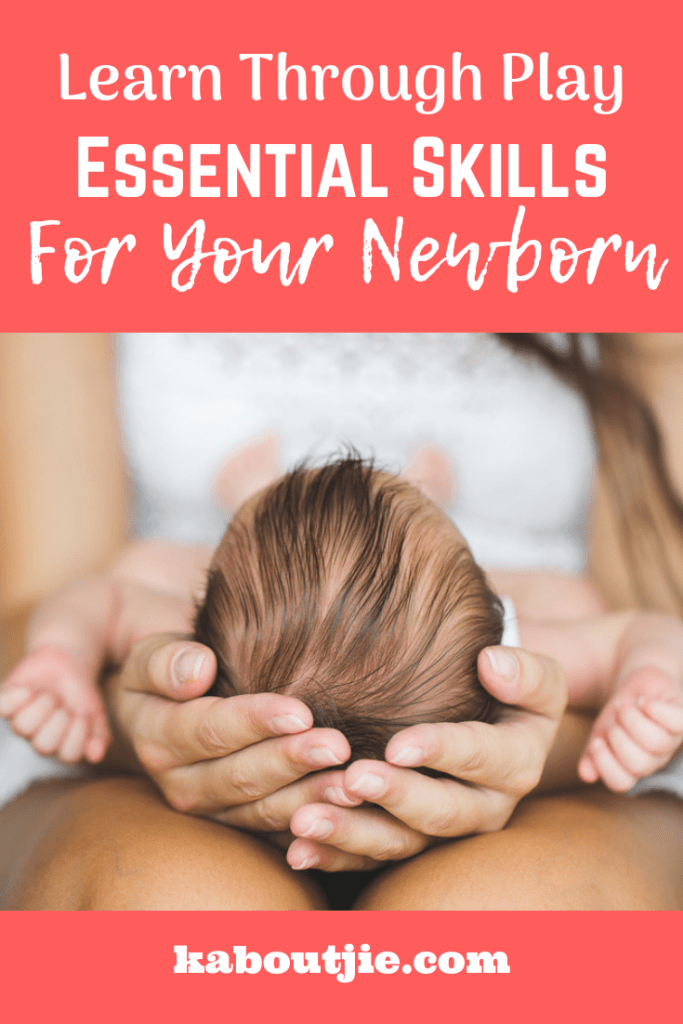 Touch
It is important to remember that your newborn's skin is very sensitive. You can take advantage of this and use soft fabrics to activate different feelings. An excellent way to do this is to use bits of silk, tissues and velvet and run them over your baby's skin.
Your baby is no doubt growing very quickly, as a result of this fast growth, your child will love you if you gently massage their limbs once or twice a day. This will relieve the stress that the muscles are experiencing.
Also, rubbing your baby's belly will give them the reassurance they crave so much.
Sight
Just after birth, your newborn will only be able to see a maximum of 10-12 inches away. So it's important to remember to play with toys in that range. As they grow and develop, this range of sight will increase, and you should adjust accordingly.
Babies love looking at toys that have a fantastic variety of bright colors. They are not going to be able to track the toys if you move those toys too fast. Long, slow movements are best.
Great recommendations for this are using soft squeeze toys that are 5 inches or more in size. Bells that make some noise will increase the chance of your baby being able to sense where the toy is.
Reading
Reading books with your baby is an excellent way to bond, plus a fantastic time to develop the intellectual side of their brain. Choose a book that has mainly, or only, pictures. As your newborn grows, keep reading the same books with them – they love repetition. As they grow, you will find them interacting more and more with the pictures.
Hearing
The ability to differentiate noises is one of the most valuable skills for your baby to develop. Again, repetition is of vital importance. To keep your newborn interested, modify the game you play every 15-20 minutes.
A great game is to put them on their back, and gently shake a rattle moving it from left to right, and up and down. This will help to introduce spatial awareness.
Muscle Development
Developing muscles is as important as developing skills when it's play time. An excellent way to help your newborn's muscle development is to place them on their belly. This way they can learn to support their heads and lift their legs in a different way. Plus, it is an entirely different perspective for them to enjoy.
There are some considerations, though. First, place a clean blanket over a soft surface on the floor (the best is a plush carpet). Then put your newborn on its back, then gently roll it onto the belly. This way they learn and get comfortable with, the motion of being inverted.
Once on its belly, your baby may feel a little restricted at first as it has lost its ability to look around. To put your child at ease, just place yourself on your belly too, facing them. That way you can both see each other. Use the opportunity to play with toys and other objects to further stimulate your baby.
As your baby grows, it will develop strength enough to reach out and play with those toys that you hold – further encouraging additional muscle strength.
In conclusion, as you can see, there is so much fun to be had when entertaining your newborn. After all the fun you two will have during Play-Time, your newborn will have to sleep! Learning how to put your baby to sleep in his or her own bassinet is integrally important for its development.
---
About The Author
Kristi is the founder of Intelligentmother, where she blogs about Baby Care, Health, Feeding & Safety Tips. You can find many interesting insights. Problems – Solved!
Facebook – https://www.facebook.com/kristi.cathey.39
Twitter – @KristiCathey
Google Plus – https://plus.google.com/101727132408623905517
---