I'm not sure about you, but puzzles are one of those toys that just irritate me no end.
I am constantly picking up puzzles pieces off the floor and no matter how many times I sticky tape the boxes closed they come open and the puzzle pieces come spilling out all the time.
Having a three year old that enjoys jumping on the boxes doesn't help much either.
This means I always have a pile of puzzle pieces in the house, this results in what I call "extreme puzzle building". This is when you have all the pieces for about 30 puzzles in a pile and you need to sort them all out and see which puzzles are missing too many pieces and which are still fine.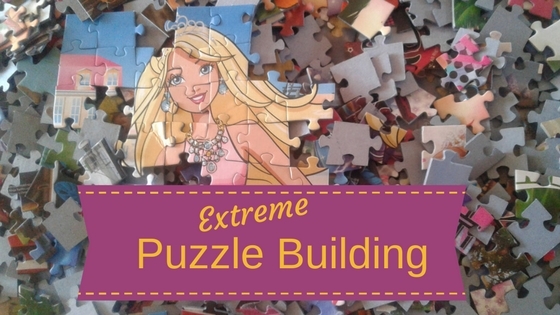 By too many pieces missing I mean when your child does the puzzle and starts screaming blue murder with frustration because only one third of the puzzle is there… then it is time to chuck it out otherwise it will drive me completely bonkers.
You know those moments when you feel you can't take any more? And then you hear a blood curdling scream? And it is over a missing puzzle piece?
Oh yeah those moments.
Now even when all those puzzle pieces are in the right boxes, storing puzzles takes up space and when you have as many puzzles as we do (probably well over 30 kids jigsaw puzzles) it becomes a big problem.
My son just loves not only jumping on the boxes but also throwing the pieces around. Oh my, he sounds seriously destructive doesn't he? Honestly I think he is just a normal boisterous and mischievous three year old, but yes adding him to the mix of 3o puzzles in boxes is just not a great plan.
Jigsaw Puzzle Organizer?
So during the Christmas holidays I had enough of all these puzzle pieces. I searched online for jigsaw puzzle organizer ideas and there were a some but a lot of them looked quite expensive and most didn't seem to fit the needs I have. I want the pieces to stay in the right place and I want to be able to store all of the puzzles in a compact and easily stored away way.
The answer was quite simple.
I bought a lovely box with a lid from the Crazy Store for about R150, then I bought loads of Tuffy Bags – not the plain zipper bags, I bought the slider bags which are way more tough and hardy. Also they stay closed without a problem which is what was seriously needed here.
We went through all the puzzles one by one and when we completed one we popped all the pieces into one of the Tuffy slider bags. Then I cut out the small image of the puzzle from the box and stuck it with wide sticky tape on the front of each bag. Maybe not the neatest and most attractive way of going about it but it does the job and you can see which puzzle is which from the outside of the bags.
One by one we got through those puzzles and they now all live in one big closed box which is awesome. All the puzzles are stored together in one small, compact space where none of the pieces can escape their individual bags or the big box.
I now keep this box up in the top cupboard and if my kids want to do some puzzles I bring down the big box and let them choose a puzzle to do.
I highly recommend you give this a go mommies, we have not had any problems with puzzle pieces since!