During your pregnancy, your body needs twice as much iron than normal due to your body's extra work load in providing additional blood for your unborn baby. And yet, more or less fifty percent of women are not getting sufficient quantities of this essential mineral during pregnancy. By eating foods that are rich in iron and taking iron supplements as per doctor's orders, you can assist with getting your iron level as it should be.
***Disclosure -The links in this post may contain affiliate links and I may receive a small commission if you make a purchase after clicking on a link.***
What Are The Health Benefits Of Getting Adequate Iron?
Your body's iron consumption is much higher in order to produce additional blood (haemoglobin) for you and the baby during pregnancy. Iron assists with helping to move oxygen from the lungs to the rest of the body and the baby. Obtaining enough iron can avert your body form having too few red blood cells that can lead to fatigue, a condition called iron deficiency anemia. Suffering from anemia, can result in your baby being born too early or too small.
Anemia or a lack of iron in the blood cells usually occur at a later stage in pregnancy or if the woman had more than one pregnancy back to back. If this happens, the doctor may prescribe an iron supplement on top of the prenatal vitamin.
When Should You Start Taking Iron?
It is recommended that you start taking a low-dose iron supplement of 30mg a day from as early as your initial prenatal consultation. Most often you'll be able to get this amount of iron from a prenatal vitamin.
How Much Iron Should One Take During Pregnancy?
Your body will need at least 27 milligrams of iron every day during the course of your pregnancy. If you're nineteen and older, you must get at least 9 milligrams of iron every day when breastfeeding. For breastfeeding moms that are eighteen and younger, 10 milligrams of iron are needed daily.
Symptoms that may occur during pregnancy that can indicate anemia include:
Fatigue
Weakness
Rapid heartbeat
Difficulty to concentrate
Chest pain
Shortness of breath
Feeling lightheaded
Cold hands and feet
During pregnancy, it is always recommended to consult with your GP or gynaecologist before you take any supplements for or medications irrespective of them being herbal or presumed to be good for you. Every woman has different health requirements based on their individual bodies.
When it comes to the best iron supplement for pregnancy, always read the food label and make sure that you are familiar of the ingredient content.
10 Best Iron Supplements for Pregnancy
Ezmelts Dissolvable Iron Vitamins
Great tasting and fast-melting iron supplement.
Assisting the body with combatting fatigue, boosting iron intake and suitable for individuals suffering from anemia.
Formulation of carbonyl iron and Vitamin C to help the body absorb iron more sufficiently.
Contains 90 tablets with a zesty orange flavour.
Made in the USA.
Contains no sugar
Vegan
Gluten-free
Non-GMO
Natural flavouring
Natural sweeteners
Natural colouring
Megafood Blood Builder
Made from organic oranges coupled with FoodState vitamin C to provide support for iron absorption and promoting blood cell production to maintain healthy iron levels in women.
Formulated to be used by menstruating women (including teenagers), during pregnancy, vegans & vegetarians, athletes and recent blood donors.
Megafood is Certified B Corporation (corporations that meet the highest standards of overall environmental and social performance)
Products have Non-GMO third-party verification.
Vegan products are certified through Vegan Action (free from any animal derived raw products)
Products have been kosher certified.
Dairy and soy free.
Has a gluten-free NSF certification.
Tested for 125+ Herbicides and pesticides with no detectable trace.
Glyphosate Residue free.
Tri-iron Dietary Supplement
Product contains mineral-rich herbs with a high natural iron content and easy assimilated minerals. To be used in small dosages at first and slowly increase the dosage and once you feel better, reduce to the minimum dosage and only use as needed.
Manufacturer has over 20 years of experience in providing liquid light alcohol-free herbal extracts suitable for children and the entire family.
Contains no BVO, caffeine, Ephedra, alcohol, sugar, salt, starch, yeast, wheat, gluten, soy, milk, egg or preservatives.
Specially formulated for pregnant woman, children and breastfeeding moms.
Product undergoes a three-stage liquid light process featuring a fourteen-day extraction with an assimilation rate production of up to 98% (versus 6-42% for tablets or capsules)
Vegan-friendly.
Nutriti Pure Melts In Mouth Iron And Vitamin C Tablets
Product has a pleasant orange flavour with added vitamin C for effective iron consumption by the body.
Sugar free: no artificial sweeteners used, made from Stevia.
Great-tasting and gentle on the tummy.
Maximum absorption – the elemental carbonyl iron powder provides effective and safe iron therapy with minimal side effects.
Fast-melting tablets that are easy digestible with no bitter aftertaste.
Made in the USA.
Contains no GMO products, sugars and dyes.
Natural flavouring and sweetening.
100% Satisfaction guarantee.
Yuve Whole Food Iron Supplement
Yuve Whole food iron supplement assists with balancing optimal iron levels which is critical for red blood cell formulation, a strong immune system, reproductive health and cognitive and energy functions.
Formulated for supreme absorption – containing Bioflavonoids which are potent antioxidants (Phytonutrients) that supports iron absorption and utilization while providing additional circulatory health support and immune building.
Supporting Cardiovascular health.
All-natural plant-based formula.
Vegan-friendly.
Non-GMO
Certified gluten free
Contains no chemicals or gelatine.
Contains no wheat, soy, yeast, dairy, sugar, sodium, artificial flavouring, sweeteners, preservatives, artificial colours, milk, peanuts, shellfish or fish.
Suitable for kids, pregnancy, vegetarians and vegans.
100% Money back guarantee.
Made in the USA.
Products manufactured at an FDA-registered facility which is both GMP and NSF certified.
Products tested by third-party research laboratories.
Small and easily digested tablets.
Solgar Gentle Iron
This iron supplement is gluten-free
Wheat-free
Dairy-free
Non-constipating product which is gentle on the stomach.
Dose – 25mg of Iron
Bi-glycinate iron which is just as effective as 50mg of iron sulphate.
Ferro-Sequels High Potency Iron Supplement
Time-released and effective.
Gentle on the digestive system.
Dual action formula with high iron potency and easy to swallow.
Contains low sodium.
Dose of 65mg.
This product has a five-star customer satisfaction rating on Amazon and comes highly recommended.
Iron – Ferrous fumarate.
Pure Micronutrients Iron Plus
Iron plus's unique formula assists to keep your iron levels optimal by boosting cognitive and energy function, strong immune system, red blood cell formation and reproductive health.
Highly absorbable and contains iron chelate, Vitamins B12, B6, C and folic acid.
Suitable for men, women, prenatal, post-operative or teenagers who suffer with low iron or anemia.
Specially formulated to be gentle on the stomach with no side effects such as tummy upsets, constipation, diarrhoea and nausea.
Easy to swallow with no bad aftertaste.
GMO-free
Contains no Magnesium stearate
Contains no artificial flavours or preservatives.
Floradix Herbal Iron Liquid Supplement
Recommended by midwives and obstetricians.
A liquid that is gentle on the stomach and easily digested without causing tummy upset or vomiting.
Vegan and vegetarian-friendly.
Gluten-free.
Dose – 10mg.
Iron – Ferrous Gluconate.
Garden Of Life Vitamin Code Raw Iron
Raw whole food supplement with supporting vitamins, nutrients and antioxidants with live probiotics and enzymes.
Made with 23 organically grown vegetables and fruit with no fillers or binders.
Kosher and Non-GMO verified.
Gluten-free.
Certified vegan product.
Dose – 22mg.
This product is raw meaning that it contains no fillers, high heat synthetic binders, artificial flavouring, sweeteners, colours or additives.
Has third-party verification Whole raw food.
Easy digestible and tummy-friendly.
The unique formula supports heart, eye, blood, heart, reproductive health and immune system.
Iron – Non-haem.
Who Is At Risk Of Getting Anemia?
Generally, women who are at risk of anemia when pregnant are those with:
Lessened food intake.
Heavy periods.
Small gap in between pregnancies.
Multiple pregnancy.
Vegan or vegetarian diets.
Which Foods Have A High Iron Content?
Iron can be found in meat, poultry as well as plant-based foods and supplements.
Two types of iron found in food:
Heme iron – the type that your body absorbs the best and is derived from beef, chicken, pork and turkey.
Nonheme iron – the other type of iron that is derived from beans, spinach, tofu and cereals that contain iron.
Some iron-rich foods: 
Beef liver
Chicken liver
Instant oatmeal which is iron-fortified
Ready-to-eat cereal which is iron-fortified
Raisins
Kidney beans
Lentils
Lima beans
Oysters
Bran
Fruits and vegetables
Soybeans
What Happens When A Pregnant Woman Takes Too Much Iron?
Iron toxicity mostly occur with children, but the adult body can only use so much iron. The recommended dose for iron is 18 milligrams per day and if a pregnant woman utilises more than this dosage with a combination of her food intake and prenatal vitamins, the body will merely not absorb that iron.
There are a few cases of iron toxicity, but they were related to individuals who took 1000mg or more iron per day. Frequently, the consequence of taking too much iron will result in either constipation or diarrhoea. Some abdominal cramping may also happen.
When a pregnant mother starts taking prenatal vitamins, she may notice a change in stool, being darker or pastier as a result of iron supplementation. If combined with iron-rich foods, constipation or diarrhoea may worsen. In case of the pregnant mother not having enough iron, there may be a problem with absorption and not the supplementation.
The digestive system reacts negatively to an overload of iron and struggle to process the mineral adequately.
Vitamin C is known to aid the absorption of iron more efficiently in the body. Opting for tomatoes with steak may be a better choice for baby and Mommy.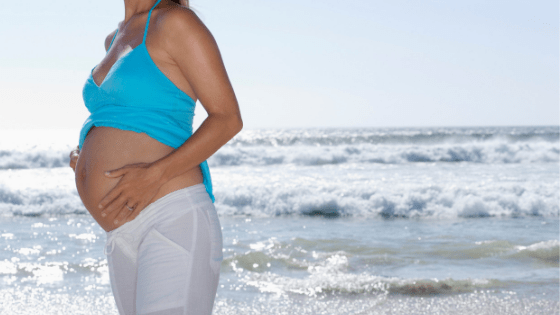 Side Effects Of Consuming Iron Supplements
Although iron is a vital element for women who are pregnant, taking too much can have some unfriendly side effects:
Dark Stool And Urine
About 5% of women taking iron supplements find their urine to be darker and about 10% notice darker stools either black or dark green in colour. Both are normal and once you stop taking the supplements, everything should turn back to normal.
Distress In Gastrointestinal Tract
Women may experience cramping or stomach aches as a result of gastrointestinal irritation. To avoid this, it is recommended to take your supplement with a meal.
Constipation
More or less 10% of people who has been taking iron supplements have suffered from constipation and if you are experiencing this, you must add water and fibre to your diet.
Vomiting And Nausea Symptoms
With the consumption of iron supplements, it often happens that vomiting, and nausea makes morning sickness worse. Taking your supplements with meals can ease the discomfort. But if you experience any fever symptoms, you must contact your physician or gynaecologist immediately.
There seems to be a misconception that taking iron tablets when you're pregnant may make the baby dark. This is an old wives' tale, as the only factors that may impact your baby's complexion in the womb are genes.
Important Tips To Remember During Pregnancy
It is essential to drink plenty of water and try to avoid or limit alcohol consumption.
When experiencing any unpleasant side effects, don't take your supplements on an empty stomach but instead take them with a meal.
If the side effects persist, then take two halves of tablets during the day.
Refrain from taking any supplements unless you have consulted your doctor first, as taking too much iron may result in high blood pressure and the baby may be too small for its gestational age.
Do not skip breakfast and try eating fortified ready-to-eat cereals with fruit or cooked breakfast.
When you're not feeling well, start your day with whole-wheat toast and eat more food a little later in the morning.
Choose a variety of fiber-rich foods such as vegetables and fruit, like carrots, bananas, melon and cooked greens.
Consume plenty of whole grains and beans and try including brown rice or oatmeal in your diet.
Take prenatal vitamins that include folic acid and iron every day. Iron keeps the blood healthy and folic acid prevents the possibility of birth defects.