If you are trying to conceive, you can surely buy a basal thermometer that can assist you to know the exact date of your ovulation to ensure your most fertile time. Again, on the contrary, you can also avoid unprotected sex during the most fertile period if you are not ready yet for a baby, right?
So, from both the perspective, a basal thermometer is the single most important thing that can assist you in getting pregnant as well as avoid pregnancy. Anyway, if you are not sure what to look for when you are going to purchase a basal thermometer, this post is absolutely for you.
Here are some significant points you need to know before you proceed to buy a basal thermometer. Let's have a look at the following without delay!
What to Know Before You Buy a Basal Thermometer?
As you are going to buy a basal thermometer for the very first time, you are more likely to confused with so many options to go for. And, to be honest, most of the first-timers become at their wits end in such cases.
Anyway, don't worry! A few things are there that you need to consider while purchasing a basal thermometer. Let's check out what to know before you buy a basal thermometer in the following discussion.
Accuracy:
A basal thermometer is more important than a regular thermometer to get your BBT (Basal Body Temperature) charting more accurately as a BBT thermometer is more sensitive. It can be accurate up to 0.01 of a degree whereas a regular thermometer can be accurate up to 0.1 of a degree.
During the monthly menstrual cycle, your body temperature fluctuates, and that is why you need a thermometer which is more sensitive and capable of providing more accurate readings.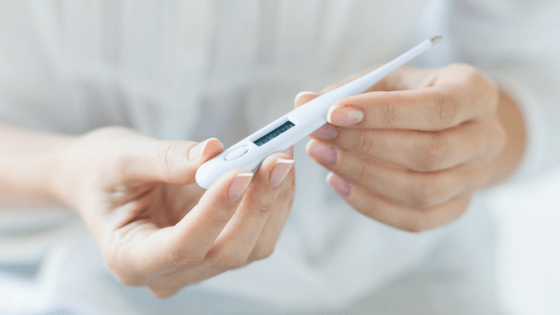 Digital vs. Mercury:
Basal thermometers are of two different types, the digital one, and the mercury one, also referred as the traditional or regular one. You can simply get confused which one to buy if you don't know what they actually are and how they work.
Mercury thermometers are not that much user-friendly, and often harder to use and understand the temperature reading. It needs to be shaken up and down before and after use. On the contrary, a digital basal thermometer takes less time than a mercury one, and it provides with a more accurate result.
The most important thing of a BBT thermometer is it needs to be accurate to 1/100 of a degree that you can only get from a digital one.
Moreover, a digital basal thermometer is featured with temperature reading memory that can store previous readings (varies from model to model).
Temperature Reading:
The BBT is the optimum temperature of your body after a period of rest. If you choose to chart your body temperature every morning, make sure that you have got a minimum 4-5 hours of sleep the previous night because your body temperature may fluctuate if you do not have a proper sleep.
If your body temperature increases up to 0.4-degree Fahrenheit, you can consider that you are ovulating. You can observe a pattern in your menstrual cycle after two months of observation and can predict the day of your ovulation.
In such case, a digital BBT thermometer can provide you with the easier and more accurate temperature reading.
Notification Alert System:
Some basal thermometers are there that offer notification alert system when you are done with measuring the temperature. So, you will not need to hold it on for minutes anymore to get the temperature reading.
Budget:
Budget is always a big deal no matter whatever you are going to purchase. Anyway, in the case of basal thermometers, the budget is not truly a big deal. Yes, they are not that much expensive. You can buy a mercury thermometer for less than $10.
However, if you want to buy a digital thermometer, you need to spend $20 to $30. On top of that, you can buy the best quality product in this industry if you can spend a bit more, around $50 to $60. However, a cheaper thermometer is enough to take your daily body temperature if it can read to 1/100 of a degree.
By the time you scrolled down to this section, we expect that you went through the lines and came to know What to Know Before You Buy a Basal Thermometer. Now, it is your turn to get started for the Best Basal Thermometer deals online or at any physical shop nearby.