Faithful To Nature is one of our top companies when it comes to buying healthy, ethically sourced, and affordable health products to promote overall health and wellbeing. In today's post, we have rounded up our top five must have health products from Faithful To Nature.
***Disclosure -The links in this post may contain affiliate links and I may receive a small commission if you make a purchase after clicking on a link.***
5 Must Have Health Products From Faithful To Nature
The Harvest Table Loading Kit – Granules
Collagen is an essential ingredient and protein source for optimal health. It promotes healthy muscles, keeps tendons and muscles strong, and contributes to healthy nails, hair, and skin. When we age, our bodies produce less collagen, resulting in skin aging. Collagen supplements help with keeping our skin healthy and younger-looking.
The Harvest table granules dissolve quickly, have a pleasant neutral taste, and promote overall wellness and beauty. The granules are fully traceable and contain zero fillers, additives, or preservatives. This is hands down my all time favourite health product from Faithful To Nature.
Pros
Pleasant neutral taste
Packaged in a reusable glass container
100% Pure collagen peptides
Contains zero gluten, GMO, preservatives, additives, or fillers
Promotes cartilage and joint health
Anti-aging skin benefits
Promotes digestive health
Excellent for hair, skin, and nails
Contains powerful anti-inflammatory properties
Encourages better sleep
How To Use It
Using this collagen powder is easy. Add two tablespoons to juice, smoothies, or water and mix well in a shaker or blender for about 20-30 minutes until the granules are fully dissolved. Recommended daily intake: 3-4 servings.
Customer Reviews
Customers gave this item five stars saying they love the product, and immediately started feeling a change in their bodies after they started using it.
Click here to buy.
Rawbiotics Gut Correct
Probiotics have many health benefits, making them a must-have item in your medical arsenal. Not only do they keep your organs in tiptop shape, but they boost immunity, replenish good bacteria, promote gut health, keep urinary tract infections at bay, help treat vaginal infections, and more.
Rawbiotics gut correct promotes gastrointestinal tract health and is made with a combination of live fermented probiotics and herbal extracts to help rectify imbalances in the body that usually causes IBS, diarrhea, digestive disorders, constipation, and acid reflux.
Pros
It helps with restoring bodily imbalances that cause digestive problems
It contains fourteen strains and several classes of live fermented bacteria
Improves digestion
Contains no dairy, soy, lactose, gluten, or GMO
100% Natural product
How To Use It
The recommended dosage is 30ml per day for adults. Begin with 10ml daily and gradually up the dosage.
Customer Reviews
This item received five stars, with users reporting it works perfectly for IBS and provides relief for high acidity levels and flatulence.
Click here to buy.
Organic Aloe 24/7 Juice
Aloe vera contains potent antioxidants, which provide plenty of health advantages, including digestive health, boosting your immune, improving and treating skin issues, and promoting dental and oral health, to name a few.
Organic Aloe from Faithful to Nature contains 100% pure aloe juice to keep your body healthy inside and outside. It is made with organic aloe ferox plants indigenous to the Klein Karoo area. The juice is packed with dietary fiber and minerals to help soothe heartburn, indigestion issues, and painful stomachs.
Pros
It contains zero added sugar or aloe bitters
ECOCERT SA certified
Excellent source of calcium, dietary fiber, magnesium, glyconutrients, and iron
Boosts overall health, immunity, and energy
Offers relief for IBS, indigestion, stomach ulcers, and heartburn
Assists with regulating blood sugar and cholesterol levels
It helps with lining the digestive tract and keeping inflammation and irritation at bay
How To Use It
Enjoy one glass in the morning or after exercising. Keep the product refrigerated and use it within three to four days after opening.
Customer Reviews
Customers gave this item 4.2 stars, saying that it works superbly for promoting gut health and lowering acidity levels in the body.
Click here to buy.
Allisone Tissue Salts (Mag Phos)
Magnesium phosphorus is an excellent health product that promotes bone health and cardiovascular health, reduces anxiety, lowers the risk of Diabetes 2, prevents migraines, and more.
The combination of phosphorus and magnesium makes it a powerful pain-relieving and antispasmodic remedy. Magnesium assists with relaxing the nervous system, promoting muscle growth, and easing cramps and headaches, while phosphorus assists with muscle repair and generating protein in the body. This product helps support the musculoskeletal system, heart, and nervous system.
Pros
Lowers anxiety and stress levels
Useful for treating cramps, including menstrual, colic, and digestive cramps
Providing relief for  tension and migraine headaches
Keeping hunger cravings at bay
Helps with neuralgic and muscular pain
Promotes relaxation
How To Use It
Recommended use for adults and kids is one tablet dissolved or chewed in the mouth and one crushed tablet per day for infants. To relieve colic or stomach cramps, dissolve seven tablets in hot water and take small sips.
Customer Reviews
Customers gave this item five stars, saying the product is excellent for body aches, promoting relaxation, relieving cramps, and reducing stress.
Click here to buy.
Solgar Vitamin B Methylcobalamin Supplement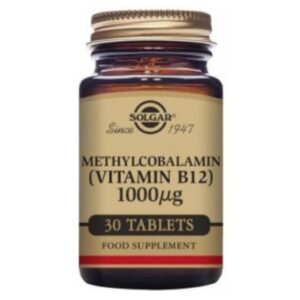 The body cannot stay healthy without vitamin B since the essential vitamin keeps your nerve and blood cells healthy. It generates DNA which is the genetic substance that your cells are made up with. Apart from that, vitamin B12 also assists with the prevention of megaloblastic anemia, a health condition that makes individuals feel weak and tired.
The Solgar vegan-friendly B12 supplement dissolves rapidly for optimal absorption and the active coenzyme Methylcobalamin content ensures fast and easy replenishment of vital nutrients in your body.
Pros
100% Natural product
Encourages healthy pregnancy
Vegan-friendly
Relieves depression and enhances the mood
Excellent for heart and brain health
Promotes red cell generation and prevents anemia
Contains no sugar, gluten, sodium, or dairy
Zero sweeteners or artificial colorants or flavorings>
Kosher and vegan-friendly product
Quality and pure product
How To Take It
Place one nugget under the tongue for about thirty seconds before swallowing. The recommended dosage is one nugget daily.
Warning:
Consult your doctor before taking this supplement if you are nursing, pregnant, or have pre-existing medical conditions. Do not exceed the recommended dose.
Customer Reviews
This item received five stars, with customers loving that it is vegan-friendly, easy to take, and affordable.
Click here to buy.
Conclusion
We hope you have found our post about health products from Faithful To Nature helpful and that you will consider adding some of them to your daily health regime. Just keep in mind that if you suffer from any pre-existing health conditions, it is recommended to speak to your doctor before taking any supplements or new health products for the first time.
WIN An Instantpot
Instant Pot Duo 60 – 7-in-1 Smart Cooker (6L)
Enter your details into the form below to enter this competition.
This competition is open for residents of South Africa and Terms and Conditions apply.
The winner will be announced on our competitions page - this competition is open from:
08 March – 11 April 2022
This Competition Is Closed For Entries
Click here to sign up for my newsletter so you don't miss another competition!