Mentholatum SA, a health and wellness company and providers of non-prescription pharmaceutical, healthcare and cosmetic products to consumers, has launched Happy Event 100% Natural Body Oil to complement its existing range of Happy Event Antenatal Massage Lotions and Creams and Happy Event Firming Creams.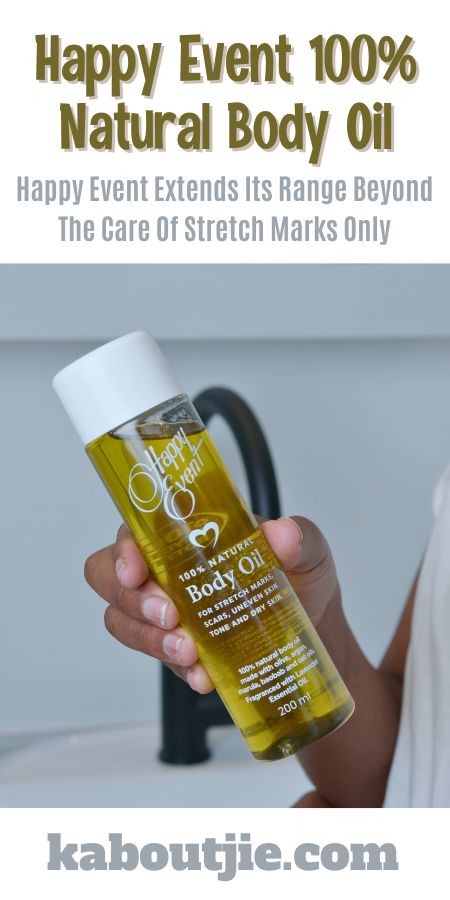 "Happy Event is a distinctive formulation and the only product in its class based on natural olive oil," says Trish Erasmus, Brand Manager, Happy Event SA. "Its unique blend of ingredients has helped countless generations of women to escape the problems of developing stretch marks for more than 50 years."
Happy Event 100% Natural Body Oil further accentuates this heritage. It is specifically formulated not only for women suffering from stretch marks, but also for anyone suffering from scars and uneven skin tone in addition to dry skin.
Its 100% natural formulation consists of a powerful blend of olive (sourced from the very finest olive oil orchards in Spain), argan, marula, baobab and oat oils. Containing no artificial fragrances, Happy Event 100% Natural Body Oil makes use of naturally fragranced lavender essential oil.
"We are committed to using only the very best of nature's ingredients to create products that are full of natural goodness," says Erasmus. "In addition, our commitment to our consumers is to constantly strive to provide products that add increased value to their lives."
The skin is our largest organ. Happy Event is committed to helping its consumers take excellent care of theirs! The addition of Happy Event 100% Natural Body Oil to the Happy Event product range enables exactly that. It extends the value to its consumers beyond the prevention and reduction of stretch marks only, offering a more holistic range focused on even healthier skin.
With a strong focus on sustainability and environmental consciousness, Happy Event 100% Natural Body Oil (bottle and carton) is manufactured from recycled materials and is itself recyclable.
Available at DisChem – Happy Event 100% Natural Body Oil @ RSP R125.00.
For more information, please visit: www.happyevent.co.za
Mentholatum SA is a health and wellness company, providing non-prescription pharmaceutical, healthcare products to consumers since 1963.
For more information visit – www.happyevent.co.za
Facebook: @happyeventSA
Instagram: @happyeventskincare_sa