The festive holiday season is almost upon us, this year unwrap the magic of the season with an exciting range of great gifts brought to you by global play and entertainment company, Hasbro, who is committed to creating the world's best play and entertainment experiences.   With a wide selection of options, to surprise and delight, from popular brands including NERF, Play-Doh, Baby Alive, furReal, Transformers and more plus fun new Hasbro Gaming solutions – there something for each family member, no matter their age, to enjoy this summer! 
HASBRO'S 2020 'BEST SELLER' SELECTION FOR THE UP-COMING SEASON: 
Meet this lovable mama from Down Under!

Mama Josie the Kangaroo from furReal

offers both interactive nurturing play and a surprise unboxing experience. Mama Josie comes with 3 adorable babies – one baby 'roo is a boy, the other a girl, and the third one's… a surprise! Unbox all three for the big gender reveal. This loving mama responds to touch with 70+ sound-and-motion reactions, she moves her head and arms, hops to music, and can hold and "kiss" her babies while making loving sounds. There are cute accessories for the babies, and one for Mama herself – a smoothie accessory kids can give her to hear cute feeding sounds… and the occasional hiccup! Whatever she does, she's sure to captivate! Watch Mama Josie in action

here
To add to your collection of lovable furReal furry friends look out for the

Peealots & Poopalots Big Wags Pets collection,

another expansion of the brand's successful pet-walking line, with a range of feisty pups and kittens to choose from.

Each Peealots pet comes with a leash system that allows you to take them for walks and a water bottle so you can give them a drink. Of course, after quenching your pet's thirst, they'll need to go! Just lift its tail and watch as your pet lifts its leg and pees – but be sure to clean up after them – it's the polite thing to do!  
What's more fun than walking a pet? Walking a pet that poops! Give your cuddly Poopalots pet a few of the included play treats, then take them for a walk to do their 'business', leaving a trail of poop nuggets behind! Luckily, your pet comes with its own poop scooper for quick and easy cleanups.  furReal Poopalots pets feature a connectible system that lets kids walk one pet, or their favorite pack! 
She loves to bounce and giggle!

Baby Alive Baby Gotta Bounce

doll bounces up-and-down with impossibly cute laughter when you hold her hands and squeeze her wrist — or repeatedly wave or move in front of her. She actually stands up and bounces on her own! The interactive Baby Gotta Bounce doll has 25+ cute sound effects, drinks water and "pees" too, like a baby (bottle and a diaper included). Good thing her adorable, removable outfit makes changing-time super easy! Kids ages 3 years old and up will love caring for this sweet Baby Alive Baby Gotta Bounce doll that moves. 
Play-Doh

fans will love the

Play-Doh Kitchen Creations Drizzy Ice Cream Playset

. Drizzle a crazy candy coating on your Play-Doh ice cream creations. For the first time ever, this toy ice cream set comes with Play-Doh Drizzle compound – a pretend syrup that turns into a pretend candy shell when you drizzle it on top of regular Play-Doh compound. The Play-Doh ice cream maker is easy and fun to use, load some regular Play-Doh compound and press the handle to create colourful Play-Doh sundaes and cones. Squeeze some Play-Doh drizzle on top and add fun Play-Doh sprinkles and candies to decorate. 
It's crazy candy galore at the Play-Doh candy store! This

Play-Doh Kitchen Creations Candy Delight Playset

is a treat for the imagination as kids create their own silly gummy bears, pretend candy bars, and play candy cups. Fill the top with Play-Doh compound, then turn the crank on the candy machine to see the crazy colourful Play-Doh candies pour out. Scoop the creations into the pretend candy buckets to show them off to friends.
Kids can sing along with the

Musical Adventure Elsa and Anna fashion dolls

(each doll sold separately) as she belts out a song featured in Disney's Frozen 2 movie. Doll includes batteries so the musical fun can start as soon as kids open the box. All they have to do is turn on the switch on her back and press the button on her bodice to start the catchy tune. Kids will also love her movie-inspired dress with its elegant design and glitter accents.
There is an exciting range of

Nerf

blasting options on offer- e

yewear recommended (not included):
Experience Nerf Ultra blasters – the ultimate in Nerf dart blasting! The Nerf Ultra One

motorised blaster has a high-capacity 25-dart dart drum and comes with 25 Nerf Ultra darts. Fire over two dozen darts with the high-performance advantages of this Nerf Ultra blaster. You have the skills and the expertise as a Nerf battler, now you have the blaster and darts for game-changing superiority! Suitable for kids age 8 years and older.
Gear up for battle with Nerf Elite 2.0 blasters that come with

double the darts

and feature built-in customising capabilities so you can upgrade them and seize the advantage in Nerf competitions. Suitable for kids aged 6 years and older (avaible in South Africa from mid November).
The

Nerf Elite 2.0 Shockwave

RD-15 blaster features three tactical rails, barrel attachment point, and stock attachment point to optimise for battle.  This pump-action blaster has a 15-dart rotating drum to swamp your targets. Pull the priming slide back and press the trigger to unleash 1 dart or hold down the trigger and keep moving the slide to slam-fire all 15 darts. 
The Nerf Elite 2.0 Echo CS-10 blaster includes a removable stock and removable barrel extension so you can customise the blaster multiple ways. Take advantage of five tactical rails to add other battle accessories (not included). Comes with 24 Official Nerf darts – load 10 into the clip and keep the rest nearby for reloads.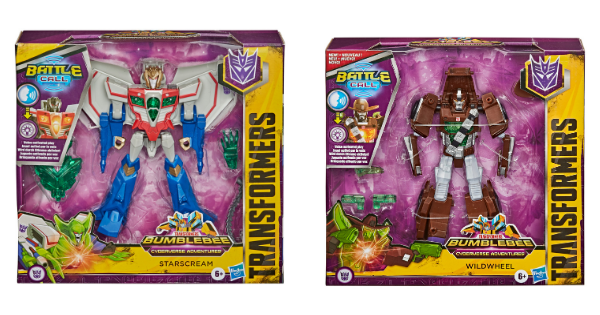 The

Transformers

Battle for Cybertron is on! Mobilize for action with

Cyberverse Battle Call Trooper Class figures

and

Cyberverse Battle Call Officer Class figures.

 Each figure includes a signature weapon, which disassembles and attaches to the figure to create power-up armour. Voice activation offers an exciting new way to play with Transformers. With each Officer Class figure, activate battle sounds and pulsing lights with voice commands and with each Trooper Class figure, activate pulsing lights in each figure's chest with voice commands.  Officer Class figures command Trooper Class figures with interactive sounds. Figures convert between vehicle and robot modes. Assortment features favorite Autobot and Decepticon characters from the animated Transformers series (each sold separately). 
IT'S MORPHIN TIME! The Power Rangers Beast-X King Morpher

is inspired by the Power Rangers Beast Morphers TV show (as seen on Cartoon Network), with light up lion eyes. When kids strap the morpher to their wrist and move around, they will hear show-inspired sounds and phrases. Plus, when they use the included Morph-X key in the Beast-X King Morpher, the Beast-X King mane will flip out and the morpher will enter Beast-X mode, for even more sounds and phrases! 
GET YOUR FAMILY TIME GAME ON WITH A WIDE RANGE OF GAMES TO SUITS ALL AGES FROM HASBRO GAMING
Don't get sad…get even! Say goodbye to the frustration of losing while playing Monopoly and say hello to the Monopoly For Sore Losers

board game. This hilarious twist on the classic Monopoly game turns losing on its head and celebrates it instead. Players earn cash by doing the typically frustrating things in the game such as going to Jail, paying rent on a property, or going bankrupt. And those who really start sinking can make a comeback using the large Mr. Monopoly token that gives players advantages over everyone else. So get playing, get the revenge you've been craving, and feel good about losing!
Still a firm family favourite,

Monopoly Mzansi,

featuring 22 local locations, makes a perfect gift for the festive season. A definite must have for travellers, Monopoly Mzansi provides an opportunity for family and friends to come together and enjoy some quality time, Mzansi style. 
Enjoy some fun family time with Boggle

. Earn points by spotting words your opponents don't before time runs out.  Shake the grid to mix up the letter cubes, players have 90 seconds to write down as many words as they can find on the grid before time is up.  At the end of the round, score the words. The player with the highest score wins. Game comes packed in an easy to store travel case for both timer and dice. 
EXCITING STOCKING FILLER IDEAS INCLUDE:
Stretchy

Play-Doh Elastix compound looks and smells like the Play-Doh compound we all know and love, but it has a fun pull-apart effect for a different way to play.  

This colourful premade slime compound is as much fun to look at as it is to touch! Stretch it, pull it, let it ooze –

Play-Doh Slime

for kids 3 years and up gives them a squishable, sensory, creative experience. 

Fire three darts in a row from the

Nerf Elite 2.0 Trio SD-3

blaster that has a tactical rail so you can customise the blaster with different Nerf accessories.  Fires darts up to 27 meters.

Easily convert and attack with

Transformers Bumblebee Cyberverse Adventures Action Attackers

toys! Simply convert figure from vehicle to robot mode in a few steps. The last step of conversion activates the figure's signature Shot move! Once converted, move can be repeated through easy reactivation steps. Collect all the Action Attackers figures, each sold separately.

 
Hasbro products are available from leading retailers (subject to availability) including:  Takealot.com, Makro, Toys R Us, ToyZone, Toy Kingdom, Checkers, Game and Importatoy.
For more information visit: Facebook @PlayDohSouthAfrica;  @MonopolySouthAfrica;