Naledzani Netshirembe, recognised as a South African living human treasure will grace this weekend's Books Beyond Words bringing to the National Book Week family a Tshivenda story, Musudzana na Pfene (The Girl and the Baboon) in her own inimitable style. Netshirembe, known for her remarkable oratorical talents and diverse musical approach to storytelling, often fuses the narrative with traditional rhythms. She will be joined on the weekend by literacy mentor and social change driver Thanduxolo Mkoyi.
The multifaceted Mkoyi is a language and literacy consultant, professional storyteller, author of children's books and currently the Western Cape LITASA deputy chairperson. He brings to the NBW families an English and isiXhosa story titled "The Boerewors Man".
Netshirembe started storytelling in 2006 and teaching storytelling to children on SABC's Phalaphala FM. She has a great understanding of how music and storytelling is used to educate and entertain, hence her music is full of uplifting messages. She is also a musician and can play traditional instruments like Tshihwana, LugubeiwaLutanga and Mirumbanangoma. Netshirembe also runs a moral regeneration program where young children are taught different traditional practices which include music and dance.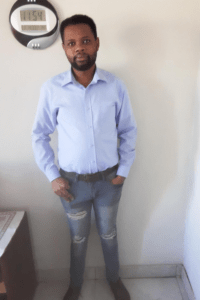 Books Beyond Words, the weekly event hosted by South Africa's annual reading awareness week, National Book Week (NBW), dedicated to encouraging leisure reading and promoting the importance of books, has been inviting storytellers every weekend, uninterrupted, since the lockdown began in March, for a live event to tell children an interesting story.
NBW is a joint initiative of the South African Book Development Council (SABDC) and The Department of Sport, Arts and Culture.
"Oral storytelling has been part of African tradition for many centuries and continues to this day as a cultural instrument throughout the continent. National Book Week 's Books Beyond Words within a short space of time has become "appointment viewing" for families who congregate to watch some of our most gifted storytellers taking turns to keep this tradition alive," says Elitha van der Sandt, CEO, South African Book Development Council.
"We have done storytelling in different languages through singing, puppet shows, performances and more to ensure children are entertained as well as encouraged to participate and imagine. A story that can  transport a curious mind  to a different place altogether is the best story."
South Africa's living human treasures project recognises people who have rare knowledge and skills, and who are making a difference in the preservation and transmission of the country's indigenous knowledge.
Join us once again for ride on the culture train on Saturday 25 July 2020 at 11:00am on NBW's Facebook page.