Making money online is the goal of many moms and while there are loads of scams and time wasters out there, there are also a lot of fun ways to make money online that really work. I've spent a lot of time finding new ways to make money online over the years and tested a lot of websites.
***Disclosure -The links in this post may contain affiliate links and I may receive a small commission if you make a purchase after clicking on a link.***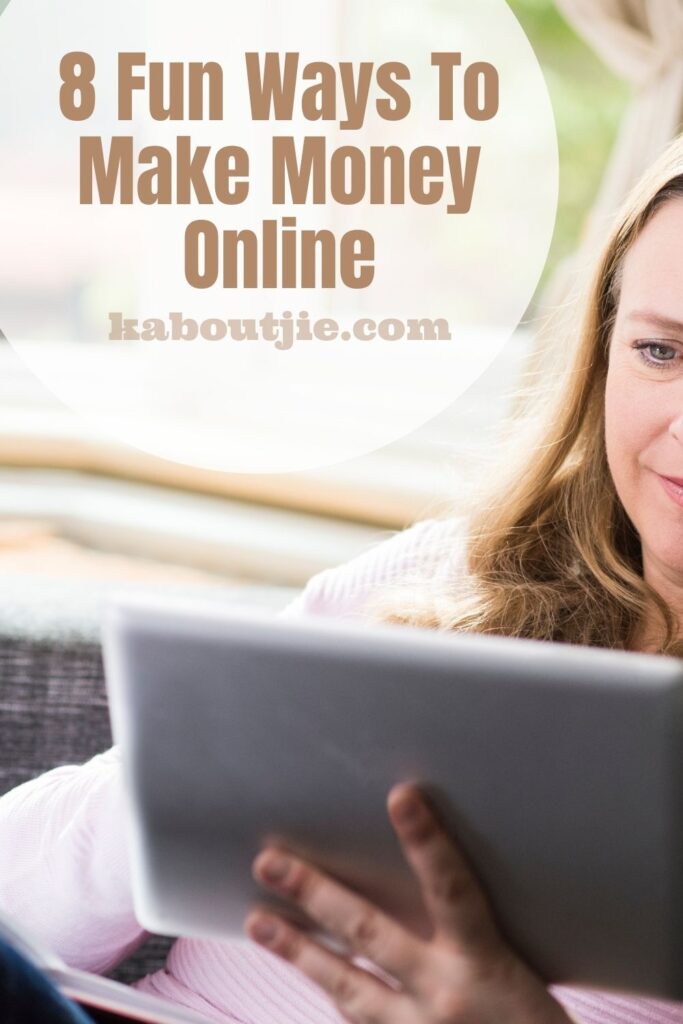 Here are some of my fun ways to make money online:
Start Your Own Blog
Blogging is loads of fun and an excellent way to make money online. The best part about it is that you can make money in a variety of ways including affiliate marketing, influencer marketing, banner ads, Google ads and more. I love having multiple streams of online income and all of the ways listed below can be incorporated into your blog.
If you have a business already where you sell products adding a blog to your business will draw more traffic to your website as well as add extra ways to earn from your business.
Ysense – Online Surveys
While doing online surveys will not make you rich they certainly can add up over time and make you some extra income. My favourite online survey site is Ysense. You can earn through taking surveys, completing offers, playing games and referring others to Ysense to make affiliate income.
I write a review a while back on Ysense when I had earned over $1250 and I've now made over $1500 from Ysense. It does take some dedication and effort but I find it a really fun way to make money online in my spare time. Make sure to read my review for how to make money from Ysense, how to cash out and more.
I recently wrote a post sharing tips and tricks to increase your earnings with Ysense – click here to check it out.
Click here to sign up for Ysense.
Webfluential
Webfluential is a platform for making money as an online influencer. If you have social media channels with a following you can apply to promote products and be paid for your efforts. While anyone can join this platform and earn it will be easiest to start earning if you are a blogger with a website and associated social media channels.
Once you have set up your profile, connected your channels and created your rates your media kit will be created which you will be able to share with others. Brands that are registered with Webfluential will be able to contact you on the platform for a quote and you will also be able to connect with Brands and send a pitch to work with them.
You can connect a blog, Facebook page, Twitter, LinkedIn, Instagram, TikTok, Snapchat and Youtube.
I've been with Webfluential for a few years and to date I've earned over $2000 in total through their platform.
Click here to sign up for Webfluential.

Fiverr
Fiverr is an online market for services. You can sell just about service there including graphic design, content writing, video creation, video editing, web development, programming, SEO services and more. If you can provide an online service you can sell it on their platform.
I provide content writing services and also services connected to my blog. To date I've made over $12 000 on Fiverr and I have been a member since 2015.
Click here to sign up for Fiverr.
The Salt
The Salt is another influencer platform that is fantastic for anyone to use. While some influencer platforms require that you have loads of followers The Salt focuses on real people helping brands to create connections with their audience. They offer training and support to help you get on track.
While I have signed up for The Salt I have not personally made any income from The Salt yet but I personally know some bloggers that have and they say it is a great app.
Click here to sign up for The Salt.
Amazon Affiliate
I love shopping at Amazon. They have a wide variety of products and some great finds. I've been an Amazon affiliate since 2016 and making a small side income from promoting great products I find there. Affiliate marketing simply means that you are like an external sales rep and make a commission off the sales you make from products you promote using your affiliate link.
I love how easy it is to promote Amazon products using links, banners and native shopping ads on my site.
They also have the Amazon influencer program which I have heard is great but I have not signed up for that as I am happy with focusing only on affiliate marketing.
Click here to register as an Amazon affiliate.
4AKid Affiliate
4AKid is an online baby and kids product store with a huge emphasis on safety. They stock a wide range of high quality products and they are a reputable and popular store. Their range includes car safety products, amber teething necklaces, toys, clothing, sleep products and more.
You can sign up with 4AKid to be an affiliate and earn commission on the sales you generate through your links.
Click here to sign up to be a 4AKid affiliate.
SeoClerks
SeoClerks is an online platform very similar to Fiverr but a lot of the focus is on SEO services (search engine optimization services), however you can also offer services such as content writing, editing, graphic design and more. I've sold a few services there over the years including SEO services and other services related to my blog and earned $6932 to date.
Click here to sign up for SeoClerks.