For years I've had a running joke that if I were to ever write a book, it would be called "Confessions of an Amateur Juggler".  
It's a ridiculous joke, because I'm not actually a circus juggler, but I am a working mom so I do juggle a lot.  However, the key word in my imaginary book title is not "juggler", it's "amateur".  Professional jugglers don't drop balls, but amateur ones sometimes do!
If you're a busy, working mom like me, the idea of juggling probably resonates deeply with you.  
Sorry, I haven't introduced myself.  My name is Kirsty and I'm the Founder and Programme Director for Wriggle and Rhyme, a music and movement programme for babies, toddlers and pre-schoolers.
At the heart of my "amateur juggler" journey is my heart.  A heart that is 100% devoted to my family.  Even though I'm running a business, I still think of myself as a stay-at-home mom. Here's my story … 
When my now eighteen-year-old daughter was born, I left a demanding career in the corporate rat race to be more available to my growing family.  I took on part-time work to top up our household income.
But, when my second-born son was 18 months old, my part-time contract work finished.  I desperately wanted the flexibility of working from home, but it was so difficult to find a job that fitted around my children and earned me a reasonable income for the hours worked.
My entrepreneurial spirit kicked in!  I decided to research business opportunities, using my musical qualifications and marketing experience.
In 2008, Wriggle and Rhyme was "born".   Yes, October is our birthday month – this year we're celebrating 14 years of music!
Wriggle and Rhyme was a natural synergy of my marketing and musical training. Little did I know then of the exciting and fulfilling journey that would follow!
Starting with one class from my home in Fish Hoek, Cape Town, the business has grown in both size and profile, with numerous branches across Cape Town.  In 2011, we branched into Pre-schools and now have a thriving Pre-schools program running too.
The Wriggle and Rhyme programme has been written and produced locally by me.  And like me, it's proudly South African!  I'm also passionate about quality and value.  So much love and energy has gone into creating a completely unique, fun and memorable programme suitable for children from 6 months to 6 years old.  It has been very well received by the thousands of children who have attended classes over the years.
I now have three beautiful children, but Wriggle and Rhyme has become my fourth child.  I've gone through all the stages of motherhood with the business – from exciting conception to a crying newborn, to a demanding toddler, to a feisty tween, to a maturing teenage.  The business is very much part of our family! 
Both my sons attended classes with me when they were little – they still speak about them!  It has been a real joy to have my children engage with my work because it's something they can so easily relate to.  
As the business has grown, so has my capacity.  I now work full-time hours, but I work around my family, which means that I'm still at home full-time. It's a challenging juggle at times, but the benefits have been phenomenal – being my own boss, contributing to the household income and being at home with my kids!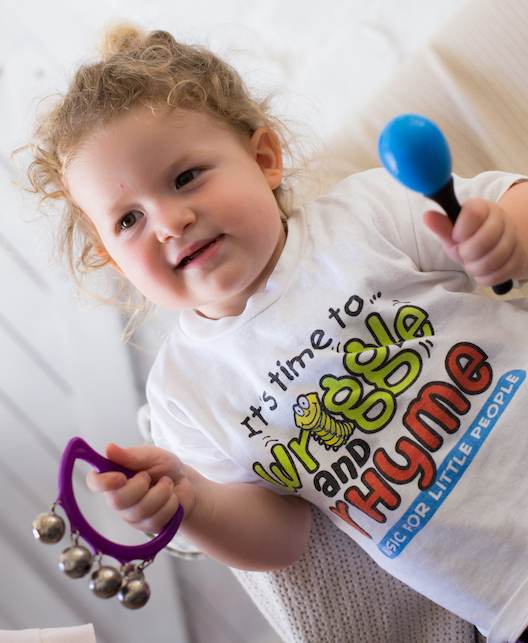 In 2013, I realized that there were lots of other women like me out there.  Women who wanted to work from home, be available for their families, but women who also need to earn well for their time and efforts. 
So, I created the "Wriggle and Rhyme Product Package" which is available to License, as a work-from-home Business Opportunity.  This has allowed other women to take this proven business model and receive the ongoing training and support they need, to turn it into their personal success story!
If this resonates with you, come and join our team of amateur jugglers and discover the joy of adopting Wriggle and Rhyme into your own family.
For more info about the W&R business opportunity, have a look at www.wriggleandrhyme.co.za/join-the-team 
Find us on Facebook and Instagram @wrigglerhyme #wrigglerhyme
By Kirsty Savides
Founder and Programme Director, Wriggle and Rhyme South Africa