In today's post, we will be sharing six tips for choosing the best maternity dresses. The best thing about wearing maternity dresses, is that they are super comfortable to wear during pregnancy and you can wear them post-delivery. During pregnancy a lot of changes happen. Everything from moods, food cravings, bodily changes, and in some instances, even your music taste.
While these hormonal imbalances are not an issue for most women, for others the idea of not being able to wear modern, tasteful clothes can be annoying. When you are expecting a baby, you want to be comfortable. Nowadays, you can find trendy and comfortable maternity wear that is also cost-effective. Many expecting moms have questions about what size maternity clothes to buy or what they should look for when shopping for maternity dresses. To find out everything you need to know, keep reading.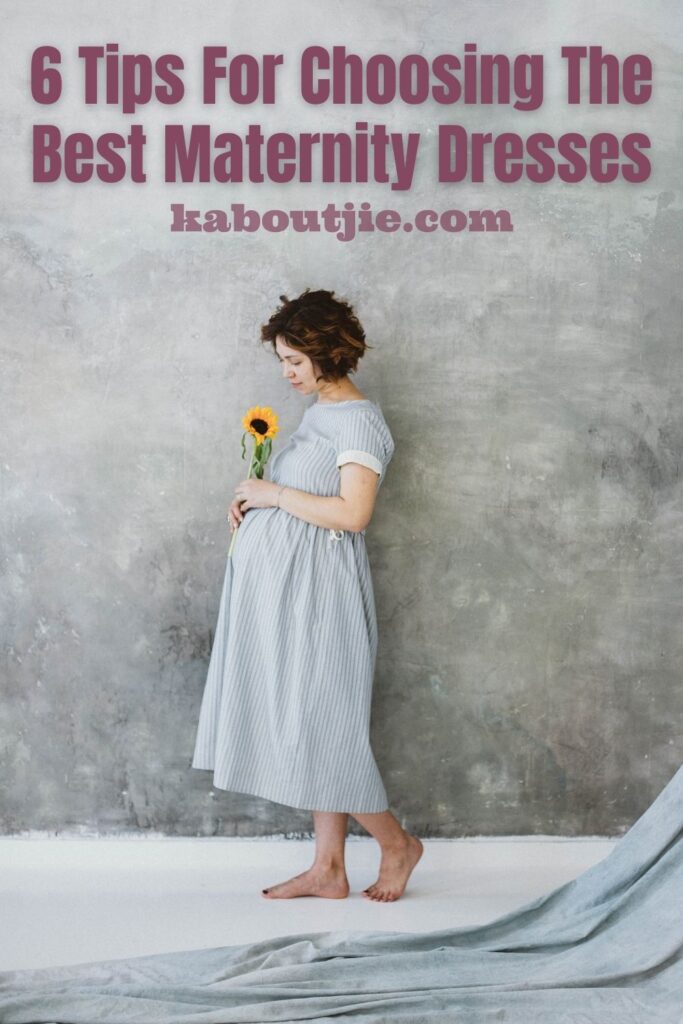 6 Tips For Choosing The Best Maternity Dresses
You Don't Have To Buy Bigger Sizes
Maternity sizes are the same as standard clothing sizes. Therefore, if you normally wear size medium, you will shop for size medium maternity dresses. Avoid being tempted to buy larger sizes than what you usually wear. Wearing sizes that are too big is not flattering and they will be ill-fitting. Nowadays, clothing designers create clothing specifically for pregnant ladies that is flattering and comfortable. Some clothing has empire waist ties or flexible belly panels that grow with you. These clothing items can be worn during pregnancy, breastfeeding and after delivery.
Opt For High-Quality Maternity Wear
You can purchase maternity wear in various styles and fabrics. Some of the best fabric options are synthetic cloth, satin, or polyester, but the best one out of the bunch is cotton. Cotton fabric is comfy and soft, and provides your skin room to breathe. Cotton doesn't cause skin irritation, offering a stress-free, versatile, and convenient option. Try to look for high-quality 100% cotton maternity dresses that you can wear throughout your pregnancy and beyond.
Consider Outfits That Are Convertible
As far as searching for maternity wear is concerned, it is vital to invest in pieces that you can wear during your nine months of pregnancy and post-delivery. Jackets, dresses, and button-down shirts are excellent examples of clothes that can be worn when nursing and beyond. Maternity dresses are easily converted into breastfeeding clothes.
Select Colors Mindfully
Apart from the fabric, color choices and fit of pregnancy wear are vital considerations. Try to opt for light, pastel, and plain colours that keep you cool and comfortable. Try to steer clear from extravagant pieces that are tacky and bold. In addition, avoid clothing that is too tight or figure-hugging which is not comfortable. Choose long flowy maternity dresses or loose button-down shirts.
Opt For Timeless Wardrobe Staples
Consider your lifestyle and schedule, and select pieces that you can wear every day. Consider nighties, casual wear, office wear, activewear and a few staples that you can wear on a fun day out. Often, it is tempting to choose fancy, high-end maternity wear, but this is not really practical since you will only be wearing it for a short while and not for prolonged periods. Timeless pieces like jackets, jeans, maxis, flowy dresses, and leggings can be worn over and over without going out of fashion. Select bras made from 100% pure cotton that offer sufficient support, especially if you are planning on breastfeeding.
Purchase Clothing as You Grow
Your bump will grow significantly during the next few months, especially during the third trimester. It is not ideal to buy all maternity wear pieces before or during the first few months of pregnancy. Also, avoid hoarding. Rather buy clothing as and when needed. Stocking your wardrobe is not practicable, particularly when you consider changing preferences, seasons, and tastes.
What To Avoid When Shopping For Maternity Wear
Clothes that are ill-fitting and too tight
Synthetic pieces that trap heat
Tight shoes or high heels
Not only is tight clothing uncomfortable but it could lead to a range of issues like body pains, yeast infections, and reduced blood circulation. The key is to wear clothing that makes you feel comfortable and relaxed.
Conclusion
We hope you have found our post sharing six tips for choosing the best maternity dresses and clothing helpful and that you will keep them in mind before embarking on your shopping spree. Now that you are well conversant in the art of selecting pregnancy wear, we think you are more than ready for welcoming the new addition to your family and investing in a fresh wardrobe. With so many maternity wear options out there, we are sure you will not be disappointed and find the perfect pieces.