Newborn baby girls are so lovely to look at, especially when you see them sleeping in their newly-decorated room full of pillows and blankets all around their beds. Maybe not surprisingly, they will grow quickly and the time will pass where you will just be able to watch them sleep with a smile on your face. They will grow and explore and play and enjoy new types of fun activities.
Playing will not only keep your baby girl entertained, but it can also be considered a tool that could help in her development. And playing requires toys that your baby can hold, hug, pull, push, or even throw.
Many beautiful toys for babies are available on the market today. So where to start when looking for a new toy for the baby girl in your life? It is important that you take your time to give her the right toys that could keep her entertained, help her develop, and most especially, keep her safe. To provide you with ideas on what toys you should give to your baby girl, we have listed some tips that you should consider before heading to the toy shop:
Choose toys appropriate for your baby girl's age
You should consider the age of your baby girl in choosing a toy. Just remember, at a certain age she is only able to do certain things. It is best that you know what your baby girl can do at her age, otherwise you may purchase something that won't be used or, worse, put her at risk of injuring herself. Try to choose a toy that she could learn at her age to a point of mastery. The following are suggestions of what toys you should consider buying based on your baby's age:
Most babies during this period enjoy sounds, movements, and anything that is colorful – or even just black and white with soft objects. At this age, your baby girl is starting to work on visuals and eye-hand coordination, including grasping, holding, and reaching. For a month-old baby, you may give her soft, cuddly toys suitable for newborn babies. These include dolls, and cuddly animals with various textures. These will allow her to develop her sense of touch and sight.
Introduce new toys to your baby girl when she reaches her two months old. You may give her soft wrist rattles or toys that somehow incorporate sounds or music. At this age, your baby would enjoy listening to new sounds and music, and this will also help her develop her sense of sound.
At the age of three months, your baby girl is becoming stronger every day. The baby gym is best for her. She will love looking at those hanging objects and could even spend hours trying to reach up and grab them.
Your baby will start to roll and cradle at the age of four months. It is best if you provide her with a soft playmat and eye-catching toys. At this stage, you should start reading to her more. You could buy books with soft fabric covers and various textures and colors. Surely, your baby girl will enjoy these sensory objects.
When she reaches five months, your baby will begin to understand cause and effect. That's why it is best that you buy her toys that are interactive, such as xylophones, maracas, a small keyboard, or anything that she could hit, blow or bash.
At the age of six months, your baby's emotions are starting to develop. You could introduce new toys like soft toys, and puppets. You could also give her books to explore herself, she'll enjoy flipping pages, feeling different textures, and looking at pop-up pages.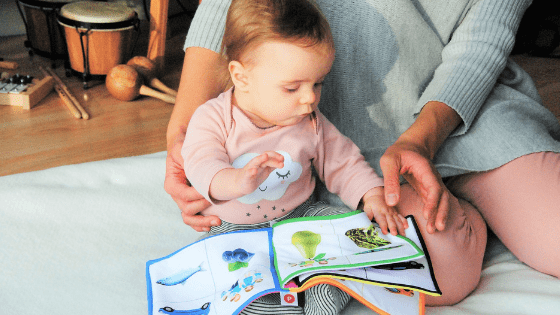 During these ages, your baby will begin to actually hold toys. She'll like to master what her hands are doing, like transferring one toy from one side to another. You can continue to give your baby girl the same toys as you have since her birth. The only difference is that now she'll start learning new ways to play with them.
During these ages, your baby girl will learn how to make several different actions and will begin to understand the results of these actions. She'll begin learning about different shapes and sizes too. The toys appropriate for her are blocks, push/pull toys, rings on poles, nesting cups, moving and rolling, role-playing toys, and shape sorters, among others.
Safety first
You must always put safety first when choosing a toy for your baby girl. Some toys contain harmful chemicals, such as lead. Be sure that the toys for your precious little girl are free from toxic chemicals that might harm your baby. Also, choose toys that your baby could not swallow. They must be of a safe size and not bulky. They must be sturdy and should not be able to tear into pieces easily.
Enhance the senses
The toys that you choose for your baby girl should develop and stimulate her senses. These toys include things that have sounds, exciting visuals, and textures. These could make her explore about the things around her and learn from her exploration. You may also teach her the five senses while playing with her toys.
Buy one toy at a time
Do not buy your baby girl too many toys at a time. Your baby girl will have difficulty focusing on which toy she plays with. Let her explore the toy first, and in this way, she's able to understand it and learn more. After a few weeks, you may buy a new toy for her.
Opt for quality made toys
Some toys have components that could be quickly snapped off or chewed. You must beware of these. Check the toys for elements such as eyes, ribbons, beads, yarn, batteries and other plastic parts. Be sure that they are firmly attached or sewed onto the toys. Also, do not choose toys with sharp edges that may harm your baby girl.
Never pick a balloon
Balloons are fascinating, and your baby would surely love them. But, do not give her balloons, because these toys could harm your baby. These toys become a choking hazard when ingested and could result in breathing difficulties or a trip to the hospital.
The right toys will surely make your baby girl happy. She will learn to explore and learn new things around her.  Choosing appropriate toys for your baby girl will keep her safe and contribute to her growth. With your new toy purchases, your baby girl's imagination, physical and emotional skills are sure to develop.