Nursing is such a rewarding journey and among the best bonding experiences when it comes to babies. However, sometimes your milk supply will go down but there are certain foods and breastfeeding shakes that you can incorporate into your diet to boost your milk supply and increase your energy levels. A quick and easy way of boosting your milk production is by making lactation smoothie recipes. We will be sharing a few of them with you later in this article.
***Disclosure -The links in this post may contain affiliate links and I may receive a small commission if you make a purchase after clicking on a link.***
Lactogenic Foods
Not all women may necessarily notice a difference from eating lactation foods, however, it cannot do any harm by giving them a try. When you are nursing, it is essential to follow a healthy and well-balanced eating plan. Many of these foods might already be included in your diet.
Just bear in mind that you should not overdo eating lactogenic foods and remember to keep a careful eye on your breast milk supply. Once you have reached the stage where you feel comfortable, you can start cutting back again on the amount of lactogenic foods you are consuming. If you keep boosting your milk supply, you might have too much which can result in a range of other issues like plugged milk ducts, breast engorgement, and mastitis.
How to boost milk supply when you are breastfeeding
Nursing can be a challenging experience, particularly if you don't have anyone to give you guidance or help you out. Some moms are not able to breastfeed for a long term while others manage to breastfeed for a year or even two.
Any smoothie can be transformed into a breastfeeding smoothie that boosts milk supply and promote lactation. All you have to do is add the right milk boosting ingredients. Such ingredients are known as galactagogues and have been used by moms for decades to increase milk supply.
Galactagogues to add to lactation smoothies/shakes to boost milk supply
Almonds

Flax seeds

Oatmeal

Carrots

Dried apricots

Spinach

Brewer's yeast

Papaya
Banana is not really a milk boosting ingredient but is added to smoothies because of the smooth texture and divine taste. You can make various smoothies, shakes or snacks by using these ingredients. 
8 Breastfeeding shakes / smoothies for increasing milk supply
This milk-boosting recipe contains three galactagogues: Brewer's yeast, oats, and flax seed.
Banana and strawberry lactation smoothie
Ingredients:
½ Cup low fat milk

½ Teaspoon vanilla
¼ Cup old fashioned oats
8 Frozen strawberries
1 Banana
1 Tablespoon honey
1 Teaspoon brewer's yeast
1 Teaspoon ground flax seed
Instructions
Blend oats in a blender until well ground and add the remaining ingredients. 

Blend until you have a smooth texture.
You can swap out the fresh banana and frozen strawberries for other fruits. If both fruits you're using are frozen, you must add more milk, depending on how thick you prefer your smoothie.
Oatmeal and banana smoothie
Ingredients:
1 Banana

3/4 Cup of almond milk
¼ Cup oatmeal (cooked)
1 Tablespoon honey
1 Tablespoon brewer's yeast
1 Tablespoon almond butter
Instructions
Blend all the ingredients in a blender on high for two minutes.
Blueberry pancake smoothie
Regular full cream milk is used for this recipe, but you can also substitute the milk with non-dairy coconut milk to give your smoothie a tropical flavour. 
Ingredients:
1 Cup low fat milk

¼ Cup frozen blueberries
2/3 Cup low-fat Greek yogurt
1/8 Teaspoon of ground cinnamon
½ Teaspoon of vanilla extract
2 Tablespoons pure maple syrup
Directions
Add the milk to the blender, followed by the rest of the ingredients. Blend everything for about thirty seconds, or until smooth.
Green breastfeeding smoothie
Many breastfeeding moms depend on oatmeal for boosting their milk supply, however, if you're looking for something a little different from the monotonous everyday oats smoothie, then this recipe is a welcome substitute. A paramount concern for most nursing moms is whether they are producing sufficient milk for their babies. Usually nursing on demand offers enough supply, however, adding some lactogenic foods to your meal plan can increase your milk supply.
Ingredients:
1 Cup almond milk

½ Teaspoon of vanilla extract
2 Tablespoons hemp protein powder
2 Large handfuls fresh spinach
½ Cup of fresh coconut meat (preferably young Thai coconut)
2 -3 Soft pitted medjool dates
1 Cup frozen strawberries
1 Handful of ice
Instructions
Blend the coconut meat, spinach, almond milk, dates, and vanilla extract in a blender until the substance is entirely liquified. 

Add the ice and frozen strawberries and blend until you get a smooth texture. 

Serve immediately.
Papaya and peach breastfeeding smoothie
Ingredients:
½ Papaya

½ Banana
1 x Cup peaches
1 Tablespoon ground flax seed
1 Cup almond milk
1 Tablespoon of honey
Instructions
Blend all the ingredients in a blender on high for two minutes and enjoy.
Apricot and oatmeal orange lactation smoothie
Ingredients:
½ Banana

¾ Cup orange juice
½ Cup dried apricots
1 Tablespoon of honey
1 Tablespoon of flax seed
¼ Cup of cooked oatmeal
Instructions
Blend all the ingredients in a blender on high for two minutes and serve.
Peach and honey breastfeeding smoothie
Ingredients:
Do not leave out the lemon as it really elevates the flavour of the peaches.
¼ Cup ground flax seeds

1 Teaspoon lemon juice
1 Cup low fat milk
1 1/3 Cups frozen peach slices
2 Tablespoons of honey
2/3 Cup of low-fat plain Greek yogurt
Directions
Blend all the ingredients in a blender, beginning with the milk. Blend the mixture until smooth for approximately thirty seconds.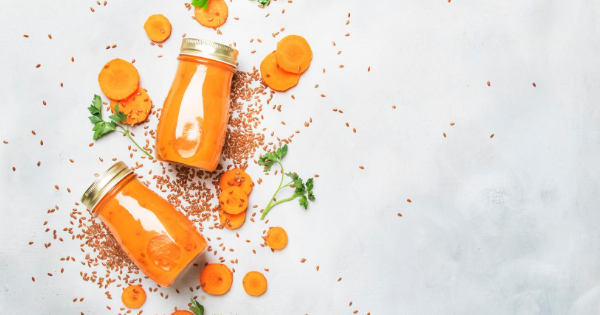 Fruity carrot breastfeeding smoothie
Ingredients:
½ Cup of frozen peaches

½ Cup of baby carrots
½ Cup of frozen strawberries
½ Banana
1 ½ Cups of almond milk
1 Tablespoon of brewer's yeast
1 Tablespoon of honey
Instructions
Blend all the ingredients on high for two minutes in a blender and enjoy.
Protein shakes for boosting milk supply
Protein shakes contain high-protein ingredients or are made with fortified protein powders. Protein plays an integral role in a meal plan since it offers a slowly metabolised energy source as well as the amino acids your body needs to generate new proteins. Proteins are a useful beverage to drink for increasing your protein intake. People who are looking to build muscle mass or lose weight also use them as meal replacements. 
Using protein shakes when nursing
Some moms use protein shakes while nursing since it can be use for replacing a meal. Even though protein shakes do have some calories, it is generally lower in calories than eating a full meal. Some women drink protein shakes for losing some of the weight they have gained during pregnancy. Protein shakes can be bought pre-prepared or you or can be made using protein powders with other ingredients.
Dieting and breastfeeding
When you are breastfeeding your baby, anything that you eat, or drink can find their way from your bloodstream to your breast milk. Therefore, substances you ingest can have an effect on the composition of your milk and taken in by your baby. Although herbs and medications can enter into breast milk, no evidence exist that the same goes for foods. Not enough studies and evidence suggest that the foods you are eating have a distinct impact on your breast milk.
Health considerations
Even though there do not seem to be any adverse effects from drinking protein shakes while nursing, you should still consume them with care. Proper nutrition is paramount for producing breast milk. Breast milk contains all the nutrients that your baby needs. Speak to your doctor before including protein shakes or any other supplement for that manner into your daily eating plan.
Whey protein powders for breastfeeding
Whey protein powders is an excellent option for moms who are not lactose intolerant and that have babies which are not lactose sensitive. After giving birth you would have lost water, weight, and muscle. Whey protein are ideal for regaining muscle mass, plus it can help you with building strength which was lost while being pregnant.
100% Pure nutrition grass-fed vanilla whey protein
100% Pure grass-fed whey protein specially formulated for providing optimal well-being

Gluten-free

Soy-free

BGH-free

Assisting with immune health, muscle development and weight loss

Each serving consists of 24g protein, 1g of carb and 2.5g fat

No sugar or additives

A lightweight supplement with low calories, vital amino acids, and clean proteins

No bad aftertaste or bitterness

Cold-pressed and undenatured for ensuring not contamination from synthetic additives, chemical detergents, and heavy metals

Promoting naturally occurring growth components

Independently GMO-tested

Tastes great and are easily mixed

Keto-friendly
Vegan (plant-based) protein powders for breastfeeding
Vegan protein powders are another ideal option to consider while breastfeeding. Most plant-based protein powders do not contain the most common allergens, making it an excellent choice for moms and babies who are sensitive. These protein powders often provide protein sources from various foods which means it is more nutrient-rich, which is always a good thing.
Momsanity dairy free protein powder for moms
No artificial flavours, sweeteners, preservative, or dyes

Non-GMO

Extra creamy with MCT oil

Easily mixed

Momsanity protein powder can be mixed with coconut milk, chilled coffee, water, cashew milk, freshly squeezed juice, or coconut water

Each serving contains 20g of protein

Added collagen content for healthy hair, joints, nails, gut, and skin
The benefits of brewer's yeast for boosting milk supply
Brewer's yeast is a popular super food for milk production since it has a high digestible protein level, contains vitamin B, minerals, essential amino acids as well as chromium which are all vital components for healthy milk supply when you are breastfeeding. Brewer's yeast boost milk supply, therefore, it is a well-liked choice for moms due to its incredible ability for amplifying energy levels as well as elevating mood. Other benefits of brewer's yeast while breastfeeding include:
Assisting with combating fatigue while rejuvenating tired moms

Providing valuable nourishment for hair and skin

Assisting with lowering blood sugar levels in the body

Boosting energy

Elevating mood and offering a sense of well-being

Assisting with replenishing essential ingredients for mothers that are breastfeeding
Consuming brewer's yeast to promote lactation
Brewer's yeast can be purchased online or at most health stores. You can purchase it in powder or tablet form, but it is essential to speak to a health professional, to assess which dose is suitable for consumption. 
Brewer's yeast powder is the preferred choice as an ingredient in lactation cookies, breastfeeding shakes, and smoothies to boost milk supply. 
Possible side effect of consuming brewer's yeast while nursing
Brewer's yeast is considered safe as a nutritional supplement while nursing and is overall well-tolerated by babies if ingested through breast milk. However, you should always check for potentially toxic interactions of any supplement to avoid any side effects. Consult with a lactation expert or health professional prior to using any herb or supplement. Even though side effects of brewer's yeast are typically mild, it could include the following:
Vaginal yeast infection

– brewer's yeast may not affect everyone equally. If you suffer from regular yeast infections, it is best to steer clear from taking this supplement. 

Diabetes or hypoglycaemia complications

– in some cases, brewer's yeast lowers blood pressure to dangerous levels, or it could interact with other medications you're taking. First check with your doctor if you have diabetes or hypoglycaemia. 

Abdominal upset, gas formation, or diarrhoea

– If you notice any sins of colic-like symptoms in your baby or she might seem irritable, you must immediately lower your intake of brewer's yeast. Or if you or your baby experience diarrhoea or stomach problems, stop taking the supplement all together.
Conclusion
We hope you have found our article useful and try some of these delicious breastfeeding shakes for boosting your milk supply. However, we can't stress enough the importance of checking with your health professional before implementing any herb or supplement into your eating plan.