I've been using Bramley Magnolia Tissue Oil regularly for a few months and I'm excited to share my Bramley Magnolia Tissue Oil review with you. If you struggle with dry skin, marks on your face, scars, or stretch marks you should look into magnolia tissue oil.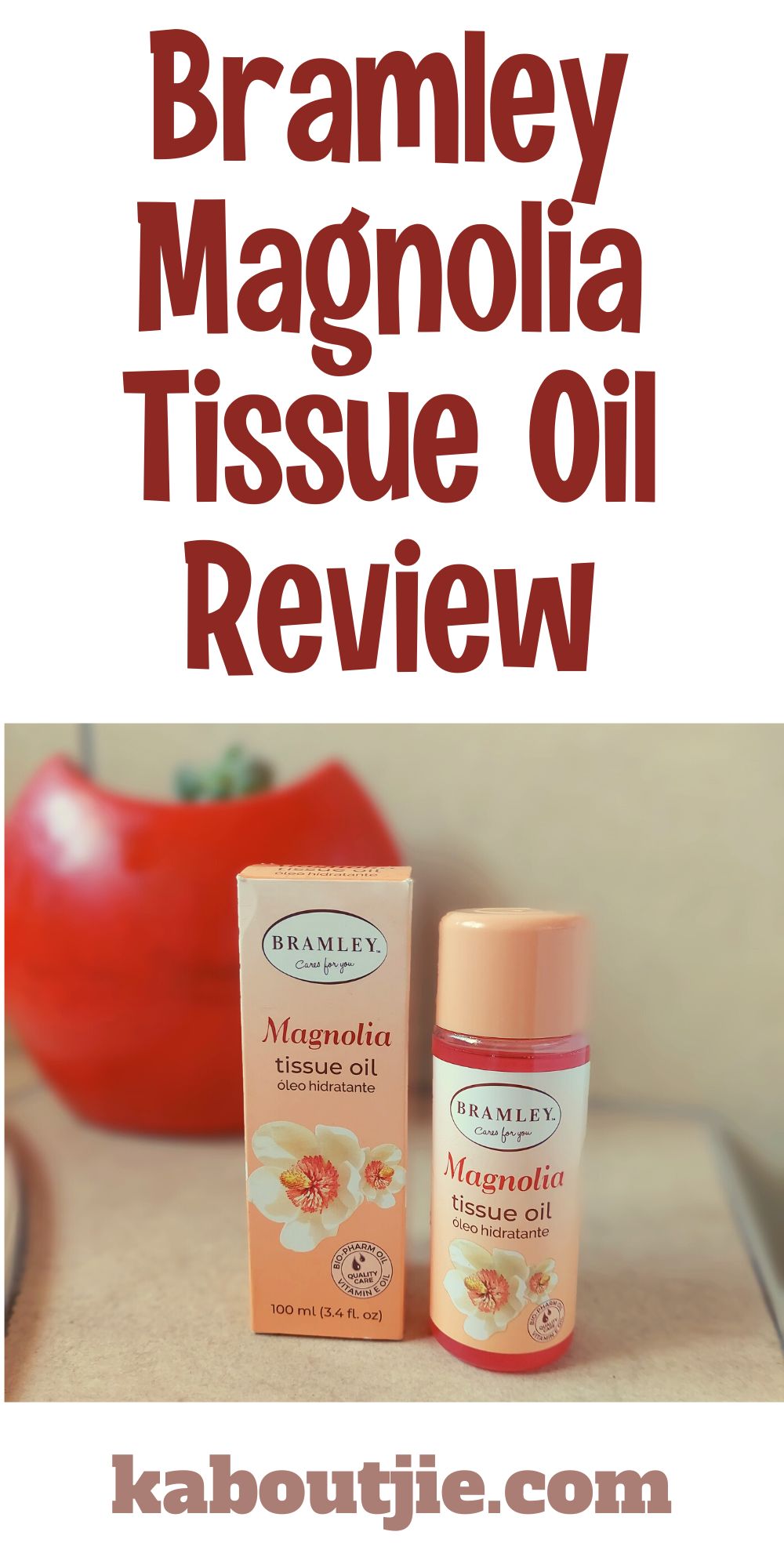 Bramley Magnolia Tissue Oil
Bramley Magnolia Tissue Oil has vitamin E and Bio-Pharm oil, it has a light fragrance and is perfect for every day use. It is recommended to use it daily for dry skin, scars, dark marks, and stretch marks.
It is available at Pep Stores and the current price is R49.99 for the 250ml and R24.99 for the R100ml.
Ingredients
Paraffinum liquid, Isopropyl Myristate, Sorbitan Sesquioleate, Fragrance, Phenoxyethanol, Tocopheryl Acetate (Vitamin E), Linalool, Amyl Cinnamal, Butylphenyl Methylpropional, Citronellol, Hydroxycitronellol, PEG-60 Hydrogenated Castor Oil, PEG-8, Hexyl Cinnamate, Eugenol, Geranoil, Ethylhexylglycerin, Ceramide NG (Bio-Pharm Oil), CI 47000,CI 26100
Bramley has a range of tissue oils including Cocoa Heavens, Herbal , Lavender, Aloe Vera, Pink Blossom, and Argan & Macadamia.
The Bramley Magnolia range also includes body butter, facial wipes, hand & nail cream, hand & body lotion, roll-on deodorant, and talcum powder.
5 Benefits Of  Tissue Oil 
Tissue oil is fantastic for skin care, there are many benefits of magnolia tissue oil on face as well as the body, and even your hair:
It provides a barrier that protects your skin.
It offers deep skin nourishment.
It can be used all over your body, including your hair, however don't put it on your genitals or use it as a lube.
It has cleaner ingredients compared to lotions and creams. A lot of creams have additives, while tissue oils usually have oils and ingredients derived from nature.
Tissue oils help prevent and treat stretch marks and dark marks, and reduce scarring.
How To Use Tissue Oil
Tissue oil is very versatile and can be used in a number of ways, here are some ways to use it:
Use it directly on your skin as a moisturiser and full body treatment
Add it to your lotion for added moisturising power
Add it to your bath for a relaxing soak that moisturises your skin
As a massage oil
On your lips as a lip balm
Massage it into your nails to nourish and strengthen your nails
Add it to your face care routine, use it after washing and toning your skin, before you use your moisturiser
Add some to your hair conditioner or apply it directly to your hair for a deep oil hair treatment. This will nourish your hair as well as treat an itchy, dry scalp
How Long Does It Take For Magnolia Tissue Oil To Work?
This magnolia tissue oil started working very quickly for me. It resolved my dry skin almost immediately and I started seeing a reduction in stretch marks and dark spots within a few weeks.
View this post on Instagram
My Bramley Magnolia Tissue Oil Review
I love using Bramley Magnolia Tissue Oil. It is so affordable, but highly effective. The skin on my face gets dry very quickly and I often have a tired, washed out look. You know that exhausted mom look? I also have some dark spots on my face that I'm not fond of. My legs dry easily, and I've got stretch marks on my stomach (what mom doesn't?).
I love using this tissue oil on my face and the rest of my body after my bath before I go to bed. It has an oily feel immediately after using it (it is an oil after all) but it is a light oil and gets absorbed very quickly. My skin feels nourished afterwards and my skin is more even toned since I started using it. The stretch marks on my stomach are not as noticeable.
It also works great on my feet – I've been using Sorbet Pomegranate Sugar Foot Scrub, which I love, and then I use the magnolia oil on my feet afterwards and it works beautifully to keep my heel from getting dry and cracked.
I wouldn't recommend using it during the day if you plan on going out though. I used it one morning and my face was all shiny and oily when I left and I don't like that look at all. It is definitely best used in the evening before bed.
The smell is refreshing and pleasant, but mild so it is not overpowering. Another thing I love is that it goes a long way, even when I use it on my body. You only need a tiny bit when you apply it and the bottle lasts for a long time. My first 100ml bottle lasted me over 2 months even with regular use.
Pros
It is highly effective for moisturising skin, lightening skin,  and reducing dark spots, stretch marks, and scars
It is a light oil and gets absorbed quickly into the skin
It is super cheap
You only need to use a little so the bottle lasts for a long time even with daily use
The lid screws on tightly so there is no spillage or leaking
It comes in 250ml and 100ml bottles. The 100ml bottle is very convenient and easy to store and pack in your bag to take with you when you go out or travel
The bottle is pretty and so is the colour of the oil, and yes it helps having pretty things
It is gentle on the skin, perfect for sensitive skin
Cons
Since it is an oil it is oily on the skin, so if you don't like the feeling of oily skin for a few minutes after applying it you might not enjoy that
I hope you've enjoyed my review on Bramley Magnolia Tissue Oil, I highly recommend giving it a go as it is an affordable cheap and highly effective skin care option. I'm also keen on trying more of the Bramley Magnolia range, as well as some of the other tissue oils.