The best online games for kids will be ones that your kids enjoy, as well as teach them something along the way. While it's true that screen time must be closely monitored and too much screen time is not good for kids, there are many amazing benefits of playing online games that cannot be ignored. Most kids love playing games online so make sure to allocate some time in your child's schedule for some gaming to take full advantage of these benefits.
Benefits Of Playing Online Games For Kids
Gaming Boosts Reading Skills
Reading is an important skill for every child to master. While some children may be resistant to reading books, a great way to get them interested in reading is to let them play online games. They will need to read instructions to learn how to play the games. They might even enjoy looking up information for tips and tricks to master their favourite games.
Problem Solving Skills
While some games can be quite mindless, most games involve a challenge of some sort that needs to be overcome. This challenges kids to find a solution to win the game, whether it be a puzzle game, a mystery, or managing a city in their game. Finding solutions to games involves organization skills, planning, and flexible thinking.
Boosts Social Connection
Games are a very popular topic for kids to talk about at school. Playing games will give your child a way to join in exciting conversations. If your child has difficulty coming up with ways to talk to kids this is a great discussion topic. Many games also allow kids to connect online so children that have difficulty making friendships may find it easier to connect virtually with friends in a positive way.
Improves Visual-spatial Skills
Many games are set in 3D virtual worlds that kids have to navigate, this helps them to have a better understanding of space and distance. What better way to master visual-spatial skills than playing online games.
Boosts Creativity And Imagination
Boosting creativity and imagination through play is easy for young kids. Open-ended toys such as building blocks and dolls are ideal for boosting a child's imagination, however as children get to the teen and tween years these toys lose their appeal. Gaming is an excellent way to captivate your child and continue boosting creativity.
Best Online Games For Kids From Plays.org
I recently came across plays.org – while searching for free online games for kids. It has a wide variety of online games so it is easy to find a game that appeals to your child. You don't have to download anything to your computer or phone, which really appeals to me since my kids like to play online games using my work laptop. You also don't have to register your details to play, however, if you do register you get to save your favourite games for quick access.
You can find games by category, new games, random, and favourites. You can also use the search feature to find games to play. There are also plenty of reviews on each games, so you can read what player's feedback before trying a game to see if it might be suitable for you. My son really loved this feature and spent a long time reading reviews on games before deciding what he wanted to play.
My 8 year old son loves fighting games and here are his two top picks for best online games for kids: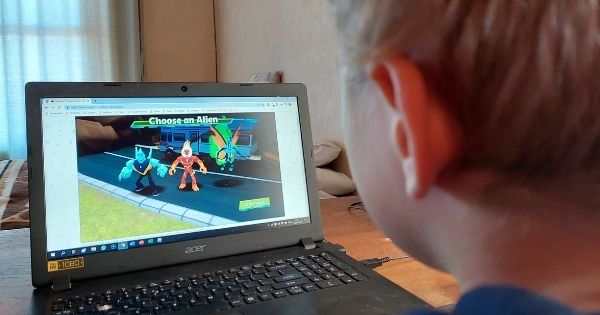 Ben 10 Drone Destruction
Ben 10 Drone Destruction involves defeating waves of robotic enemies. You need to defeat all the drones in each wave and survive as many waves as you can.
My son loves Ben 10 Drone Destruction because he can choose his own character and after each wave of fighting he can upgrade his character. When I asked him what the game is about he said "it's awesome, you just have to fight all the bad guys". A perfect boy game then!
Star Wars Rogue One Boots On The Ground
Star Wars Rogue One Boots On The Ground is all about shooting, destroying targets and trying to survive. My son said he loves that you have 3 team mates to help you kill the enemies. Each character has special powers to assist you with completing missions.
My 10 year old daughter loves word games, puzzle games, matching games and dress up games. Here are her two top picks:
Daily Word Search
My daughter loves word searches so I was not at all surprised that this was one of the first things she looked for and chose the Daily Word Search as her favourite game on the site.
You can choose a 12 x 12, 14 x 14, or 16 x 16 grid. The goal of the game is to find all the words as fast as possible. A great feature of this game is that you can also print out the day's puzzle.
Famous Paintings 1
Famous Paintings 1 is a spot the difference game on world-renowned paintings. It combines two of my daughter's favourite things – art and spot the difference. There is a timer on the game so you have to spot the differences before the timer runs out.
My kids are looking forward to trying out plenty more games in the future, with such a wide variety of online games to choose from it is going to keep them busy for a long time.